Voting for Ali Baba
View(s):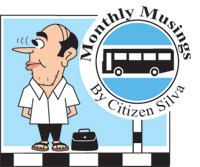 "You know, Silva," observed my old friend Perera the other day, "the choice we are going to have at the next presidential election is a very sad one."
Now Perera is about the same age as I am, and we have voted at virtually every mathivaranaya in this country since the two elections of 1960.
I waited for him to elaborate.
"I am sure that all the major parties this time are looking to get behind a candidate who may have a genuine desire to work for the betterment of our people. However, all the politicians who are likely to be selected as the standard bearers for their respective parties come saddled with their own coterie of shameless sycophants, pandan kaarayas and leech-like hangers on. Some might even call these loyal supporters nothing more than knaves and thieves. People like the Bond Master and Minister Ten Percent and Mr Hora Passports all come to mind here – folk whose main ambition is to put their candidate into the President's Office so that they themselves can get into positions of power and authority. Once they get into power on the shirt-tails of their leader, they think they are above the law and devote their time in office to enriching themselves without assisting their leader and working for the good of the country. Have you not noticed that members of all these political parties keep on saying that they had to find the "most winnable" candidate and not the one most likely to make a good fist of the job?"
He sighed. "This is why, Silva, I keep wishing that I could vote for Ali Baba"
"Ali Baba?" I interjected, "what does Ali Baba from the storybooks have to do with all this?"
"Simple No?" responded Perera. "If Ali Baba was a contestant in our presidential elections here, he would be the candidate with the least amount of crooks in his entourage – because you will obviously remember that unlike our current political leaders, Ali Baba only had FORTY thieves!"
I had to concede that Perera did have a point here. Forty thieves with their hands in the till would certainly be better than close to 225 people draining the country's coffers.
Perera was warming to his topic.
"Do you know Silva, that in our country you have to have passed the GCE O levels to get any government job? However, to get into parliament you don't need any O Levels or A Levels. I have it from reliable sources – because these MPs do not have to declare either their assets or educational qualifications to get or keep their jobs – that as many as 95 of our current 225 MPs have not passed the O Levels! And many of these uneducated fellows have – by hook or by other means – acquired more assets now when compared to what they had when they first entered parliament!"
"We should be wary, Silva, of all these chaps who have become professional politicians. We even have politicians who started life as fiery JVP student leaders, taking cudgels against the establishment while they were in university to change our society and even being put into jail for their efforts. They have now realised it is much more fulfilling for them to join and become senior members of the very establishment they fought against! Can you remember that young man for whom Rev Omalpe Sobitha resigned his own seat in 2007 so as to give him a place in parliament on the National List? That worthy MP subsequently accepted office in Mahinda's cabinet and is now a Minister holding one of the biggest mega-portfolios in this 'Maithripala versus Ranil' cabinet?"
"Many of our parliamentarians remind me of some of these IPL cricketers – only the other day playing in the colours of one team and just a year later wearing the colours of a different team and playing a hard hitting game without any qualms against their old team mates. Obviously they have got a more lucrative contract from the new team they are playing for!"
Perera stopped for breath, took a sip from his half-full glass – and excused himself to slip off to the toilet to empty his bladder.
It gave me to time to reflect on what he had been telling me.
If only our choices at the ballot box were not so limited.
Maybe we should just go and cast our vote for the candidate who is supported by the least number of thieves!