The tale of two South Asian countries and their slow economic growth
View(s):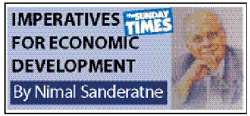 Pakistan and Sri Lanka are the least performing economies in the highest growing region in the world.  While the South Asian region is expected to grow by 7 percent this year, these two economies are expected to grow by less than half of this.
Ironically, these two South Asian countries were best poised for growth in the 1950s.
Pakistan's new PM
In an outspoken address, Pakistan's new Prime Minister Imran Khan attributed Pakistan's sluggish growth to its corruption and lack of recognition of merit. These two closely related reasons, he said were responsible for his country remaining poor.
He has repeatedly said that countries are poor not because they lack resources, but because they are corrupt.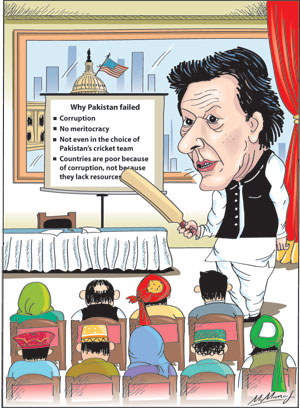 Comparative growth
According to the Asian Development Bank (ADB), South Asia is the fastest growing region in the world today.  While South Asia as a whole is expected to grow at 7 percent this year, Bangladesh that broke away from Pakistan in 1972, is expected to achieve the highest growth rate in the region of 8 percent. Pakistan is expected to grow at 3.6 percent, somewhat ahead of Sri Lanka's growth of only 3.0 percent.
Reasons
Are the reasons for the sluggish growth of these two countries similar? The reasons for Pakistan's slow growth, according to the new Prime Minister of Pakistan, Imran Khan, are indeed food for thought for Sri Lankans.
Addressing the Pakistani diaspora in Washington DC on July 21st, on the eve of his meeting with President Trump, he said: "Pakistan had good universities, good infrastructure and highly educated persons. Yet it failed owing to corruption and a system that was not based on merit."
Prime Minister Imran Khan reminisced: "When I was growing up, Pakistan was an exemplary country in the subcontinent with the best civil services and bureaucracy. Our hospitals were top quality and people from the outside would come and study in Pakistan.  We, however, sadly saw Pakistan decline. And then we started seeing the use of money and buying of public office in politics."
The biggest obstacle to economic development, he emphasised, was corruption. Countries, he said, were poor not because they lacked resources, they were poor because of corruption. He cited the example of African countries like Congo that had enormous resources, but were poor. In contrast, Switzerland that had few resources was a rich country.
Corruption in cricket
Imran Khan, who led the Pakistani team to victory in the 1992 World Cup, illustrated the effect of corruption on Pakistani cricket. He said: "I will give you the example of cricket. Australia is the team which has been the most successful in cricket; why? This is because Australia has a system that nurtures and lets talent rise."
He added: "If there is anywhere in the world that I have seen the best of cricketing talent; it is in Pakistan. But because we don't have a system of merit, our talent is not given the opportunity to rise".
Merit
He elaborated: "The son of a King may not necessarily be a good leader." Furthermore "In democracies like the US, it's the system of merit that lets their people choose their leaders.
"There is a reason why the Muslim world has been left behind; the Mughal Empire was at its peak and then went into decline because successive dynastic rulers did not have the capability to lead."
He said: "You go anywhere in the world, see China's Communist Party and you see how they reward merit and let the best of the best come up. The beauty of democracy is merit. In a democracy, it is the leader of the country who is accountable. This is a very important tenet of our religion as well that leaders are accountable.
Pakistan's decline
The Premier said: "We, however, sadly saw Pakistan decline. And then we started seeing the use of money and buying of public office in politics. "But today, Naya Pakistan is a place where any public office holder is accountable to the public."
He added that despite the messages even from the outside, he will not let accountability go.
Looted wealth
The Prime Minister declared his intent of bringing back the undeclared wealth of former rulers: "Properties are being seized; the billions they have taken overseas will be brought back to Pakistan." He said that Pakistan is in talks with other governments to bring that looted wealth back to Pakistan.
FDI
One of the consequences of poor governance and terrorism has been low foreign investments. Imran Khan said: "We will attract investment from the world by cleaning up corruption and showing an honest government to the world."
Root causes
No doubt Prime Minister Imran Khan focused on two of the root causes for his country's failure to develop. There are other seminal reasons for Pakistan's underdevelopment. These include the large military expenditure the country incurs owing to the tensions with India over the disputed Kashmir region and terrorism.
The country has also been plagued with terrorism. The attack on the Sri Lankan cricket team by extremists in Lahore that has denied the Pakistanis of international matches in Pakistan is evidence of this. It has also denied the country much needed foreign direct investment. The large scale brain drain from Pakistan has weakened its economic capacity.
Macroeconomic problems
Pakistan has economic problems similar to those of Sri Lanka. A large foreign debt that absorbs a huge amount of its resources for meeting debt repayment obligations; a large trade and balance of payments deficits; a high fiscal deficit owing to inadequate revenue collection and massive expenditures; inadequate export growth; and low foreign direct investments. These are some of the economic woes of Pakistan.
These are only some of the reasons for Pakistan's failure to achieve rapid economic growth. Corruption and nepotism are undoubtedly overriding reasons for Pakistan's economic failure. An honest and committed leadership is undoubtedly what Pakistan has to its advantage to resolve the country's economic woes.
Concluding reflection
Overcoming these problems is a huge challenging task. The grit, determination and strategic capacities that Imran Khan showed on the cricket field would have to be reincarnated in the Pakistan's polity to revive the Pakistani economy. Similarly Sri Lanka's economic development has been inadequate due to many reasons that have been discussed in previous columns. Among them corruption and nepotism have been significant factors hampering economic growth.
Unlike Sri Lanka, Pakistan is on an agenda of reform under the new leadership of Prime Minister Imran Khan. Whether he could succeed in eliminating corruption and nepotism only time will tell. It is an enormous challenge, far greater than what Imran has faced on the international cricket field.
The pertinent question that must be posed with respect to Sri Lanka is: Will there be a reform of the Sri Lankan polity to achieve robust economic development?