Appreciations
View(s):

She showed the way of simplicity, kindness and service to others

Susila Samaranayaka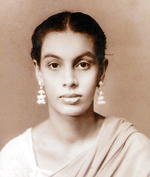 Our devoted Ammi, Susila Samaranayaka, passed away at the age of 72 on March 14, 1997 after a brief illness, leaving a tremendous void in our lives especially because both our beloved parents passed away within the short span of one year. If she were living, June 10 would have been her 94th birthday.
Ammi was indeed the embodiment of love, kindness, simplicity and generosity. She was a true practising Buddhist and her prime aim was service to the less fortunate to which she devoted over 45 years of her life. Her sphere of involvement spanned a multitude of organisations and activities.
As a young mother she responded to a notice in the "Daily News" and volunteered at the Ceylon Red Cross Society. The activities of the society at that time included visiting homes of the needy, providing tea to patients seeking treatment at the Lady Ridgeway Hospital and orthopaedic clinic and providing a library service for patients at the Colombo General Hospital. In all these Ammi was a willing worker. My sister and I had our introduction to social service work as youngsters, as we often spent Saturday mornings with Ammi, doing work for the Red Cross.
The Lanka Mahila Samithi, an association geared to improve the lot of rural women attracted Ammi's attention. Under the guidance of eminent ladies like Mrs. F. B. De Mel and Mrs. Violet Rajapakse she often travelled to rural areas and taught women the basics of hygiene, cooking and house-keeping. Once again, we joined Ammi at weekends.
She was also influenced by Mrs. C. H. Gunasekera. I recall vividly the first time that we all visited the Vihara Maha Devi Home for Girls, maintained by the All Ceylon Buddhist Congress at Biyagama with Mrs. Gunasekera on a Saturday morning nearly 40 years ago. The children thought that we were two new recruits to their ranks! That visit culminated in a lifelong commitment of service to the Home. Initially as honorary secretary and later as president, she served the Vihara Maha Devi Home for over three decades.
In all these institutions, Ammi was not a nominal holder of office. She was a mother to all the children numbering nearly 150. With the help of dedicated staff, she saw to their complete development both physically and spiritually. She knew each and every child by name. The Vihara Maha Devi Home came to be known as one of the best run children's homes in the country. She took great pains to organize annual events like the prize distribution, pirith ceremony and the new year celebrations bringing much joy to the lives of the girls. Her concern extended to obtaining employment and even organizing their weddings, thus becoming a kind of grandmother as well to their offspring.
Whenever possible, she took us there with her and the girls clamoured to get their turn to spend school vacations in our home.
Ammi had a long association with the Mallika Niwasa Samithiya, serving as President too of this organization which manages the Mallika Home for Elderly Ladies, the Sneha Home for Infants in Bambalapitiya and the Parakrama Home for boys in Kandana. She was a special friend of the elderly ladies living at the Mallika Home for the Elderly, visiting them almost daily, during her period as president.
She played a prominent role in arranging foster parent schemes for the children and obtained substantial financial support from overseas, especially from Australia, to supplement the State grants and public donations.
As a vice-president of the All Ceylon Buddhist Women's Congress she concentrated on the Sandya Home for the elderly arranging picnics, magic shows, pilgrimages etc. One of her last acts was a programme to commemorate "Elders' Week" which ended with a pilgrimage to Attanagalla Raja Maha Vihare.
Believing firmly in giving responsibility to younger persons she handed over her work in time to those she thought were capable and dedicated workers.
In spite of  all her activities outside, Ammi was foremost a dutiful wife and loving and caring mother who was always at home when needed. She received enormous encouragement from Thaththi. She looked after her mother and her mother-in-law who lived in our home for many years both receiving her love, care and attention in equal measure.
She was a live wire at social gatherings of friends and relations – always eager for a singsong and laughter.
I admired Ammi for the common sense she possessed. She often asked me about interesting and difficult patients I had and rejoiced with me when difficult clinical problems were sorted out and patients recovered.
Kindness and generosity were shown without reservation to all. Her care covered her extended family, her girls and elderly ladies, and anyone else in need and even animals. A keen animal lover, Ammi was a member of Gal Gava Mithuro – Friends of the Cart Bull. Many a time she would get Thaththi to stop the car when we were travelling so that she could plead with a carter to give water to a bull foaming from the mouth. She readily found places for aged bulls to spend their last days without torment. She was known too to get off a car to try to stop the wasteful flow of water from roadside taps carelessly used and badly maintained.
At the time of her death Ammi was President of the International Children's Village, Rambukkana for which she had great plans.
Always strong willed, she never let her illness get the better of her. She passed away peacefully listening to the chanting of pirith by Bhikkhus from a temple in the neighbourhood.
Ammi taught us many lessons in life, the foremost of which were simplicity, kindness and service to others. She was indeed a remarkable lady.
Ammi, may your journey through Sansara continue to be rewarding and may you finally attain the Supreme Bliss of Nibbana.
Anula Wijesundere
---
 A multitude of achievements during  a colourful career
INDRANEE HERAT GUNARATNE
The third death anniversary of my mother falls this month
Amma was born to late Pandit Veda Mudaliyar M.S.P. Samarasinghe and Roslin Samarasinghe of Borella as their tenth child. Like her sisters, she had her entire education at Ladies' College, Colombo 7 and entered Peradeniya University among its first batch of undergraduates. She graduated with a BA Honours in History and English in 1954 and after a short stint of teaching, joined Radio Ceylon as an Assistant Producer in 1955. Thereafter, she was absorbed into the newly formed Education Service and steadily climbed the ladder to become the Head of Service in 1967.
In 1979, when the Education Service was fully expanded and upgraded, she was appointed its first Director. She received special training in Education Broadcasting at NHK Japan in 1963, the BBC England in 1969 and AIBD Malaysia and Radio Singapore in 1978. She was instrumental in negotiating with UNICEF and BBC to obtain radio sets to most of the rural schools in the country to ensure that the students could listen to the Education Service while at school. She also visited some schools with UNICEF officers to make sure that this project was a success.
When the Government was planning to introduce television to Sri Lanka in 1980, she was appointed as a member of the National TV Planning Committee headed by Dr. Sarath Amunugama, then Secretary to the Ministry of Media. Thereafter, the Sri Lanka Rupavahini Corporation was established in 1982, and Amma was appointed the first Deputy Director General of Educational TV in addition to her duties as Director Education Service, SLBC. She was also the first lady Deputy Director General of Rupavahini and I believe even after 37 years of operations, no lady has still been appointed as a DDG of Rupavahini to date.
During her Rupavahini career, she served on the Board of Governors of the Open University and was a member of the panel of judges for the Presidential Film Awards organised by the National Film Corporation for many years. She represented Rupavahini at numerous conferences and seminars in many Asian and European countries and brought fame to our country by winning the coveted Japan Prize awarded by NHK Tokyo for the Best Educational Programme broadcast in 1987. The award was presented to her at a special ceremony in Japan by the Emperor of Japan.
After a 35-year dedicated and illustrious career in radio and TV, she retired at the age of 58 in 1990. However, she could relax at home only for a few days since her old school Ladies' College invited her to become the Deputy Director of its Department of Vocational Studies which post she held for another nine years. During this tenure, she introduced several new innovative vocational courses for the students.
Even three years after her death, her superiors, colleagues and subordinates speak of her highly as a dedicated, efficient and committed officer of the highest integrity. We also, as her immediate family, proudly recall her multitude of achievements during a colourful career spanning 45 years.
May she attain the supreme bliss of Nirvana.
 Mangala Herat Gunaratne
---
You will always be fondly  remembered in the Sai circle
Niroshan Srideva
Niroshan Srideva, a final year Medical student of Sri Jayawardanepura Medical Faculty lost his life at the hands of unknown murderers on Gurupoornima day, July 6, 2001 around 3 a.m. at his home in Colpetty.
Niroshan who had from the age of 8 followed the teachings of Swami Sri Sathya Sai Baba, found that living in a righteous way was more beneficial than anything else. He never transgressed Swami's teachings. He learnt that the most desirable for human beings was a life dedicated to one's and others' welfare and followed his teachings to "help ever, hurt never".  He participated in all of SathyaSai Baba's Seva (service) activities like visiting the Cancer hospital, orphanages,  health camps, cleaning up of the Mandir etc. He was never seen idling as he knew idleness was the main foe in life.
He showed bravery by protecting his juniors from ragging at the Medical Faculty. He was humble and truthful and had great endurance. He knew that lust was an enemy in life and being greedy was the destroyer of all good qualities.
For him the perceptible Goddess was his Mother and the protector was his Preceptor Swami. In his short life, he had knowledge, strength, fame and merit.
In the Colombo Sai Samithi he joined as a Balavikas student at the age of eight, then became a Bajan singer playing his instruments, the harmonium and tabla. He was a Youth wing leader. He is still remembered as a role model for the Balavikas students by the Sai Samithi. He had read books written by Swami in addition to books on Buddhism , Christianity and other scriptures.
The sacrifice that he made by saving the life of his father from the murderers, cannot easily be forgotten. He really followed the rules of Dharma-Righteousness. He could have easily escaped from them but without bothering about his life came forward to save his father.
I always think that if he was with me now, he would have been a consultant as he was a very clever student and wanted to be a Cardiologist. In the entrance exam his aggregate was one mark less than the cut off marks, but his prayers to Swami were answered by a telephone call from Puttarpathi at midnight reassuring him that he would be selected and according to Swami's words, after a week's time he received a letter from the University Grants Commission that he had been selected to do Medicine.
But why his life ended in this young age before he could sit for the final exam is beyond explanation. Only Swami knows.
Nirosha, you are affectionately remembered by all Sai devotees of Colombo annually at Swami's birthday celebrations. I really appreciate their love towards you. You have left behind loving memories in the Sai circle.
Your loving Dada,  Dr. C.Srideva
---