President considers new gamble but it is likely to fail
By Our Political Editor
View(s):
Considers possibility of non-binding referendum to hold parliamentary elections before Presidential elections this year
Strong opposition from UNF government, SLFP MPs also livid while Mahinda Rajapaksa remains non-committal
Sri Lanka facing worst crisis since Independence; country was virtually without a government with both leaders being overseas
President Maithripala Sirisena wants to conduct a parliamentary general election first after seeking approval at a non-binding national referendum.
Towards this end, sources close to the Presidency said, he has sought the opinion of the Attorney General Dappula de Livera. He has concurred that the move was possible but the President's own legal advisers have differed in their view. Even if he wishes to go ahead, he has a number of other obstacles to surmount. Main among them is the support of political parties, particularly those in the opposition. The backing of their support base may not be forthcoming.
For weeks now, the matter has been engaging the attention of President Sirisena. So much so, he approached Opposition Leader Mahinda Rajapaksa at a meeting on June 3 in the afternoon. It was the same day Rajapaksa, together with three other MPs from the opposition, met Prime Minister Ranil Wickremesinghe in the morning. That meeting was largely centred on ascertaining the possibility of giving the burdened people some relief in the form of an "economic package." Yet, Rajapaksa asked Wickremesinghe at that meeting whether there would be Parliamentary elections and he replied "there is no decision yet."
President Sirisena's meeting with Rajapaksa was essentially to discuss the aftermath of the Easter Sunday massacres. He gave him a brief on matters relating to ongoing investigations and the proposed changes he was making in the security establishment. He said he had already removed from office the Chief of National Intelligence (CNI), retired crime investigator DIG Sisira Mendis, a former Director of the Criminal Investigation Department (CID). Before him, the post had been held by officers of the Sri Lanka Army. The first CNI was Major General Chula Seneviratne, who has had a long intelligence career and is now retired. He was followed by Major General Kapila Hendavithana, who was earlier Director General of Military Intelligence (DGMI). Sirisena has now appointed Major General Ruwan Kulatunga, an officer trained in intelligence and is the Regimental Commander of the Sri Lanka Light Infantry (SLLI).
During the conversation with his predecessor, President Sirisena then broached the subject of conducting the parliamentary general elections ahead of this year's presidential polls. He then told him that he had consulted the Attorney General. Rajapaksa was non-committal and kept asking him a number of questions. Sirisena said a stable government had become inevitable in the light of what was going on in the country. The best thing was to give the people the opportunity to elect a new government that will meet their aspirations, he said. Rajapaksa, the savvy politician that he is, declared that he would have to consult leaders of all opposition parties and obtain their views first. The mood in the predominant party in the opposition, the Sri Lanka Podujana Peramuna (SLPP) is strongly in favour of the scheduled presidential elections and not a parliamentary election first. "We are not here to pull Sirisena's chestnuts out of the fire," quipped a senior member.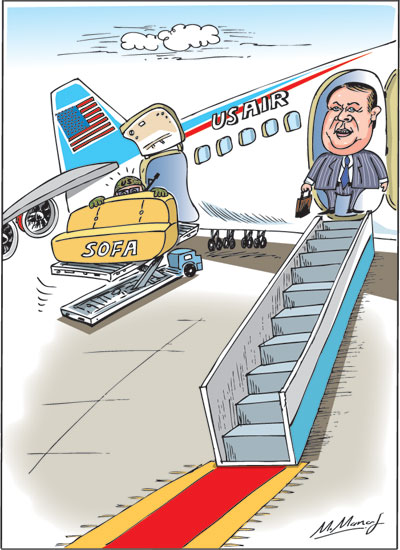 Sirisena's main aim in going for a parliamentary general election first is because he believes that would lead to the defeat of the United National Party. Hence, he thinks, its leader and Premier Wickremesinghe will not be able to become a presidential candidate and would thus see a serious crisis within his party. To say the least, his political battle with the Premier is now a national priority. It is no secret that there are sections in the UNP who want to replace Wickremesinghe as leader and thus deny him the presidential candidacy. Two UNPers have shown signs of wanting to be in the fray. One, backed by Sirisena himself, is Sajith Premadasa though that support would be political anathema for Premadasa. The other is Speaker Karu Jayasuriya, who has stepped up meeting civil society groups and even Colombo based diplomatic community periodically. Of course, he has declared he will become presidential candidate if the UNP wants him.
Like there is many a slip between the cup and the lip, President Sirisena's latest gamble has more signs of failure than success. The most important is the question of support from political parties. The opposition spearheaded by the SLPP is sure to oppose the move not to mention the United National Party (UNP) led United National Front (UNF). Above all, there is also another more important question -whether the Sri Lanka Freedom Party (SLFP) which is led by President Sirisena will back them. The reason – it was just last week that 23 SLFP parliamentarians handed in a letter to Sirisena assuring him of their support for his presidential candidature. In return, Sirisena assured he would make a public statement that he would be the SLFP presidential candidate. It did not happen. These MPs are now livid.
The letter was prompted by reports attributed to Sirisena telling a Cabinet meeting on May 28 that he would back a "winning" presidential candidate from the UNP and will not seek a joint alliance with the SLPP. However, the angered SLFP ministers met him to protest over his remarks. Their contention was that they too be allowed to decide on their political future. Though he did make the remarks Sirisena flatly denied it. It was then that these MPs declared they would in unison sign a letter making him the SLFP candidate and urged him to formally make a public announcement. It has not been done so far. Now, fears of most parties opposing a referendum looms large thus politically isolating Sirisena.
Nevertheless, President Sirisena remains keen on the referendum for another reason. He feels it is now his turn to strike back at the UNP albeit the UNF for going ahead with a Parliamentary Select Committee (PSC) to probe the Easter Sunday incidents. He charged at the emergency Cabinet meeting last Friday night (June 7) that the aim of the PSC was to project him as the villain responsible for the incidents on Easter Sunday. He named Premier Wickremesinghe for being behind the move and said it was to make him the scapegoat and tarnish his image.
It was also to embarrass him as the head of state, Sirisena alleged.  Other Presidential sources said the move was a prelude to initiate impeachment proceedings against him though the time frame available, ahead of a presidential election, makes it difficult. Such reports gained currency after Wickremesinghe wrote to Sirisena challenging the legality of the latter appointing acting ministers when a minister was not in office. "You all backed me at the presidential election in 2015. You all are now betraying me," Sirisena complained. Maava Ivara Karanna Yanney. Denatama mama ivarai or they are trying to finish me. I am already finished, he said. Premier Wickremesinghe pointed out that it would be difficult to wind up the PSC but it may be possible to talk to its members about the President's concerns and work out some modalities. UNP deputy leader Sajith Premadasa concurred with Sirisena's assertions and declared it was "unfair" for the PSC to go ahead this way.
President Sirisena also kept telephoning Speaker Karu Jayasuriya. He expressed serious concern over former Police Chief, N.K. Illangakoon, a person known well for his high integrity, being summoned before the PSC. Later, the move to summon him before the PSC was changed. There was also a view that senior security forces, police or intelligence officials should not be summoned in keeping with the concerns already expressed by the Attorney General that the matters they were engaged in were sub judice or under judicial consideration and therefore prohibited from public discussion elsewhere. Yet, the PSC decided to continue by summoning the former Governors Azath Sally (Western Province) and M L A M Hizbullah (Eastern Province).
After the emergency Cabinet meeting, it was Minister Rajitha Senaratne who brought to the notice of the PSC the concerns raised by President Sirisena.
His remarks infuriated Abraham Sumanthiran, the Tamil National Alliance (TNA) parliamentarian. He said that Senaratne had "undertaken a contract job" for Sirisena and asserted that in terms of the Constitution the President could not give directives to Parliament. Minister Ravi Karunanayake was not present at this session though he met Sirisena together with colleague Senaratne.
The tug of war between the Executive and the Legislature spilled over for another week. President Sirisena was now becoming more livid. Last Wednesday night, Minister Senaratne was locked in lengthy conversations with him. In turn, the President was also telephoning Speaker Jayasuriya. The talks veered towards a settlement. President Sirisena agreed he would summon the next Cabinet meeting on Tuesday June 18. What did the UNF Minister offer in return? Was it to incrementally wind down the PSC and now rely on the final report of the three-member Committee that probed the Easter Sunday incidents? This Committee is headed by serving Supreme Court Justice Vijith Malalgoda and comprises N.K. Illangakoon (former IGP) and Padmasiri Jayamanne, one-time Secretary to the Ministry of Law and Order. They have handed in to President Sirisena both their interim and their final reports. It is to be sent to Speaker Jayasuriya for tabling in Parliament.
On Thursday, just ahead of his departure to Tajikistan's capital of Dushanbe, President Sirisena wrote to Speaker Karu Jayasuriya. Copies of this letter were also delivered to all members of the PSC. In that he re-iterated the damage that was being caused to national security through media publicity. He appealed again to wind up the PSC since action was being taken based on the findings of the three-member Committee. Speaker Jayasuriya's position has been that it was a matter for the Committee members, the Parliament and even the party leaders to decide. Hence, he will meet the PSC members on Tuesday to discuss all issues connected with the request. He is also to chair a meeting of the party leaders.
There is every likelihood that President Sirisena could change his decision to boycott chairing cabinet meetings if he does not receive a favourable outcome from the PSC. However, Parliament sources said whatever decision they take would be bearing in mind the supremacy of Parliament and would not compromise on the Constitutional safeguards. Before he departed for Tajikistan too Sirisena spoke with Speaker Jayasuriya on Thursday. He is due in Colombo on Sunday (today).
In the Tajikistan capital of Dushanbe he attended the fifth summit of the Conference on Interaction and Confidence Building Measures in Asia (CICA).
President Sirisena appears to have been bitten by a travel bug. He will leave again from Colombo on June 25 for a visit to Kampuchea and thereafter spend two days (June 26 and 27) in Laos.
After the latest crisis between the Executive and Legislature, opposition parties summoned a hurried meeting to discuss the situation. Their fears rose because state officials now depended on the Cabinet to take decisions before they implemented them. This was particularly in the backdrop of senior state officials being summoned to state investigation agencies to be questioned on their official actions. They took note of the fact that the PSC had drawn a high degree of public interest though live television coverage was stopped after the first day of sittings. Social media coverage in this regard in the form of video clips is being lapped up.
The opposition meeting was attended by Basil Rajapaksa, Susil Premajayantha, Bandula Gunawardena, Dullas Allahapperuma and Thilanga Sumathipala. It was noted that the functioning of the government had come to a virtual standstill with officials not wanting to take decisions. One of them said even a small matter like the extension of service of an official over the age of 55 years required Cabinet approval. Some speakers also criticised the PSC on the grounds that the matters it was probing were sub judice. This was why the opposition parties had not served in the PSC. They said it was a convention that Parliament did not debate or discuss matters that were sub judice and related to sensitive national security issues.
The meeting decided that they would urge Opposition Leader Mahinda Rajapaksa to play the role of an intermediary between the President and the UNF government. "We do not want to support either side. We are compelled to take this step due to two main reasons – to help the people who are facing hardship and to keep the country safe," said a spokesperson. The move may still become necessary if the issues between the Executive and the Legislature are not resolved. Asked whether the opposition discussed any options in case they could not reconcile the troubling issues, the spokesperson replied "yes" and added, "we were even ready to suggest the prorogation of Parliament that would effectively put an end to this."
Also criticising the PSC was SLFP General Secretary Dayasiri Jayasekera. He told a news conference on Tuesday that the UNP and the Opposition wanted the appointment of a PSC. "It was only after its appointment that the UNP brought a suggestion on the process to be followed," he declared. He said he objected to it on the grounds that the UNP did not consult anyone. The Committee was only engaging in activity that concerned former Minister Rishad Bathiuddin, he alleged. For that purpose, they were attacking the President, he said. He added "There are more than 500 Fundamental Rights violation petitions before the Supreme Court. When the PSC discusses such matters, it affects the cases and denies them of a fair trial. It is the Parliament's responsibility not to do so and respect time honoured traditions."
However, a more important news conference was the one held by Mahinda Amaraweera, General Secretary of the United People's Freedom Alliance (UPFA) which is led by President Sirisena. He told a news conference on Thursday that preparations were under way to sign the Status of Forces (SOFA) Agreement with the United States. This was when US Secretary of State, Mike Pompeo visits Colombo on June 27, he said.
"Already an Acquisition and Cross Servicing Agreement (ACSA) has been signed. It was more expanded than the one that previously existed," he pointed out. "The SOFA is detrimental to our country. It will allow the US military to occupy Sri Lanka with immunity from Sri Lankan laws," he claimed. It is strange indeed that Ameraweera should say this at a news conference when President Maithripala Sirisena has already directed that no such agreement be signed with the US. The directive was given on the telephone to Foreign Minister Tilak Marapana who was in Washington holding talks with officials there. That itself speaks for the great disarray in the Presidency where they find it difficult to even carry out the President's own directive. They have to therefore resort to hurried news conferences to lament over what is going on.Amaraweera added: "According to information we received, we believe this Agreement is a threat to security and sovereignty of the country.  Therefore, we are expecting to get an explanation from the government. We would also educate the people about this. When we questioned the Government, it says it would sign the agreement after notifying Parliament. Yet we have observed that a lot of agreements signed by the government are not presented in Parliament." This includes the ACSA though officials claim it is harmless and the US had signed it with more than 100 countries. Why then keep it a top secret?"
Talking of ACSA, the man who allegedly pressured then Defence Secretary Karunasena Hettiaratchchi to rush through this lopsided agreement with the US, former Foreign Secretary, Prasad Kariyawasam has responded to our report last week that he is paid by the US Federal Government. This is what he had to say in a twitter message: @TimesOnlineLK resorts to deplorable reporting with no prior fact-checking. Yesterday it did the same by misrepresenting my contractual employment with the Parliament of Sri Lanka and the Hon. Speaker as his Advisor on International Affairs.
Is it the whole truth, half truth or no truth? Like our fact checking which brought to the attention of Maithripala Sirisena, President of the Democratic, Socialist Republic of Sri Lanka, the fact that Kariyawasam intervened as Foreign Secretary of Sri Lanka on behalf of the United States to rush through the ACSA, even before the armed forces commanders commented on it, here is the story. It is told to the Sunday Times by an unimpeachable, highly authoritative source whose identity cannot be revealed for obvious reasons.
"Kariyawasam was one of four "Resources Persons" recruited by Parliament under an arrangement which is financially supported by the United States Agency for International Development (USAID). His appointment was concurrently endorsed both by the USAID as well as Parliament. His slot was originally meant for Karunatilleke  Amunugama, Sri Lanka Ambassador. However, he was ailing and passed away before he could take appointment after his retirement from a diplomatic career.
"Kariyawasam is on a six-month contract of which he has to complete two more months. We will of course review his position at that point. The US aid funds for our project with the Parliament comes through DAI, an implementing agency associated with USAID. There is no financial provision in Parliament to pay for the Resource Persons. Naturally, Kariyawasam has to sign a contract with Parliament since his services are for them but paid for, not in dollars, but in rupees by DAI on behalf of USAID.
"As for his claim that he is an advisor to the Speaker, (the one that has given him entre or licence to interact with the diplomatic community in Colombo), it is only for the purpose of "parliamentary diplomacy," one of his functions.
Kariyawasam, who complains of fact check, is yet to tell the real facts to Sri Lankans over the role of how ACSA, the heavily one-sided agreement with the US became effective. Is it not only because he used his official position as then Foreign Secretary? He has also not explained why he ordered the immediate transfer of a Foreign Ministry official on secondment to the Defence Ministry? Was it because she had already delayed the draft ACSA from going before Cabinet? Who is the other former Foreign Ministry official (now serving another ministry) who is backing him and was involved in this transfer? These are among a multitude of questions to which Sri Lankans, who are shocked by the recent developments, want answers to.
Of course, the fault lies with President Sirisena for making appointments to key sensitive positions like defence and foreign affairs. He should take the full responsibility for the choices he made and the blunders they have caused. The US cannot be blamed when local persons are able and willing to concede anything and everything, they want without as much as a murmur. Never before have things sunk to such depths since independence.
That Sri Lanka is in a worst political crisis, both at home and abroad, is extremely disturbing. After all, the country has been without leaders, both the President and the Premier this week. Must anything more be said about good governance?
Retired DIG says Easter Sunday carnage could have been prevented

Mawanella, along the Colombo – Kandy road, was where the IS backed Muslim extremists made their debut as the godfathers of violence and terror.

As far back as December 23 and 26, last year, they launched a campaign to create ethnic disharmony by damaging Buddha statues. If they got away with the first attack, the second in the tiny village of Lindula saw civilians rounding up two attackers at night.

Teams from the Mawanella Police scoured the area in the next two days. Five more Muslim youth between the ages of 20 and 28 were arrested. Their statements were recorded. That laid bare that three most wanted persons were at large – Zahran Hashim, described as the leader, from Kattankudy, two brothers Sadiq Abdulla and Saheed Abdul Haq from Mawanella. The latter were later arrested and Zahran died in the suicide bomb attack on Shangri La Hotel.  It came to light that those arrested had links with a foreign organisation. Hashim had preached them to kill all "infidels" or non-Muslims and attack their places of worship.

Unable to find Zahran in Mawanella, a Police team went to Kattankudy. The Sunday Times has seen a letter given to Inspector A.G. Amerapala of the Police team in Tamil. Under her official seal and signature, Ms M.C.S. Fasmilla, Grama Niladhari, New Kattankudy South, said, Zahran had not been living in her area. He had gone missing. Yet, intelligence officials in Colombo knew he was posting messages on his Facebook. The Mawanella Police reported facts to court and the suspects were remanded. With the lack of wherewithal, the Police then asked the Criminal Investigation Department (CID) to further probe the case.

Palitha Siriwardena, Deputy Inspector General of Police (DIG) was in charge of the Kegalle Police Division until June 3, till just two weeks ago. He spoke exclusively to the Sunday Times of the events that followed. "My conscience does not allow me to remain silent in retirement when more than 250 innocent lives have been lost and nearly 500 were injured. If there was prompt action over our findings, the Easter Sunday carnage could have been prevented. The Public have a right to know how it failed and who failed it," he lamented.

Siriwardena said after the CID took over, detectives investigated deeper into what Police unearthed. They established that a foreign organisation was funding the local group. They were operating on several mobile phones. The locals had large sums of money in bank accounts. "I had conferences regularly with all the Police teams. Thereafter, I reported them in detail to Senior DIG in charge of the Sabaragamuwa Range (Ravi Wijegunawardena). He in turn kept the Inspector General of Police (Pujith Jayasundera) informed both through phone calls and in several reports," said Mr Siriwardena. Hence, the IGP was aware, much ahead of the April 9 intelligence warnings, that a serious situation was developing," he charged.

A letter from DIG Wijegunawardena dated January 14 2019 to then Police Chief Pujith Jayasundera, a copy of which was obtained by the Sunday Times confirms this assertion. Here are highlights of the Sinhala letter translated to English:

Regarding the investigations carried out about the damages made to the Buddha Statues in Mawanella police area

"With reference to your letter regarding above subject dated 2019.01.09.

"Referring to the subject, there is a report handed over to me by the Deputy Inspector General/ Kegalle regarding an investigation carried out about the letter issued by President of Mawanella Masjid, Dr Hameed A Azeez who is residing at  Masjidul Hudah, Hinguloya, Mawanella.

"According to the report, there were four Buddha statues situated in Mawanella police area, Kegalle police division have been damaged by an organized group on 2018.12.22 and 2018.12.26.  There have been 07 Muslim suspects arrested for damaging the statues arrested and produced in Mawanella Magistrate Courts. They were remanded until 2019.01.16 (case number M/U 11330/18)

"Apart from that, there was a revelation that the arrested were also linked to incidents in damaging Buddhist, Hindu and Christian statues in Peradeniya, Welamabada and Pothuhera police areas. The two main suspects had fled the area. Special police units are deployed to arrest them.

"Investigations conducted so far have revealed seven Muslim suspects and two Muslim suspects who are to be arrested have co-ordinated their actions through mobile telephones. This has been confirmed by phone records. People of the area believe that there can be foreign or local connection influencing the attacks on the statues.

"The report also points out that there must be in depth investigations carried out to find out whether there are local and international groups linked to this. In order to do that the mobile data information of the suspects and bank accounts as well as other assets must be subjected to investigations.

"However, the officials of the divisional police stations do not have the required special training or the needed equipment to carry out in- depth investigations to analyze mobile data or check bank accounts. This has hindered the investigation to find out who are the ones behind damaging of religious statues.

"However, the Buddhist monks and the Buddhist community are in high alert to learn about the organizations and international organizations. They thoroughly believe that the parties that are involved would be involved through police investigations. It had been reported that somehow if that trust on the police is lost there will be issues of racism and spark religious hatred.

"The Criminal Investigation Department, Terrorism Investigation Department and Government Intelligence are trained and equipped to carryout prior mentioned investigations into mobile data, report on verified data and Bank account reports.

"According to the facts presented I would agree with the recommendation made by DIG of Kegalle. Therefore, I send you page 01 to 07 of the file along with this report."

Retired DIG Siriwardena revealed that it was on the basis of information obtained from suspects arrested by the Mawanella Police that the CID raided the IS backed extremist Muslim group's operational base in Lactose Watta, Vanathavillu in the Puttalam District on January 16. "There they found materials to manufacture bombs, as lethal as the ones they used during the Easter Sunday carnage. There were 100 kilos of explosives, six 35 kilo cans of nitric acid among the items found.

Even here, the name of Zahran transpired as the leader," he said.

He said CID detectives arrested four suspects and detention orders were issued on them for four months duration each under the Prevention of Terrorism Act (PTA). "Two of them were later released by the CID with three conditions imposed on them. They were told that they should live in the same address as before, they cannot have any contacts with the extremists, they should report every month on a Monday to the CID headquarters between 9 a.m. and 12 noon and, report within 72 hours after being summoned. "This is very unusual. It is only the Courts that places such bail conditions. We were told there was political pressure." Siriwardena said. Is it because a leading politician claimed that the persons be released claiming the two were carrying food? he asked.  He noted that the investigators took their safeguards and released the two. No one has so far been indicted in this case involving the base.

Siriwardena also made an allegation against the former Western Province Governor Azath Sally. This was when three teams from the Mawanella Police were investigating the matter. He said: "I had a telephone call from the IGP (Pujith Jayasundera) asking me whether we had arrested Sadiq Abdulla and Shaheed Abdul Haq. I said "no." He then asked me to get my Assistant Superintendent of Police ASP (Gamini Tennekoon) to telephone Azath Sally, the Western Province Governor. Later, ASP Tennekoon reported to me that he had spoken to the former Governor. The Governor had told him that Moulavi Thamsin would come over to the Police and surrender Sadiq Abdulla and Shaheed Abdul Haq and to await them. However, the ASP later said they never turned up."

At a progress review meeting with the investigation teams, SP, ASPs and Inspectors on December 31 2018, retired DIG Siriwardena said "I raised this telephone call matter again. Whilst all of them watched, I took a telephone call during the conference to Mr Sally. All others were witnesses and will testify at any inquiry. I told him that the two wanted persons have not surrendered.  He replied he had told Moulavi Thamsin about it. Whilst Mr Sally was still on the line, I took a conference call to this Moulavi. The first question he asked me 'what is the status of the investigation now?' I could not have told him that. I cut the line and told the teams to look for the suspects."

"Who is this Police bu….r? He does not know protocol. I told the IGP Pujith Jayasundera that the All Ceylon Jamiyathul Ulema (ACJU) had spoken to me. They also wanted me to speak to the Defense Secretary too," exhorted Mr Sally when asked to comment.

He said "The Police are turning what I said into something else. Whoever is saying this is connected to (mentions the name of a leading opposition left wing politician). Every police DIG is working with 'Pohottuwa.' They are into anti Muslim activity and they are creating the anti-Muslim feelings, anti -Muslim phobia" Before more questions could be posed, including one on why he interfered with the Police investigation, that too outside his province, he rang off.