Kumar Sangakkara named as first non-British President of MCC
View(s):

Kumar Sangakkara, the former Sri Lanka cricket captain, has been announced as the first non-British President of Marylebone Cricket Club (MCC), and will take up his one-year post on October 1, 2019.

Sangakkara's nomination was announced by the current President, Anthony Wreford, at the MCC Annual General Meeting at Lord's.

"It is a huge honour to be named the next President of MCC and it is a role that I am thoroughly looking forward to," Sangakkara said. "For me, MCC is the greatest cricket club in the world, with its global reach and continued progress for cricket on and off the pitch.

The year 2020 is going to be yet
another significant one in cricket,
especially at Lord's and I am thrilled that I am going to be able to play a part in supporting its future as President of MCC."

MCC, which owns Lord's and acts as the guardian of the laws of the game, was founded in 1787 and lists 168 presidents in its history. That number includes one member of the royal family, 13 knights and six baronets but, until now, no one from overseas.

Sangakkara is already heavily involved with the club, having delivered a
powerful and memorable MCC Spirit
of Cricket Cowdrey Lecture in 2011,
in which he touched on the power and importance of cricket in healing the wounds of civil war in his native
Sri Lanka, and recounted his experience of the Lahore terror attack in 2009.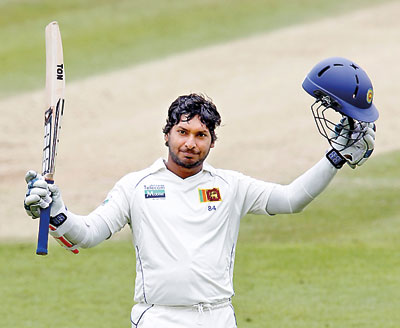 In 2012, he was awarded Honorary Life Membership of the club and in the same year, he joined MCC's World Cricket committee and remains an active
member.
His connections with MCC go back a long way: he played against the Club in 2002, opening the batting for the touring Sri Lankans in a first-class match at Queen's Park, Chesterfield. He also played for MCC against an International XI at Lord's in the 2005 Tsunami Relief Match. Proceeds from that match were used by the Foundation of Goodness to set up the
MCC Centre of Excellence at Seenigama in Sri Lanka.
Sangakkara appears twice on the Honours Boards at Lord's, having scored 147 in the drawn Test against England in 2014, and 112 in their ODI victory on the same tour, an achievement that earned him one of the inaugural placings on the new limited-overs boards that was unveiled earlier.
Sangakkara's year of office will begin on October 1, 2019 and will conclude on September 30, 2020. His tenure will encompass two England Tests against West Indies and Pakistan, and the launch of The Hundred competition.
Wreford said: "As MCC looks to
broaden both our horizons and
international reputation, I'm delighted that Kumar has accepted the invitation, which he did in January this year, to be the next President of MCC. He is an
outstanding individual both on and off the field and will make a huge
contribution to the Club. In a World Cup and Ashes year he will also have a
significant role to play as President Designate."
ESPNcricinfo
Sanga's Records…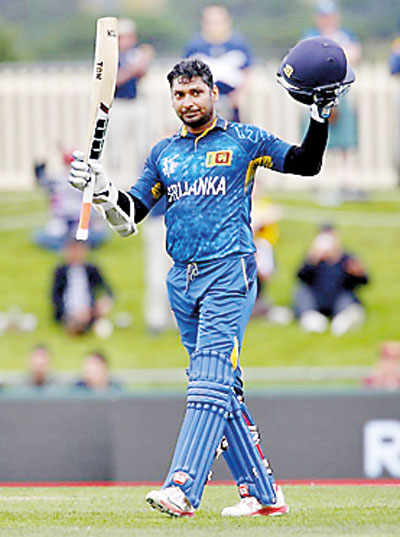 Tests
Second most double centuries in a career – Sangakkara has 11 double centuries in Tests,
second only to 12 by Sir. Don Bradman.
Fourth highest number of centuries – Sangakkara has 38 centuries in 134 matches.
First player to score 150+ scores in four
consecutive Test matches.
Fastest 8,000 runs, Fastest 9,000 runs, Joint fastest to score 10,000 runs – Sangakkara along with Brian Lara and Sachin Tendulkar, Fastest 11,000 runs, Fastest 12,000 runs
Highest partnership for any wicket – 624 for the third wicket by Kumara Sangakkara (287) and Mahela Jayawardene (374) against
SouthAfrica in 2006. The only pair to put on a 600+ run stand for any wicket in test history.
Most test centuries when batting at number 3 position (37)
Most career runs when batting at number 3 position in test history (11679)
One-Day Internationals
First Sri Lankan to pass 14,000 runs.
Most number of dismissals (includes wicket- keeping) – Sangakkara has 482 dismissals (383 catches and 99 stumpings).
First and only batsman to score four
consecutive hundreds – Centuries against Bangladesh (105*), England (117*),
Australia (104) and Scotland (124) in the
2015 ICC World Cup.
Sangakkara was the first Sri Lankan and
4th overall batsman to reach hundred in his 100th ODI appearance.
Most runs as wicket-keeper batsman in
ODI history (13,262 runs) and the first
wicket- keeper batsman to score over
10,000 runs in ODI's.
T20 Internationals
Record for the highest ever partnership for any wicket in ICC World T20 history (166 for the 2nd wicket with Mahela Jayawardene).
First batsman to score half centuries in two
different ICC T20 World Cup finals
(2009 and 2014).
World Cups
Most number of dismissals as wicketkeeper –
(54 in 37 matches).
Most consecutive centuries in a single
World Cup (4). (Sangakkara is the only player to score 4 centuries in a single World Cup).