Better transportation infrastructure and services? First providers should be customer-friendly and accountable
By Prianka N. Seneviratne, PhD, PEng.
View(s):
Quality, availability, cost, safety and numerous other aspects of transportation infrastructure and services are some of the most discussed topics. Academics and experts continue to question the need for expressways and railway expansion. Mattala airport and Hambantota seaport are called "White Elephants" and "Chinese ploys". People blame growing car-ownership and poor-quality public transportation for traffic congestion in the cities and the main roads. High costs and long delays of on-going projects are blamed on corruption. Some people say "the government is spending colossal amounts on infrastructure that serve only the country's elite?" Are these criticisms valid and deserve attention?
According to the Central Bank, the government collected more than Rs. 175 billion in the form of airport, port, regional infrastructure development and special commodity levies in 2017. Revenue from vehicle import taxes and levies was estimated at Rs. 25 billion. Government investment in transport and communications was Rs. 266 billion (capital and recurrent expenditure). Budget allocation to the Road Development (RDA) was Rs. 206 billion. This investment is about 4 per cent of the GDP and its outcomes were positive. Most people will agree that transportation infrastructure quality today is far better than 10 years ago. More infrastructure—new railways, expressways and container terminals—are under construction and should be operational in the next five  years.
According to published data (see Table 1 below), infrastructure and service providers have performed well between 2012 and 2017. In the first half of 2018, the Port of Colombo had the world's fastest growth among the top 30 container ports. However, there are major operational problems that may make these achievements unsustainable.
For example, Colombo's East Container Terminal, which is critical for Sri Lanka to remain a leading transshipment hub, is still in limbo. With the current President wanting SLPA (Sri Lanka Ports Authority) to build and operate the terminal after paying Asian Development Bank (ADB) to advise on how to structure a public-private-partnership, the terminal, originally planned to be operational in 2017, has yet to progress beyond a 100m quay and a yard without cranes.
The current terminal at Colombo Airport served nearly 10 million passengers in 2018 but it is designed for a capacity of 6 million. Obviously, the level of service offered by the terminal is far below the standard. Despite a grant to design and a Rs. 56 billion loan from Japan to build a 180,000-square meter new passenger terminal with a 9 million annual passenger capacity by 2020, construction has yet to start and the operator is responding with temporary fixes.
In September 2018, the Indian government lent the Sri Lanka Railways US$85 million to procure 160 passenger coaches. Railway Technology Magazine says that India will also provide "six diesel multiple units, 10 locomotives, 20 container carrier wagons and 30 fuel tank wagons". Construction of Phase 1 of the first new line since 1948, the Matara-Kataragama extension, began in October 2013 and was scheduled for completion in 2016, but opened in January 2019. Indeed, these are much needed assets to maintain the services, but they will not fill the financing gap. Moreover, the ADB is advocating electrification, which has been a favourite solution of donors for years. Of course, the fuel cost is about 25 per cent of the operating costs. If the capital cost of electrification and the high cost and low reliability of electricity in Sri Lanka is disregarded, it will certainly reduce the operating cost and the government subsidy. But, capital is not free. Besides, operating cost is not the railway's main problem. It is the organisational structure and the employee unions whose missions are not aimed at providing a service to the people.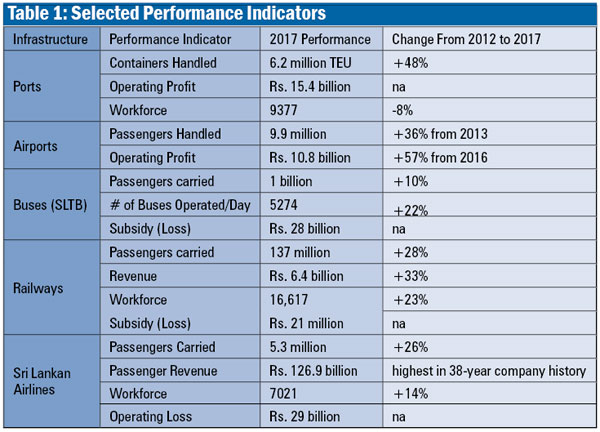 In the 1990s, the World Bank advised and assisted the government to privatise SLTB (Transport Board). Indeed, it made some difference. The frequencies today are higher than in 1990, but users will confirm that service reliability, safety and comfort are worse. The government subsidy before the restructuring, according to an article by late A.S. Jayawardena, a former Central Bank Governor, was Rs. 500 million. Today it is Rs. 28 billion. The latest move to improve services is installing GPS and electronic ticket machines on buses. If the GPS will allow passengers to get real time information on a smart phone about bus arrival times at their stops, travel times, and whether the bus is full or has space, then it will reduce waiting time. In December 2017, the Minister of Transport at the time announced the system will be in place within three months, but it has yet to be seen. The Presidential Commission is investigating the SriLankan Airlines' losses.
In the road sector, completing the Central Expressway project by the end of 2020 has become a major challenge for the government. In March 2019, the RDA told the media that Phase 1 of the project is delayed because China has held back the financing. People in the area have also complained about the planned source of gravel, which may delay construction further. Phase 3 financing agreement with Japan is still under negotiations due to unacceptable conditions imposed by the financier. Financing plan for Phase 4 has yet to be finalised. Only the 31 km Phase 2 section from Mirigama to Kurunegala, financed from a syndicated loan from local banks, is slated for completion on schedule at the end of 2019.
The above woes also contribute to traffic congestion across the country. Experts from Moratuwa University have estimated in 2009 that the economy is losing Rs. 32 billion per year due to congestion and the current average vehicle speed in the Western province is 15 kmh. These experts believe that vehicle population, which in 2017 stood at 7.2 million, must be capped and public transportation must be improved to prevent a gridlock. The National Police Chief has said that the department is short of 350 enforcement officers, and that the container carriers and 200 tipper trucks entering the city are worsening the problem. The 2017 fines totalling Rs. 2.4 billion has not reduced errant drivers who are also responsible for the congestion.
The government is supposedly negotiating a Japanese loan to build a light rail transit system costing $1.8 billion in Colombo, which is also expected to reduce congestion. But the rail and bus operators have done little, if anything, in the past 10 years to help ease traffic congestion. Although rail and bus ridership has increased, more passengers have switched to other modes of travel. The services are unreliable, unsafe uncomfortable, and uncoordinated with other modes. In the past, there was at least informal coordination in the Colombo. Certain bus routes in those days originated and terminated at railway stations to enable people to transfer between modes. Part of this demand is now served by 3-wheelers.
Infrastructure and service providers, private and public, are not favoured anywhere in the world. Likewise, few, if any, large infrastructure projects have got delivered on-time and on-budget, even in some of the most advanced countries. Regardless, the providers are required to be responsive and accountable for the failure to meet targets and standards. Responsiveness and accountability are now standard measures of performance of staff and service providers in most countries. Sri Lankan infrastructure and service providers must also undergo some fundamental organisational and attitudinal changes and drop the piecemeal solutions of the past for more comprehensive and sustainable solutions. These two changes are critical for implementing any of the myriad technological and operational solutions tabled by the media and experts over the years. One, the providers must have a proactive customer-oriented outlook –"customer is king". Today, the customer is at their mercy, especially the public transport user who has no choice, but to pray that the next bus or train will arrive so that he or she can go home, or tomorrow's commute will not be disrupted due to a train drivers' strike. Two, they must publicly disclose their minimum service standards and designate either an individual or team with authority to make decisions, be fully accountable and professionally liable for upholding the standards. Three, they must have a third-party to independently validate and endorse their investment and operational plans, on-going projects, and customer feed-back before the government releases funds. These three changes will also increase consistency and transparency and set the stage for technology-based service improvements, whether it is to electrify the railways, place GPSs on buses, or impose penalties on late delivery of port and airport terminals.
(The writer is Managing Director, Unlike Consulting Ltd, Sri Lanka and can be reached at prianka@candsdevco.com)