Appreciations
View(s):

An honest and genuine friend with an exuberant personality

Gamini Ameresekere

Gamit (Gamini) Ameresekere was a grand friend among our good friends whom we cannot forget. Memories of the fascinating chats we enjoyed don't fade.  He lives every day in the realm of my thoughts for he was such an admirable person whom I associated closely with for almost half a century.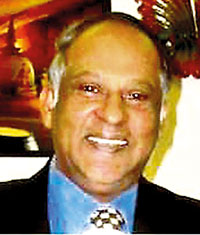 Gamit said goodbye forever on January 1, this year, at his home in London. Whilst on holiday in Sri Lanka a few years ago  after suffering a heart attack and being in a private nursing home he survived the attack. But other complications intervened and he did not regain his health. His wife Ranjini, children Sasha, Anous-hka with her husband, and brilliant son Asitha with his wife, both couples who bore beautiful children survive him. Gamit loved and cherished all of them dearly.
I met Gamit in London for the first time at his office at Regent Street, one of the poshest business hubs of Central London. Subsequently he moved to Kingly Street not very far from Regent Street. I was new to London. I went to see him to purchase an airline ticket for my wife Malini from Sri Lanka to London. I was recommended to go see him personally by a cousin – Lakshmi de Abrew.
Gamit was out when I arrived.The receptionist assured me that he would return soon. I waited. His office was quite spacious and neatly designed with a stately table with a rotating office chair. Right round the room there were splendidly cushioned chairs as well.
Soon a smartly attired Gamit walked in and after shaking hands, invited me to be seated in front of him. I told him the reason for my visit and he had one of his office staff make inquiries. This was in 1974. The staff member returned with a date for December 22. Gamit said, "No need of sending the ticket from here, you can ask your wife to collect it from our office in Colombo."
I thanked him. I immediately realized that he was an honest and genuine gentleman.
After about six months Ranjini, Gamit's wife, having known Malini for years called her to invite us to their home to dinner.  This was in mid-1975. They lived at Broadwater Road in Stratham London SW16. From that day onwards a strong friendship grew between the two families. If we happened to be in London, we were a part of their Christmas celebrations and parties at either home and we met often.
Gamit was an exuberant person who had many thought-provoking stories to relate. On politics his criticisms were bombshells,  and even if we disagreed,  there were no hard feelings at all -we remained very close friends.
I found him to be a very straightforward person, very knowledgeable on many matters. He was an ardent lover of cricket and rugby. He spoke on any matter without fear, not favouring any person or any side but expressing his views clearly, his confidence brimming in whatever he did.
Being a Royalist, he always supported his College. He formed an Old Royalist Association for the old boys living in the UK. He raised funds for Royal College through various events of the Association. As a rugby fan he never failed to be at the annual Trinity-Royal encounter  supporting his alma mater and meeting his old friends. Each year like a prayer he would come from London to attend the matches.
He was usually accompanied by Ranjini. It seemed a ritual of his that he never failed to call his close friends for a get-together for lunch or dinner and enjoy drinks and long  chats with lots of laughter. The group included Sinha Ratnatunga, DIG Gaya Pattikirikorale, Afghar Mohideen, Malini and I, and occasionally two or three others as well. It was after our meeting at the Cinnamon Grand that he had a heart attack that night without anybody around except for Ranjini.
When he spoke of finances whether in the form of liquid or hard cash, he used to tell me all the time, when you need it you must have and use it properly for the purpose that you wish to have it for. If it is a property sell it and use the required cash for the needed purpose. "Don't regret and worry about it," he used to say. I know that he practised this formula for his business improvements and succeeded and had no regrets for doing so. I found him to be very practical, reasonable, diligent and timely in such matters.
I acted as the lawyer for the purchase of his house, 55 Mount Ephraim Road, London SW 16, where his family had lived happily for more than 30 years or more. By this time, we were close friends and I did not send him a fee note for the work. He asked me why I did not do so. I told him as a friend I could not. He was wild with me. He said, "You are a professional, you have to charge me for the work done," and sent me a cheque. "Let our friendship be over if you don't accept it." With humility, as I wanted to save our friendship, I did accept his cheque. I remained his lawyer in several litigation matters of his firm. I did not fail to forward him the reasonable fee notes for which he sent me the payments. I state these to show how straightforward a gentleman he was.
I can't forget the journeys he made to the States when we were in Los Angeles. First, to view my production of the English version of Sinhabahu on the first night with his son Asitha. Both liked the production and happily and sincerely, I felt, congratulated me. The second occasion was the trip he made with Ranjini to Boston for our Heshan's wedding and how Gamit participated as an Uncle leading our son on to the poruwa. These memories fill us with nostalgia.
It is with great sorrow that we attended the interment of his ashes brought from London after a Holy Mass on March 16 at Christ Church (Dehiwala) Mount Lavinia. I as a Buddhist sanctify him the attainment of Nirvana.
Namel Weeramuni
---
For the good times and wonderful memories
MAHESWARI MURUGASER
Our mum Maheswari (Mahes to friends!) was born on March 17, 1927, so this would have been her 92nd birthday. Fittingly, for a person who celebrated life fully, she left this mortal coil on Christmas Day four years ago.
She was blessed with a superb husband in T. Murugaser, who was as dashing as she was, and who accomplished many things in many fields. She was a vivacious woman, a style icon of her time, always beautifully dressed and accessorised.
Mahes was a beautiful and yet formidable lady, who did not suffer fools gladly. She didn't believe in beating about the bush and was very forthright in her views! That included her children. She taught us what was right and what was wrong, and for that, we must thank her profusely. The big stick was not used sparingly, but I believe it was a good thing! That was the way things were done then!
She used to drive us to our tuition classes in an era when not many women had licences. She would patiently wait at the location and drive us back. Can't forget those memories!
Nor can we forget the wonderful holidays we had at the present President's House (it was called Queen's Cottage then!) in Nuwara Eliya with Ernie and Marie Goonetilleke (OEG's son), our holidays with Sellamuttu Sivanathan and family at the Bandarawela Hotel and in India, Arthur Edwards and his son Jehan in Yala, and our several holidays with her good friend Ralston Tissera (and classmate at Ladies' College – before he moved to STC) at so many tea estate bungalows. Great times!
May God bless her soul and look after her in Eternity. I must thank my sister and her husband Sega for enduring much expense and worry during the last two years or so. My wife Neelika was a tower of strength to all of us, and cared for her in our home for several months as if she were her own mother – her Christian faith coming to the fore!
Thanks Mahes, for the good times!
Sarala, Pratap & Suresh
---
We have lost a treasure in the field of education
M.S.A.WAHID
M.S.A. Wahid was the principal of our school and rendered tremendous service to uplift the school and education in the Hemmathagama area.
His father was Seigh Abdhi Cadar Mohamed Sally, and his mother Umar Lebbe  Ummu Culsum. He was born at Wellamboda in the Kandy district on December 18, 1925 – and lived in Dumbuluwawa, Hemmathagama.
After his primary education at Kg/Al-Azhar Muslim Maha Vidyalaya, he continued his studies at Kl/Zahira College, Aluthgama and then Matale  Zahira College. After following a teacher training course at the Aluthgama Training College he gained admission to the Jayawar-danepura University, successfully completing his degree and Diploma in Education in 1978 at  the Colombo University.
As principal of  Zahira College, Gampola, he served the community understanding their needs.
He was then appointed as principal of Zahira College, Mawanella. He taught Logic and Political Science for the G.C.E.A/L students and also started the Science stream, helping to produce many doctors, engineers, lawyers, accountants, teachers and other professionals.
He showed our community the importance of  English and was very active as an English teacher. He tried to do his best for Zahira College, building the teachers' quarters and many other buildings. He supported the poor. He made two vast play grounds in the Mawanella area. In 1956, he married Jainambu Nachchiyar, a kind hearted lady from Polgahawela and they were blessed with children and grandchildren.
He was transferred to Kg/Al-Azhar Muslim Maha Vidyalaya in 1970.
As a principal he touched the heart of every student there. He also  made a playground, which was an important need of that school. He started the  Science stream for the first time in school and developed the standard of  education of the school. He taught English, Logic and Political Science as they were his favourite subjects. He helped the students help themselves. He was a great leader not only to the school, but also to the whole area. Many clubs were started during his time -the English Literary Association, Wall Magazine, the Horticulture Club etc. Studies in different fields were started, many students won prizes and participated in different district, provincial and all-island level competitions.
He encouraged students to study and opened  their eyes to higher studies.
He always had the support of his staff in whatever he did. He knew how to work with unity and had the support of parents who appreciated his services. He retired in December 1985.
He was appointed as the "Quazi" for Hemmathagama, Mawanella area.
He rendered a memorable service as a Quazi. He solved people's problems and helped to reunite families that came to seek separation.
He undertook the pilgrimage to Mecca in 2004 with his beloved wife. He continued to work for the community and even in his 80s he helped students with free classes in English Literature.
He was a great treasure of our community. We got him as a gift from  almighty Allah. I pray that he be granted jannathul firdouse .
Jazakallah Khairan!
F. Munzila Mustafa