PET scanner brings peace building award for Hilir
By Minnath Azeez
View(s):
The first ever Award for Volunteering for Peace Building was presented to Hilir Mohamed for his efforts in creating racial harmony through the initiative of raising funds to donate a PET scanner to the Apeksha Hospital in Maharagama.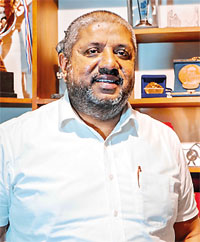 The presentation was made at the annual National Volunteer Awards ceremony (V- Awards) 2019, jointly organised by the United Nations Volunteers Sri Lanka and the Social Welfare and Primary Industries Ministry.
With 14 finalists in three award categories, including Youth Volunteer of the Year and National Volunteer of the Year, the event at the Nelum Pokuna theatre on February 20 was held to recognise and appreciate those who serve society selflessly.
"I saw such a project going beyond simply donating a machine to fight cancer. It built a bond between communities in the country," said Mr. Mohamed who initiated this project in 2016 to fulfil his son's dying wish. His son Humaid died in 2017 aged just 18.
Mr. Mohamed raised Rs. 252 million through public donations in three months and handed over the machine to the Maharagama Cancer Hospital in April last year.
The PET scanner can do up to 100 scans a month. The scans, conducted free of charge, enable doctors to detect different kinds of cancers and save lives.
Mr. Mohamed, who is the chairman of N.M Travels, has also established the Fight Cancer Team, with 150 members from all communities, with the aim of upgrading the Apeksha Cancer Hospital to be one of the best in the South Asian region by 2025.
Nominated for the V award by a member of his team, he said that his biggest strength in this journey had been his trust in God, himself and his team members.
The Fight Cancer Team will launch the next phase of its project this month — to raise funds to donate two radiotherapy machines (Linac and Tomo), an MRI scanner and a CT scanner to the Cancer Hospital.