Giving mosquitoes diet pills could combat the spread of disease
By Alexandra Thompson
Scientists discover reducing their appetite stops them sucking blood
View(s):
Although mosquitoes do not need to watch their weight, giving the pests diet pills could combat the spread of malaria, Zika and dengue fever.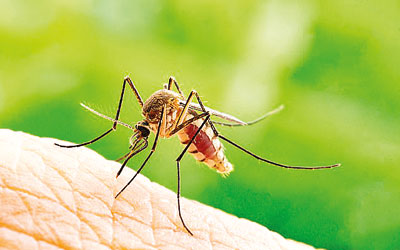 Researchers found the insects given drugs containing NPY-like receptors were less likely to suck blood when they were presented with a human arm.  These receptors regulate appetite in everything from roundworms to humans, and are even used in experimental anti-obesity medication to curb our desire for food.
Scientists believe if female mosquitoes could be coaxed into receiving these drugs, it may help control deadly diseases with limited treatment options.
The research was carried out by The Rockefeller University in New York and led by Professor Leslie Vosshall, from the laboratory of neurogenetics and behaviour.
'Preventing mosquitoes from biting humans is an important point of intervention in global public health strategy,' the authors wrote in the journal Cell.
Certain peptides – which make up proteins – have been shown to activate NPY-like receptors. These suppress a mosquito's appetite after she has fed. To test whether drugs containing these receptors could control mosquitoes, the researchers fed NPY-like receptors to females of the mosquito species Aedes aegypti. This made the insects less likely to seek out food, as well as bite or suck blood, when exposed to a human arm.
'When they're hungry, these mosquitoes are super-motivated,' Professor Vosshall said. 'They fly toward the scent of a human the same way we might approach a chocolate cake. After they were given the drug, they lost interest.'
NPY-receptors drugs could be administered by drawing mosquitoes into 'baited traps' that mimic the signs of a host the insects are attracted to, such as body odour and carbon dioxide.
This may be preferable to other techniques that aim to eradicate mosquitoes despite them being important pollinators and food to many fishes. Existing control methods, such as insecticides, have limited success due to the insects often developing resistance.
(© Daily Mail, London)