Kolam exhibits at Rithihi
View(s):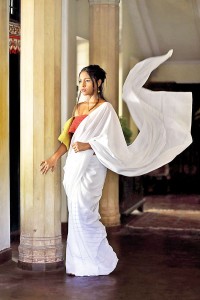 Placing the spotlight on a craft which is unique to Jaffna, Kolam, a collective of designers will present an exhibition of sarees, jewellery and handbags from Jan 10 at the saree store, Rithihi.
Using locally available materials and reviving this age-old craft, the Kolam Collective, comprising seven designers, primarily aims to gain a renaissance for this industry which suffered due to the war.
Funded by the Manitha Neyam Trust, Kolam was launched in Feb 2017 by contemporary artists T Shanaathanan and Pradeep Thalawatta in collaboration with graduates from the Art & Design Unit, University of Jaffna — Catharina Danial, Mano Prashath, Nirojan Geetha, Shironi Joseph, Suntharam Anojan and Vincent Vimal.
The project was aimed at empowering these graduates to move towards entrepreneurship, while also paving the way for other graduates towards self employment. Through information gathered from 78 craftsmen, the Collective unearthed information on traditional materials, techniques and design which form the foundation to the unique identity that Kolam has built its brand of creativity on.