Appreciations
View(s):

From school days to campus days she remained the same

Noreen Welikala

We were at school (Ladies' College) together. We entered Peradeniya campus together and resided at Hilda Obeysekera Hall. We made many friends and palled up with two others; Metta from Matara Convent and Noeline from Princess of Wales, Moratuwa –forming a close-knit foursome. We went on long walks, exploring the campus: we helped at the Milk Feeding Centre and joined the hikes to Hantana. We participated in all hall activities. We enjoyed our time at the campus under the watchful eye of Mathi, our warden.

At the end of three years, Noreen and Metta graduated and left, while Noeline and I remained. Metta joined the Bank of Ceylon and Noreen was appointed Principal of Stafford (later Stafford International School) and served there for 50 years. We still kept in touch, but gradually drifted apart slightly. Noreen had a high profile and demanding job but there was no arrogance or pride. She was the same Noreen, I always knew. Ever ready to help her pupils to adjust and talk to the parents with understanding; she was well liked by the staff and very popular.

However busy she was, she always had time for us!

It was when her husband fell ill that Noreen really proved herself; looking after him with patience, night and day, giving up most of her interests such as painting, to spend more time with him. She kept in touch with us (thanks to the phone) and expressed a wish to go out somewhere together. We did manage to go out to lunch a few times and really enjoyed ourselves. Noreen would say "rejuvenation".  She also enjoyed going to films with Metta.

Illness came suddenly and unexpectedly, and the next we heard was that she had passed away. It was a shock to many of her friends and colleagues.

I will always remember her as someone who remained the same Noreen of our school and campus days– a good example for Kipling's "IF"!

It is God's will.

Zul  Via email
---
Thank you Amma, for all you were to me –you will be in my heart forever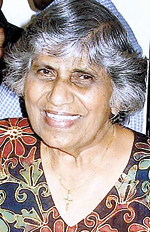 Anne Abayasekara
It's four years since you went to be with Jesus, but it's just like the other day. Thank you Amma, for ALL you were to me. You never made me feel I was a daughter-in-law, but a daughter-in-love.
How excited you would be when we would say that we were coming for a weekend. You would make sure to get the kinds of food that we each liked and often had a bottle of your special fudge made. Whenever possible you would make a special dessert or your famous rock cakes. You made me feel so welcome. I remember the small vase with fresh flowers that you would unfailingly have for us in the bedroom and a few copies of the Reader's Digest on the bedside table. When we slept in the room next to yours, you would always say, "it's such a good feeling to know you are sleeping in the next room".
You also loved coming to Kandy and kept appreciating all the little things we did for you. You enjoyed the company at meal times and loved playing a board game or watching a movie together. Thank you for teaching us that one could find joy in such simple pleasures of life that bind family together.
You were a counsellor and friend to many. I value the fact that you always 'practised what you preached'. Your simple but honest living spoke volumes. You had seven children (whom Thatha had termed 'The Magnificent Seven') and then came along the seven in-laws. You treated each of the fourteen with much love and made us feel so special. Never in our conversations did you put any of us down or say anything negative, but rather always spoke of the positives in each of us. This in turn made us feel appreciated, needed, and valued which I am sure contributed to the family being together and appreciating each other. The same applies to each of your grandchildren.
As Christmas approached, my thoughts went to the many happy Christmases we spent in the family home, where family and close friends gathered together for fellowship and then for the Christmas meal and to sing carols. One particular Christmas memory is clearly lodged in my mind, when I learnt something for life from Amma and Thatha. As usual, all enjoyed the time of fellowship and proceeded towards the dining room for the Christmas meal, which was always tasty and not too extravagant- yellow rice, chicken curry, potatoes etc. Amma had got four chickens cooked the previous day and when we went to dish it out we realized that the entire curry was spoilt, as it had accidentally been left out and not in the fridge.
Had it been any other household there would have been so many 'ho-hahs' and probably blaming of one another. I still remember how calm and cool everyone was. Instead, two adults went across to the store at the top of the road and bought many packets of meat balls while some of us cut up some onions, green chillie etc., and in less than half an hour a tasty curry of meat balls was ready. Not having chicken didn't prevent the gathering from having a happy time. It taught me that it's not what one eats that matters but rather accepting each situation as it comes and enjoying the fellowship that goes along with a meal.
Thank you Amma (and Thatha) for the simple and meaningful lives you led, helping another whenever possible and being an example to many. May the candles that you lit keep burning and shedding light to those around. I fail many, many times to follow your example, but am so, so thankful for the others in the family circle who follow your example along life's way.
I was truly blessed to have had you as my mother-in-law. I never felt that you were there to judge, correct, or criticize me, as most MILs are said to do; rather, it was always encouraging, praising, appreciating and thanking.
Thank you for the rich fellowship and love that you freely gave many while on this earth. Now enjoy the rich and abundant fellowship with Jesus and all your loved ones on the other shore, resting in the heavenly presence of the Lord.
I thank God for you and thank you again.
Much, much love,
 Charmalie
---
A gem of a doctor and man
Dr Sunil Fernando
Dr Sunil Fernando, a well-known and much loved dental surgeon, passed away a few weeks ago after a brief illness.We had known Sunil for decades as a family friend, in addition to him being our much respected dentist.  What comes to mind is his quiet but meaningful life as a top professional in his chosen medical field, his integrity, compassion and caring for patients, his benevolence and magnanimity towards friends and people who crossed his path and his role as an exemplary and devoted family man.
Dr. Sunil had his early education at Prince of Wales College, Moratuwa and later at S. Thomas' College, Mount Lavinia.  Being an excellent student while at S. Thomas' he won special prizes for Chemistry, Botany and Zoology.  In addition, he was the recipient of the coveted Warden Stone Memorial Scholarship.  Excelling in sports, he represented S. Thomas' in athletics (track events) and cadeting.
He entered the Medical Faculty at the University of Ceylon, Peradeniya in 1961 and obtained his B.D.S. in 1966. He was the Editor of the professional journal of the Dental School as an undergraduate.
Dr. Sunil received his post-graduate training at the Institute of Dental Surgery, University of London (Eastman Dental Hospital). After the Fellowship, he held the Registrar appointment at St. Bartholomew's Hospital, London.Thereafter, he worked with Professor R. A. Cawson at Guy's Hospital, London and later served as Senior Registrar at Royal Victoria Hospital.
In Sri Lanka, he held appointments in a Consultant capacity in the General Hospitals of Ratnapura, Kandy, Galle, Colombo South and finally the National Hospital, Colombo serving a large cross section of the population in the country. He also served as Wing-Commander, Sri Lanka Air Force (volunteer) from 1989 to 1997 and as a panel doctor to SriLankan Airlines.
He was very active in the Sri Lanka Dental Association (SLDA) and served as the President of SLDA from 1992-93. He was the Chairman, Organizing Committee of the SLDA's 60th anniversary celebrations which coincided with the first-ever South Asian Dental Congress. Subsequently, he was awarded an Honorary Fellowship of the International College of Continuing Dental Education in 1997 in recognition of these professional efforts.He was also an active member of the College of Dentistry and Stomatology of Sri Lanka (CDSSL) and served as its President forum in 1998-1999. He served in many capacities at the Postgraduate Institute of Medicine (PGIM) including as a Member of Board of Study in Dental Surgery, Examiner for M.S. Dental Surgery, External Examiner for final B.D.S. and post-graduate teaching activities.He was an excellent teacher and generations of dental surgeons will treasure him in their hearts.
After retirement from government service, Sunil devoted his time to private practice at home at Visakha Road, Colombo 5. He enjoyed a good practice as he had already made a name as a kind-hearted, caring and compassionate doctor.  His skill and care when doing a tooth extraction or a complicated tooth filling on a child, an elderly person or person with trepidation was a ritual worth watching. He had the habit of always reassuring the patient several times and would talk to the patient about different topics in order to take the patient's mind away from it. Subsequent to performing a procedure, if it was necessary that the patient should be under observation, Dr. Sunil would phone the patient and check the progress without fail.
Dr. Sunil was an active member of St. Paul's Milagiriya and a Warden in the church.  He also led worship at the Sunday morning service on days allotted to him on the service roster.
His wife Malkanthi was always a great source of strength to him. They were blessed with two affectionate daughters and two very devoted sons-in-law and four grandchildren. The children and grandchildren were the centre of his universe.The beautiful eulogies of the two daughters Shehani and Shanika delivered at the funeral, won the hearts of everyone present. His sons-in-law Rohantha and Malik looked after Dr. Sunil during his illness, with much love and care.
His death was a great loss to his family, profession, colleagues, relatives, students, wide circle of patients and friends.
May he rest in peace.
Upali and Jayani Amarasiri
---
You were our role model, hero and much more
Dr. M. Fazli Nizar 
It is with profound sadness that I pen these words for my father who passed away on October 30, at the age of 80 years.
My Dad was a kind, generous and warm person who had a single-minded approach to life. He sacrificed most of his time to help those in need. His charitable concerns transcended boundaries of religion and race. He was an inspiration to all who associated with him.
My father started life from humble and tragic beginnings. His father was a Revenue Inspector for the Colombo Municipal Council. He lost his mother before the age of five. She died while giving birth and he was raised by his father, grandmothers and grandfather. The family consisted of four siblings, one girl and three boys. He hailed from Wellawatte.
He was a bright student in primary school and later the only student to enter Medical School from his batch. He sailed through all his Medical School exams and left no stone unturned to be successful. He loved his profession, as he found that it was another way to help his friends and relatives in need.
He went on further to qualify as a surgeon as well as become a Fellow of the Royal College of Obstetrics and Gynaecology. He had a thriving practice in the private sector. This helped him to secure a position to lecture in the University of Colombo and he was also appointed as a Professor at the Baqai Medical School in Karachi, Pakistan.
He was an astute businessman who entered the property market.  He used the proceeds from the business and his medical practice to further finance his pet projects. This included his generosity to the Rotary Club of Colombo Central, Zahira College and the All Ceylon Moors' Association of which he was the president up to the time of his demise.
He used his own initiative to create new projects such as the free medical clinic in Slave Island and Janaza Services for the poor who could not afford them.
He was heavily involved in helping the Madrassa and making religious education a top priority for all.
He was nominated to be the Mayor of Colombo and was tireless in his efforts to help those in his home city.
He was a dearly loved father, brother and husband. He took his brother  Faizel under his wing when he faced some challenges and took care of him for the rest of his life. But he was also firm with us and made it clear that it was important to do well academically.
He raised us with a lot of love and always showed his calm and sunny side with us.
His insistence on all three of his sons becoming doctors was due to his belief that it would bring stability to our lives. He doted on his wife Zeena, our dear mother, and took care of all her needs and made her the right hand in all of his endeavours. A true marriage with lots of love and compassion.
His illness which took his life was long and challenging and Mum took great care of him with affection and empathy. During the time of his chronic ailments he was still working on projects such as an orphanage in his mother's name.
Dad was my role model, hero and showed me how hard work and compassion for the needy can always make you a better person.
Dad touched many lives in various ways. While he is no longer with us, his accomplishments are a shining light which will last for eternity
Thanks Dad for everything. We all miss you so much. May Allah grant you a special place in heaven.
Dr. Raslaan Nizar
---