The New Kid
By Manoshi de Silva
View(s):
It was the first day of school. Everyone was excited to be in a new class in the New Year. New books, new timetable, everything felt new. The class was very noisy because everyone was chatting.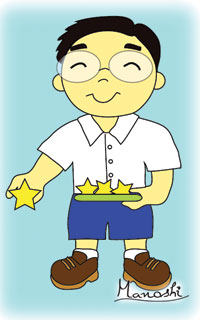 But right at the back of the class was one kid. He sat quietly, looking down shyly. He was new; he didn't know anyone. It was a new school, new class and new classmates for him. He felt lost and left out.
The others in the class noticed him. They turned and looked at him from time to time. But the newcomer kept on staring down. He didn't look up even once. The new kid, Kevin, felt very uncomfortable. He missed his old school and friends. That was bad enough. Being in a totally new place packed with strangers was a bit too much for him.
He was a shy boy and this felt like a nightmare to him. "How do I get through this day?" he thought staring hard at his trembling hands. He closed his eyes tight and wished the wind would carry him out of this class. "Or maybe the roof would open and an UFO might beam me up. Or the floor would crack open and I'd just keep falling and falling to the centre of earth!"
Kevin's imagination made him feel slightly better. The bell rang and everyone took their seats. No one sat next to Kevin, his bag was kept on the chair next to him. The teacher walked in and once the lesson started he felt a bit better.
The lessons continued one after another and that made things a little easy for Kevin. But then the bell rang for the interval; what he dreaded the most. He knew he'd attract attention when the class got a break, and he was right.
Kevin kept on staring at his desk not knowing what to do. From the corner of his eye he could see the other kids looking at him and talking softly, probably about him… He didn't feel hungry to take out his lunch box. He just wanted to get away.
Kevin closed his eyes tight and imagined that he was invisible. He stood up while staring down and tried to convince himself that the others could not see him. He walked out of the class quickly, not looking at the others. Deep down he knew that the others could see him and that they probably stared at him.
He just walked forward without an aim and ended up near the school gate.
The school security guard was sitting near the gate.
He looked at Kevin curiously. "Are you alright?" he asked Kevin. Kevin nodded.
"I am new!" he said not knowing what else to say.
"I see," said the security guard and smiled, "you don't know anyone so you feel left out?"
Kevin nodded.
"When I first came here
I didn't know anyone either.
I felt very lazy to just sit here and wait. But now I know most of the students and all of the teachers," said the security guard.
"How did you get friendly with everyone when you're not even in a classroom?" asked Kevin.
"Well, I like to tell stories.
So when kids stay near the gate till they get picked up after school, I told them stories from my childhood," smiled the security guard. "And now I am quite popular with the kids. They ask me to tell them stories every day after school!"
"Oh," said Kevin, "I wish I could do something like that to get to know the others. But I feel very nervous and shy!
I don't even look at anyone."
"Well first of all, you'll have to stop hiding your face. When you avoid others they'll think you're unfriendly, even if you're not!" said the security guard. "Think of something you're good at and use it to make friends. What are you good at?"
Kevin thought for a while.
"My grandmother says I'm creative and good at handwork. She also says I have a good imagination!"
"Then start using your imagination. Imagine that you are the owner of the classroom and the others are your guests! Pretend that they are all new and shy, and you have to help them to make friends."
"But they already know each other," insisted Kevin.
"But you're good at imagining, so just imagine that they are not!" said the security guard with a chuckle.
Kevin smiled, "That does make me feel less nervous!" he said.
"What do you do when you have guests at your house?" asked the security guard.
"We entertain them… Serve them something…" went on Kevin.
"Right, do something like that! Put your creative talent to use. Think of ways to make them feel less shy," said the security guard with a wink. "Remember it's your classroom and they are the newcomers!"
Kevin thanked the security guard and ran back to the class. There was a bit more time for the interval to finish.
Kevin pulled out some coloured paper from his bag and neatly folded them. Then he cut enough stars for the whole class.
He then wrote 'Hello' on each star with his glitter pen.
"This is my class and I need to help these newcomers to make friends!" Kevin told himself. He got up and walked up to the students. Kevin smiled and gave each student a star. "Hello, I'm Kevin!" he said and continued to distribute the stars. Everyone looked surprised and happy. "Hello," said everyone, "Welcome!"
Kevin's new friends asked him where he was from and other questions. He felt like he'd always been in this class. He didn't feel shy or uncomfortable anymore. If he continued with his imagination and tried being friendly and creative, Kevin knew that he would do just fine.