Mahinda gets mandate from SLPP and JO for talks on Caretaker Govt.
By Our Political Editor
View(s):
Former President cautious about further dialogue with Sirisena, while President finds himself in a dilemma
Conciliatory mood at talks between President and senior UNP ministers after Ranil's call from London
SB's denial backfires, creates more speculation and divergent views

Two days after they met secretly to talk of a caretaker grand coalition, President Maithripala Sirisena and his predecessor Mahinda Rajapaksa met again last Sunday; this time at a wedding at the luxury Grandeeza resort in Negombo.
A smiling Rajapaksa who greeted the President remarked "Vedey Kela Wela Neda,"   meaning things have misfired, haven't they? "Eka ney," or that is it, said the President. Other guests watched in awe though most would have been unaware of what they heard or what it meant had they not the read the Sunday Times that morning.
It was over media reports, particularly in last week's the Sunday Times (Political Commentary), that both Sirisena and Rajapaksa had secretly met together at the Battaramulla residence of former Minister S.B. Dissanayake and discussed the possibilities of forming a caretaker grand coalition by ousting the United National Party (UNP) from the Government. Whilst Sirisena was alone at the talks, Rajapaksa was accompanied by SLPP ideologue and strategist Basil Rajapaksa, said our report which gave fuller details. They centered on Rajapaksa becoming the Prime Minister in such a caretaker government replacing Ranil Wickremesinghe, the UNP leader.
Interestingly, the wedding itself was a happy augury. Nilusha is the daughter of Sanjaya Siriwardena, organiser for the Sri Lanka Freedom Party (SLFP) led by President Sirisena. The bride's mother, Sandhya is a Western Provincial Councillor for Sri Lanka Podujana Peramuna (SLPP), whose de facto leader is Rajapaksa. The offspring were uniting not as caretakers but in lifelong matrimony.
For good measure, the fast vanishing Veddah tribe's chief Uruwarige Wannila Aththo was also present. He was given a seat at the head table. Personal security details of the two leaders had their eyes fixed on the eldest son of Tissahamy, the former Veddah leader, as he sat between them with his traditional axe clinging on his shoulder. Though there is no more hunting with an axe, or for that matter a bow and arrow, they have remained symbols of the identity of the depleting Veddah community. Presidential Security personnel persuaded the Veddah leader to lay down his axe when Sirisena had a one-on-one with him. It turned out that bride Nilusha spent time frequently visiting Dambana, the Veddah homestead, to help their families.
That President Sirisena was preoccupied was noticeable to some of the discerning guests and they played guessing games over why. However, a source in the know of political developments said that early Sunday morning President Sirisena very strongly admonished S.B, Dissanayake for details of his meeting with Rajapaksa becoming public in newspapers, particularly in the Sunday Times. It was not only the broker who had come under suspicion but a very close ally of his. Some Sirisena aides blamed the ally who they claimed was too familiar with what went on. The name of this Political Editor was also mentioned.
Little wonder, that very Sunday morning, a nervous Dissanayake rushed to a private television station to claim there was no Maithri-Mahinda meeting at his residence. The next day, (Monday), there was a formal statement from him saying there had been no discussions at his residence between President Maithripala Sirisena and Mahinda Rajapaksa. He claimed, "However, it is true that the former President attended a special dinner hosted at my residence. There was no special political discussion, but the former President engaged in a cordial discussion with the MPs who were present at the dinner and it centred on the prevailing economic crisis in the country and the threats to national security." Dissanayake's statement denying that talks were held was published in the Daily Mirror and the state run Daily News. Even Dissanayake would not have wished that he had to issue such a statement. Given Dissanayake's history of double talk and propensity to deny facts when he's in a tough spot, it ensured that the subject was kept alive through tv talk shows with political leaders of all hues, and newspaper columns arguing the pros and cons of such a caretaker arrangement and speculating the continuity of the Maithri-Mahinda dialogue.
Former SLFP General Secretary turned UNP Minister turned SLFP Minister turned SLFP dissident S.B. Dissanayake earned the ire of President Sirisena for making statements about forming a caretaker government even earlier. On Thursday (October 4, just the day after the Maithri-Mahinda meeting), and two days before details appeared in Sunday newspapers, Dissanayake gave a news conference. Here are excerpts of his remarks spoken in Sinhala, translated into English from a tape recording.
"Our message to our SLFP colleagues is come out from the government as soon as possible. We tell the President to allow a discussion on the proposal we have made to the SLFP Central Committee and take a decision soon. What we say is that the economy of the country has collapsed, the Prime Minister cannot correct it. He does not allow the people who are trying to correct the situation. We need to come out from the coalition and form a new government. The minor parties, too, are dissatisfied about the situation.  We want to defeat the budget. We are inviting sections of the UNP and minority parties. We say Prime Minister Ranil Wickremesinghe cannot run the country and does not allow other elected leaders to run it either.
Q: In recent times you have spoken about forming a caretaker government. What is the position?
A: The country is in a dangerous situation.
Q:  What is the caretaker government?
A: All parties get together and form a government.
Q:  What was the result of the discussion with the 'Joint Opposition' on this subject?
A: We are continuing discussions. We are even discussing with the UNP. We are talking to the JVP and TNA as well.  Our dream is to have an SLFP–UPFA led leftist government.
Q: But it seems the response from former President Mahinda Rajapaksa is not very good?
A: The response is good. I just came from there (meaning his residence). He accepts that this UNP government should be sent home as soon as possible."
What made S.B. Dissanayake's denial published in sections of the media look even more foolish was that neither the President nor the former President denied the meeting.
President Sirisena's remarks that it was "extremely impossible" for him to work with Prime Minister Wickremesinghe and "he should go" were damning. Everyone knew that he had asked Wickremesinghe to step down in the aftermath of the Local Government elections where he blamed the UNP for the results. Then, he did not promote or discourage a Vote of No confidence in Parliament against Wickremesinghe. This was easily defeated by the UNP. The remarks, however, sent shockwaves on both sides of the coalition, the SLFP and the UNP. Some presidential advisers felt that a denial by Dissanayake that no meeting took place would obviate any talk. It was not to be. It only fuelled talk.
In fact, three ministers spoke with me on different occasions on my landline. Two wanted to confirm with me whether such talks took place. One of them insisted he could not believe it. The third sought more details. Like to many others, it was a shock to them.
On December 7, 2004, S.B. Dissanayake was sentenced to jail by the Supreme Court for contempt of court. This was for his contemptuous utterances against the judiciary while speaking at a Vap Magul (harvest) ceremony as Agriculture Minister in the UNP government. Among other matters, the judgment noted that the "speech strikes at the root of the administration of Justice by the court by eroding public confidence and whipping up opinion against the decisions and processes of the court." The then Chief Justice Sarath Silva headed the five Judge bench in sending Dissanayake to prison. Of course, a diversionary smoke bomb by Dissanayake this time was to save any embarrassment to the two leaders, but that clearly boomeranged by the events that followed later in the week.
Even the SLPP's present leader G.L. Peiris chaired a news conference at the party office in Nelum Mawatha in Battaramulla. He also said somewhat less emphatically that Mahinda Rajapaksa had not met President Sirisena. This is not the first time he had taken up a similar position. But then Peiris' credibility is no better than Dissanayake's. During the Norwegian-brokered peace talks between the then UNP government of which he was a Minister and the Liberation Tigers of Tamil Eelam (LTTE), Peiris discounted a report in this newspaper about Colombo's proposals. Angry Norwegians, who demanded transparency, requested that he retract his denial. Peiris did so by denying his denial and making another statement which confirmed what we reported.
Peirs, however, added at the news conference that since the matter is "now in the public domain," that too would be discussed by the party. The very day his remarks appeared in newspapers (Tuesday), Peiris was hosting a dinner for MPs and senior members of the SLPP. Namal Rajapaksa, MP, drove his father Mahinda to the Kirulla Road residence of Peiris in a white Toyota Land Cruiser.
Security escorts and the official driver sat behind. What transpired at the buffet dinner, where white wine and red wine were served, was an anti-thesis to what Peiris said.
A discussion ensued on the merits and demerits of a caretaker government. Basil Rajapaksa confirmed that he met President Sirisena. He said he felt it was a good thing. He, however, did not provide details like where he met or whether brother Mahinda was present. He also did not say that Sirisena had wanted his presence in the belief that a workable arrangement was only possible with his presence.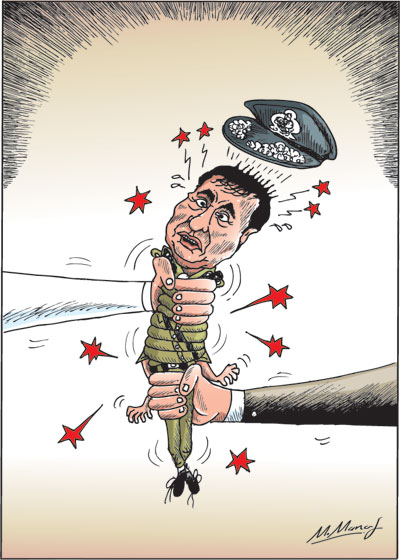 He said that he owed his allegiance to his party, the SLPP, and would not betray it under any circumstances. There was ovation as he made those remarks with some clapping and others saying "hear, hear". He said that any move was not being initiated with the fear of any government reprisals or cases against them. Mahinda Rajapaksa was capable of taking decisions that were good for the party and the country, he said.
"I don't know whether it will succeed or not," said Mahinda Rajapaksa sounding a note of caution on the talks ahead.
Mahindananda Aluthgamage, former Sports Minister and Kandy District MP declared "when you have a chance, you have to grab it." He said that the UNP government should be changed.
There were those who voiced their reservations too. Kumara Welgama, (MP – Kalutara District) was a dissenting voice. He said he was strongly opposed to the move. He made clear he would have no qualms in sitting in the Opposition benches if such a decision was taken. Lakshman Yapa Abeywardena (MP -Matara District) declared that he endorsed the view expressed by Welgama that it was not a good move.   Former Speaker Chamal Rajapaksa boldly asked "How can we trust President Sirisena?"
Views expressed to the Sunday Times by two MPs who took part at the dinner discussion are as follows;
=  C.B. Ratnayaka (Nuwara Eliya District): "The discussions were around existing issues in the country leading from the economic situation to the political situation. On the economic front, it was about the failure of the government to provide fertilizer as relief to farmers, the issues over daily wages of estate workers, issues about public sector salaries and about the current economic crisis including lack of tourists visiting the country and its impact on the tourism industry.
"The members were of the opinion that the UPFA was better equipped to handle the economy of the country and stabilize it. Members pointed out they could have a better relationship with India and China. We decided we will not go public about the plans we have in store to restore the economy.
=  Ranjith de Soysa (Ratnapura District): "We were of the view that the tactics of scaring members by drawing them into court cases will not deter them from working.  They pointed out that if the country was heading to a disastrous situation, they were capable of taking over, but were not keen on going into a caretaker government with the SLFP as they were capable of controlling things on their own. The members also pointed out that at various platforms they had shown they had various plans to run the government efficiently. The subject of a possible caretaker government was discussed.  The view was that if President Maithripala Sirisena requests for such assistance and if he was genuine, they could provide assistance for such government."
The dinner meeting decided unanimously to give a mandate to Mahinda Rajapaksa to take whatever action he deems fit for both the SLPP and the country in talks with President Sirisena. Thus, Mahinda Rajapaksa, to be soon leader of the party, is now armed to negotiate on behalf of them.
An indication that moves to form a caretaker grand coalition have proceeded slowly but well so far came when the United People's Freedom Alliance (UPFA) Sub Committee met in the Parliament complex on Wednesday. Among those taking part were Nimal Siripala de Silva (chairing), Mahinda Ameraweera (Secretary of the UPFA), Rohana Luxman Piyadasa (General Secretary of the SLFP), S.B. Dissanayake, Susil Premjayantha, Muthu Sivalingam (Ceylon Workers Congress) and A.L.M. Athaulla (National Congress).
The Sub Committee made two important decisions. One was to call upon President Sirisena and Mahinda Rajapaksa to meet together to decide on the formation of a caretaker government. The second was to call upon President Sirisena to conduct Provincial Council elections before February 2019. A call from the UPFA, in effect, means that a partner in the present coalition government has empowered their leader President Sirisena to talk to Rajapaksa in a bold attempt to replace their UNP counterpart. Yet, despite these nascent developments, the UNP leadership has remained silent and made no official response known. However, their leader Wickremesinghe held a 40-minute meeting with President Sirisena on Friday evening where the current issues were discussed. No details were immediately available.
The demand for PC elections is also significant for more than one reason. The main one is the fact that if the Maithri-Mahinda talks reach fruition, there are prospects of the two sides fielding candidates together. A firm decision has not been made but SLFP sources say that since their understanding will be to have a joint approach, such an arrangement cannot be ruled out. This move would naturally isolate the UNP and its allies to contest separately.
A further development came when the 'Joint Opposition' party leaders met at the Wijerama Road Residence of former President Rajapaksa on Thursday. Here again they resolved unanimously that Mahinda Rajapaksa should be empowered to take whatever action he feels necessary to overcome the present "economic crisis" during talks with Sirisena. This way, Rajapaksa has won mandates of both the SLPP and the 'JO' but there is still a long, long way to go before any form of accord could be reached with President Sirisena.
The news of the Maithri-Mahinda talks also resonated in UNP circles last Sunday. UNP leader Wickremesinghe telephoned President Sirisena early that morning from London. He had just arrived there after his official visit to Norway. One source said he had wished to know if there were any concerns entertained by President Sirisena. He had also said that two of his ministers Malik Samarawickrema and Mangala Samaraweera would meet him before his departure to Seychelles on Monday morning.
A meeting had been scheduled for Sunday evening. Minister Samarawickrema who was in Kandy that day had encountered a problem. He asked the Sri Lanka Air Force (SLAF) if they could send a helicopter to ferry him to Colombo but due to heavy rain and bad weather conditions, the SLAF could not oblige. As the road journey nowadays takes more than five hours due to traffic, Samarawickrama decided to take the inter-city express train from Kandy to Colombo. Carrying a brief case in his hand, he purchased a one-way ticket to Colombo and boarded the train alone. Soon, he became the subject of conversation by two other passengers who noticed him. "Isn't that Malik, the Minister," asked one from the other. The other replied "Can't be. He will never travel in a train. It must be a medical representative." The Minister tried to cover his face from prying eyes by reading a book; "The Challenges of Governance in a Complex World" written by a former head of Singapore's Civil Service, Peter Ho. It collects four Institute of Policy Studies (IPS) lectures in Singapore and was published in December 2017.
In Colombo, Samarawickrema and Samaraweera first met colleague Kabir Hashim (UNP Chairman) to discuss issues. They later met Sirisena. Among other matters, they sought the reasons why he was unhappy with the UNP. The approach seemed submissive and conciliatory.
What was widely believed to be one of two precursors to a grand caretaker coalition was the appointment of a new Chief Justice. It took a different turn this week. Originally, Premier Wickremesinghe had recommended that Attorney General Jayantha Jayasuriya PC be appointed. However, the name of Justice Eva Wanasundera, the second-most senior judge on the bench was under consideration by Sirisena. Under previous procedures either of them was qualified for the job. Eventually, Sirisena nominated Justice Nalin Perera, number five on the seniority list of justices, but went on to justify the nomination on the footing that he was recognising Justice Perera's continued service of over 30 years on the judiciary from the lowest court to the highest. That decision, however, did not sit well with the SLPP. Some at the top are even angry. The complaint is that President Sirisena has not been able to deliver on a fundamental issue. Questions are being asked on what he would do when it comes to even more important matters. The UNP acquiesced with the nomination when it went before the Constitutional Council which has just appointed three new non-political members to it.
President Sirisena has been under very heavy pressure. He received representations from different sections including some parliamentarians and ministers against appointing Justice Wanasundera. Then an organisation of career judges had urged that a Chief Justice be named from among their ranks. They pointed out that since the appointment of Justice Parinda Ranasinghe, who had served in the judiciary for over 25 years, there had been none who was made Chief Justice. Sirisena nominated Justice Nalin Perera who is the longest serving career judge. Though he was expected earlier to send two names (including Justice Eva Wanasundera), he recommended only Justice Perera's name to the Constitutional Council. Justice Perera will serve only a few months as he turns 65, the retiring age for Supreme Court judges, in the early part of next year.
The Council, in fact, had been re-constituted days earlier with the filling of vacancies of civil society representatives. They are – retired diplomat Jayantha Dhanapala, Ambassador Javid Yusuf and law lecturer Naganathan Selvakumaran. With an available quorum, the CC unanimously endorsed Justice Perera's appointment as Chief Justice. He was sworn in by President Sirisena on Friday night. Prime Minister Wickremesinghe also voted in favour. Those absent were Bimal Ratnayake (JVP replacing Vijitha Herath who was in Viet Nam), Chamal Rajapaksa (replacing John Seneviratne who was in Japan), Mahinda Samarasinghe (replacing Champika Ranawaka who was in China) and Justice Minister Thalatha Athukorale. Jayantha Dhanapala was also away in China. Minister Samarasinghe had written to Speaker Jayasuriya that he backed the CJ nominee named by the President.
An authoritative SLPP source who did not wish to be named said, "We are not making an issue of the Chief Justice appointment. We are okay with it for the moment though not very pleased." Asked whether they were consulted, ahead of the recommendation to the CC, the source said "absolutely not. It is a matter for the President." Yet, there were rumblings at the highest levels with at least one leader noting that President Sirisena had reneged already.
The focus has thus turned to the Inspector General of Police Pujith Jayasundera. There was no official confirmation to reports that he would tender his resignation tomorrow. S.M. Wickremesinghe, senior DIG and one time head of the Presidential Security Division and now at the central range, is being strongly tipped as the new Police Chief. Presidential sources said that Jayasundera had turned down an offer to be Sri Lanka's next Ambassador to South Korea. Sections of the UNP are asking him to stay on and fight. President Sirisena's failure to remove the Police Chief could easily derail his dialogue he has initiated with Mahinda Rajapaksa. If that happens, he will be further isolated and will be blamed by the SLPP. That way, he would be a target both of the UNP and the 'Joint Opposition' with the SLPP included. That is his dilemma.
An authoritative SLPP source said they would give two weeks to Sirisena to prove "he is genuinely" interested in forming a caretaker grand coalition.
These developments come amidst a shabby situation that emerged last week. Sri Lanka was without a leader with both the President and the Prime Minister being away from the country for over a day. Sirisena was in Seychelles and Wickremesinghe was in Britain. Twenty million people were without anyone in charge of the country. The Speaker is next in line, but he is not told to act.
More such situations are likely. Sirisena is now set to travel to Poland. Upon his return to Colombo, he will travel to China and is likely to miss the budget speech in Parliament on November 5. Prime Minister Wickremesinghe will leave for India.
The Maithri-Mahinda dialogue will inch forward slowly depending on President Sirisena delivering what he has said he would do. If it does flop, the collateral damage to the President will be much more as Rajapaksa finds himself in a win-win situation. He could always pass off the chapter with the contention that he offered to help "save the country" but his "hand of friendship" was not taken. Alas, President Sirisena, who chose to meet Rajapaksa on his own secretly will be left with no answers but only many questions.