Second Curve-BT poll on strikes
View(s):
The Business Times (BT) together with polling partner Second Curve recently conducted a poll cum survey on the growing number of strikes and its impact on Sri Lankans.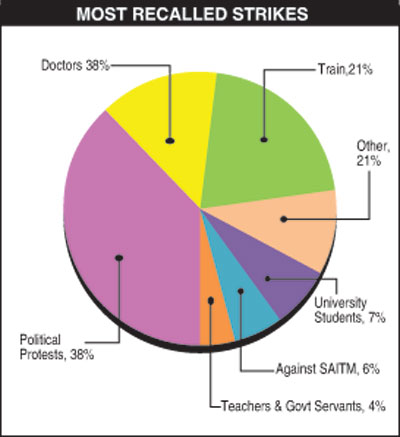 While the results of the BT poll was published, the results of Second Curve are being released today.
A total of 300 respondents falling into age groups of 18 – 60 years were selected randomly for road intercept interviews, conducted at different locations in the Greater Colombo area and Colombo's suburbs.
The BT published results of its poll asking three questions, where 93 per cent strongly felt that "The Government must firmly deal with strikes" whereas "94 per cent felt that services of bus, rail, health and petroleum should be made essential services with police and armed forces mobilised in case of a worker strike." Some 51 per cent felt that striking unions in these services do not have reasonable demands and grounds.
The findings of Second Curve road interviews broadened the scope of the study to get more depth in understanding what a cross section of the society felt on strikes and protests.
Political, train, doctors are the most recalled strikes
At a time, when fuel prices are revised every month; gas, bus, train and three wheeler fares are going up; the cost of living is sky rocketing, and most areas are hit by the drought – 73 per cent of the respondents regarded strikes by politically related (38 per cent), train workers (21 per cent) and doctors (14 per cent) as the 3-most recalled strikes.
When checked independently for their view of any strikes they recall, yet again 82 per cent recollected the strike by the railways, followed by political related 72 per cent, doctors 40 per cent and university students as 21 per cent.
Railway workers salary hike, was the most recalled strike.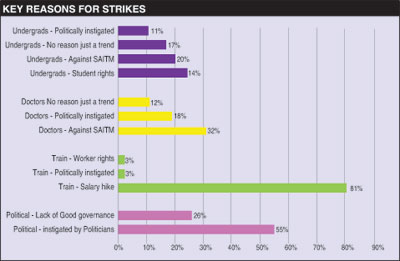 Even though many reasons got highlighted, the stand out reason for strikes stemmed from the protest of railway workers. People believed that they were striking for a salary hike. This recollection could be mainly due to the continuous inconvenience caused to the general public on a frequent basis.
Doctors and university students' strikes politically instigated: A high percentage believes that the strikes concerning doctors and undergrads were politically instigated.
Striking has become a trend: Another 10 per cent + stated that doctors and university student strikes have become a trend and that they protest for no reason.
Strikes against SAITM, lack of good governance, student rights got highlighted more than the other reasons.
Continuous strikes impacting day to day public services not justifiable – the majority view.
Essential services like train, health and education-related strikes were considered to be non-justifiable because they affect the daily activities of the general public and economic development of the country. Teachers and university students' strikes, it was observed, reflect negatively on learned society.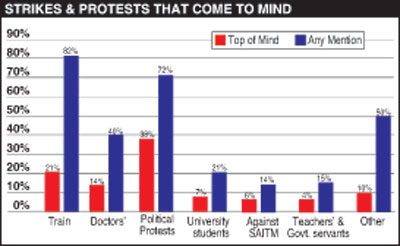 Only the protests by public servants and against SAITM received overwhelming support as justifiable, while half felt that the political protests were justifiable to some extent.
Political protests: Most inconvenienced society and individuals.
The general public was of the opinion that political protests were the strikes causing the most inconvenience to society and to themselves. Almost 70 per cent or more individuals had been personally inconvenienced by strikes related to day-to- day essential services such as railway, health and school education, thereby indicating the relevance to their personal and family life.
Protests or strikes by opposition SLPP, university students, against SAITM or by Government employees were not a major personal inconvenience although more than 80 per cent stated that it was a major inconvenience to the society.