Many horses in the race
View(s):

My dear Mahinda maama,
I thought of writing to you when I heard that you will be choosing the candidate from the 'pohottuwa' party for the next big election that will be held in two years. It seems as if you have decided to keep us all in suspense, still not informing us who that person will be, although there is a lot of speculation.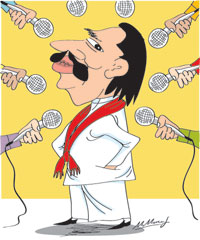 I know they call our Paradise 'a land like no other'. Although at first I thought that was meant to be a slogan to promote tourism, now I understand why they say so. Where else on earth would you have the 'anusaasaka' – or advisor – of the Blue party selecting presidential candidates for a rival party?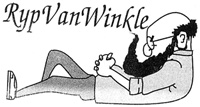 I was also intrigued as to why you – and you alone – should make that decision. Surely, in a democracy, who runs for President must be a decision taken collectively by those in a political party, not just one person – or so I thought. But then, you were never one to listen to others, were you, Mahinda maama?
Still, I think you should make your choice known soon, otherwise you will face many problems. Why, the other day we had a fake statement circulating in social media announcing Gota as the candidate – and you had to announce that no such decision had been taken, much to everyone's embarrassment.
Let's face it, Mahinda maama, even if you haven't made an announcement yet, Gota is behaving as if he is the candidate. We hadn't seen much of him for the past three years, but he is now here, there and everywhere, at every possible temple ceremony, clad in white and beaming from ear to ear!
Of course, Gota still has a few issues to clear up. He is still a citizen of Trump Land – and it remains to be seen whether he can get rid of that tag very quickly. He also has a half dozen matters before court for various alleged misdemeanours. The more he wants to run for office, the more cases there may be!
Of course, Gota is still not making promises saying 'when I am the boss', but he does say that if he is asked to run for the top job, he would. For someone who always said that he was a solider and was not interested in politics at all, that is quite a significant step – and a possible hint of things to come?
You must make your choice known very soon, Mahinda maama, because already some people are beginning to protest at the idea of Gota running for the top job. If you don't make an announcement soon, many will be adding their two cents worth, and you won't be able to choose who you want.
For instance, Vasu, the chap who was called an 'old pumpkin' by the Green Man after he called the Green Man something much worse, is suggesting that Chamal aiya is a better prospect. Gota will not get votes in the North and East and therefore he cannot win, seems to be Vasu's argument.
Now, I know that Vasu by himself doesn't command more than a few thousand votes but when someone in your own camp goes about making statements like that, it doesn't exactly inspire confidence, does it? Besides, Vasu is not one of those types who will shut up if you ask him to.
Then we have Kumar from Kalutara. Now, he doesn't say who he wants as a candidate but he is quite clear that he doesn't want a military style leadership – and we all know what that means. He too is going around saying that he will only support your leadership – so you have trouble brewing there too.
This trend seems to be getting out of hand because we then heard someone who always speaks loudly on your behalf write to the newspapers explaining what an ideal choice Dinesh would be. Now, this chap's predictions have been as good as Sumaney's but it is worrying that he is even suggesting this.
Of course, if I were you, I would spare a thought for young Basil too. He must be quite annoyed because after all the hard work that he put in when you were in the hot seat last time, he doesn't even get an honourable mention – but then, that is because of his errors of omission and commission!
Think about all this, Mahinda maama. I know there is another choice and that is to let Maithri run again and for you to become his PM. Now, after seeing how he tried to stick the knife in to the Green Man who got him the top job, you wouldn't even want to dream of going down that path, would you?
Yours truly,
Punchi Putha
PS – To save the Galle cricket ground, some say the pavilion which bears your name has to be demolished. You have said you didn't mind that. If that is because you believe that other places will be named after you in the future, think again: they may have the 'R' name, but not necessarily yours!