A Twitter entry and dream wedding in Sri Lanka
View(s):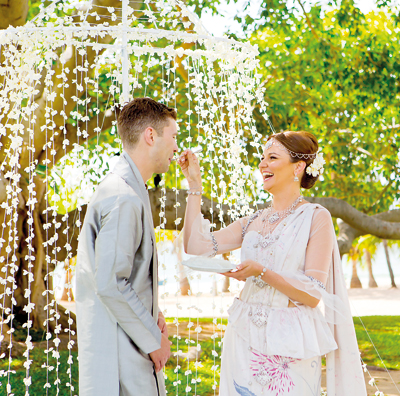 When Azra Dedic and Dominic Keely got engaged last August, the couple from Manchester, United Kingdom picked Sri Lanka as their honeymoon destination.  The location was meaningful to them both- it sat well with their adventurous personalities and would mark their first trip to the Asian continent.  Little did they think that two months before their destination wedding to be held in Croatia, a Twitter post and a poem would find them standing on a poruwa in Trincomalee while their friends and family looked on.
Swooping in to re-write their wedding day was Cinnamon Island Weddings through an initiative of Cinnamon Hotels and Resorts together with Sri Lankan Airlines.The contest called for the most creative marriage proposal and offered the winning couple and 50 of their family and friends return air tickets courtesy the national carrier Sri Lankan Airlines, a 24-carat blue-sapphire wedding ring for the bride, a custom-designed Batik silk saree designed exclusively by local artisans and  accommodation at 4 and 5 star properties with Cinnamon Hotels and Resorts making it one of the largest online wedding competitions in the world.
Azra first came across the competition on Twitter.  Entering contests was not unusual for the two, as they had regularly done so while studying Drama at the University of Lancaster. Drawn together by their unmistakable positivity and mutual love for travel and new experiences, it wasn't surprising when they transitioned from neighbours in the same flat building to a couple almost nine years ago. Both Azra and Dominic, who work in marketing found the competition a chance to explore their evident creativity. "I also had a really good feeling about this," said Azra.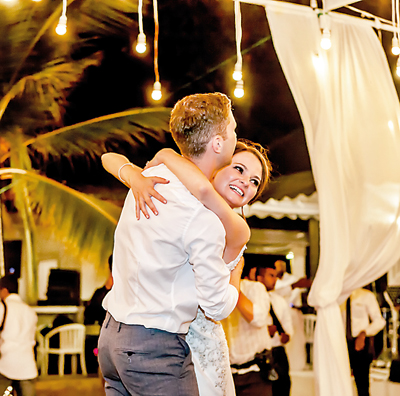 Azra's gut instinct was right. Their poem and accompanying video beat the 30-40 shortlisted videos which were judged by a  panel including  award-winning photographer David Stanbury, travel bloggers Dave & Deb of Planet D, renowned singer Alston Koch, along with representatives from Kuoni UK, SriLankan Airlines and Cinnamon Hotels & Resorts.
Their winning entry- a poem recounting their nine- year relationship complete with Azra as the narrator against a tropical backdrop and guidebook on Sri Lanka in tow seemed to be exactly what the judges were looking for. Fast forward to June 2018 and the couple exchanged vows in both a traditional poruwa ceremony and western wedding along the sandy beaches that fringe TrincoBlu by Cinnamon.
For Lucille Diaz, Manager Communications Cinnamon Hotel Management the concept is a chance to widen Sri Lanka's touristic appeal and introduce the country as a destination wedding location. During the initial conceptualization of the project they found that Sri Lanka was a popular destination for travellers and couples from the United Kingdom, China and India.
The respectful integration of traditions and culture into the wedding festivities was another step towards appealing to the tourism market of the UK. "Culture plays an important role in weddings in the UK," Lucille explained. Successfully combining cultures to create a socially responsible wedding Lucille adds was because of their adherence to principles, respect and the parties involved; who had a genuine thirst for travel and interest in learning more about Sri Lanka.