Of fraudulent transactions and 'slush funds'
View(s):

By B.Anton Jeyanathan, DIG, SLP (Rtd.)
Webster's Dictionary defines SLUSH FUND as "a fund for bribing public officers or carrying on corruptive propaganda".
Currently, the people have been inundated with news and information both in the print and the electronic media of money obtained from a company which has come to disrepute due to the profits this company is said to have illegally amassed by indulging in insider dealing with "buying and dumping" shares at the Central Bank auctions. I need not go into the details as to how this was done, as this subject has been dealt with and is still continuing to be dealt with by several politicians.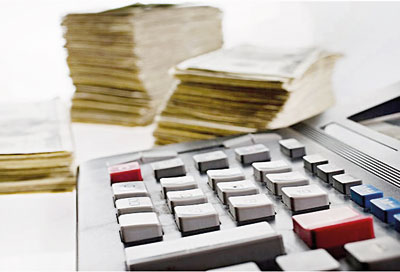 In the aftermath of the exposure of the crooked dealings by this company several allegations have been made against politicians and political parties who are said to have had dealings with this particular company. Even a "no confidence" vote was brought in Parliament against the Prime Minister linking him to the case known as the Central Bank Bond case.
The government appointed a commission of inquiry which recorded the evidence of witnesses, including the evidence of the Prime Minister and identified three main suspects, two of whom are in remand prison and one is absconding and an open warrant has been issued by the magistrate to have him arrested and brought before courts.
After the original fraudulent transactions were exposed, and the suspects arrested, there was a calm before the storm when the senior Counsel of the Attorney General's Department informed court that according to the investigations conducted by the CID, it had been revealed that several members of parliament had accepted cash donations from this particular company.
In the report filed in courts and the statements made by the representatives of the Attorney General's Department in courts, the name of a particular MP was mentioned as one of those who had accepted large sums of money from this company. The MP did not deny, but accepted that he had received this money from this company for his election campaign. On the admission of the MP, another MP who is a minister of the present government too admitted that he had received some funds from this company for his election campaign, the latest revelation being that a minister of the present government and the former Central Bank governor who is evading courts too have received large sums of money from the same company.
The admission by these MPs stirred a hornets nest with allegations that more than a hundred members were beneficiaries of this so called company. MPs, both from the Government side and the opposition, and some civil society groups demanded from the Secretary to the President to release the Bond Commission report sections which had the names of the MPs who are said to have received monetary benefits, so that the public would know who had received money and who had not from this company.
Most of the parliamentarians appear to be suffering from amnesia. In connection with the same inquiry, one minister in evidence stated that he did not remember who rented out the apartment for him and his family to live in. Another minister says that he cannot remember who signed the cheque for Rs. 1 million and who gave the Rs.1 million cheque. Yet another minister says that he do not remember who donated the large sum of money as the cheque for this large sum of money was received by his security officer who was also his election co-ordinating Officer. Whilst this is going on in the social media the names of not only parliamentarians but some of the government officials have been circulating too as people who have received money from this company.
Money laundering
Whoever amasses wealth by illegal trade like drug trafficking, illegal trade practices, inside trading of share transactions, gambling, arms smuggling, people smuggling etc., sets up a process of money laundering. That is to convert the illegally earned money into a normal financial transaction, so that the illegally earned money is laundered and could be used for normal business. Such organisations maintain a fund known as the "slush fund" to spend on corrupt officials in order to prosper in their illegal businesses.
The majority of the corporate institutions maintain such a fund which is not on record but maintained as a secret account so that this money could be used as "Santhosam" to officials and politicians who could be helpful to run their businesses profitably.
In the case of a "slush fund" maintained by organisations or companies indulging in illegal activities, the "slush fund" is the largest fund maintained by them. For any such illegal activities, political patronage is a must. Without political patronage it will not be possible for any illegal business to flourish.
There is no gainsaying that in our land, in any police area, the illegal trade of kasippu or narcotic drugs like ganja and heroin flourishes, due to the backing by some politician whether at the parliamentary level or Pradeshiya Sabha level.
More business organisations indulging in illegal activities and normal business activities maintain a "slush fund" to keep the politicians, law enforcement officers, Customs officers, Labour Department officers, Income Tax officer, Excise officers and officilas of other government departments which are engaged in law enforcement or collection of government revenue to bribe them to overlook their illegal activities and irregular activities.
Security Officers
An interesting revelation which should draw the attention of the Ministry of Law Enforcement and the IGP is the use of security officers by the politicians to attend to their private errands. It is reported that about 25 security officers have been questioned and their statements recorded by the CID in connection with the cashing of cheques on behalf of these politicians.
In one particular case, the minister who is said to have received a very large sum of money, is said to have claimed that one of the security officers was coordinating his political campaign and there was a team which received donations for political campaigns from supporters and that he was not aware as to who made the donations and the amounts donated. A large number of police officers have been deployed by the Police Department to provide security to parliamentarians and provincial and local council members. It was also reported that these Police personnel are attached to these parliamentarians etc., and they do not engage in any Police work. The Police Department is short of personnel though there are nearly 85,000 personnel, but a sizeable amount of men of all ranks are attached to several divisions which provide security to politicians.
It is high time that the Law and Order Ministry and the IGP scrutinise the need for the large number of personnel attached to each politician in order to provide security and not to be used as errand boys and election co-ordinating officers.