Nepotism, cronyism and multimillion-rupee cheques
View(s):

I was musing this month about this word Nepotism. It comes, I discovered, from the Italian word nepotismo, derived from the Latin word nepos meaning nephew. The term originated from the practice of some of the Catholic popes (who were unable to have legitimate children due to their vows of celibacy) appointing their nephews to important positions. A classic case was that of Pope Calixtus III, head of the Borgia family of Spain, who made two of his own nephews cardinals. One of these nephews Rodrigo went on become Pope himself – and then, as Pope Alexander VI, went one step better. He promoted his "adopted nephew" Alessandro (actually the brother of his mistress) to the position of cardinal – from which post Alessandro in turn manoeuvered himself to be elected as Pope Paul III.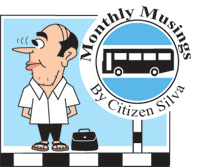 Today, we use the word Nepotism to describe the granting by politicians of positions of preference to their relatives – as John Kennedy did when he appointed his brother to the post of Attorney General, and Mahinda Rajapakse did when he appointed his brother to be his Secretary of Defence. Admittedly, these nepotistic appointments proved effective – Robert Kennedy pursued a relentless war against America's organized crime bosses and Gotabhaya Rajapakse successfully prosecuted the war against the LTTE.
But most nepostic appointments only benefit the relative (often with no qualifications or experience for such jobs) at the expense of the citizens and taxpayers of the country. Classic examples are Donald Trump's appointment of his daughter and son in law as his 'Senior Advisers' and Mahinda Rajapakse's appointment of his brother in law, an unsuccessful tea planter, to be chairman of Sri Lankan Airlines.
Similar to Nepotism is Cronyism – showing partiality to friends and associates. The old saying "It is not what you know but who you know" still rings true – where jobs and positions are given by those in power to those they trust, even though such people may not be the best qualified or most experienced for the job. Providing seats in parliament by misusing the National List and giving out corporation chairmanships to friends and pandan-kaarayas comes into this category. Good examples are bestowing the Governorship of the Central Bank to the accountant of a four star Colombo hotel (Nivard Cabraal, friend and torch-bearer of Mahinda Rajapakse) or the Dubai-based foreigner now on the run from the law (Arjuna Mahendran, who used to holiday with his family friend Ranil Wickremesinghe).
But the worst form of favouritism is what we have come to know as "purchased cronyism" – the granting of positions and favours to those who buy their way into the good books of politicians.
It is well known that getting elected in any country is an expensive business. Politicians aspiring to public office need a lot of money to invest in their campaigns. This money, if not granted to them by their own parties, needs to come from their own pockets or from donors.
Now there is no such thing as a free lunch – nor is there a political donation that comes without strings attached. Donors donate, not out of some altruistic motive or great love for the politician but because they expect something in return. It may be getting their children into the school of their choice or being awarded a contract or a tender.
Some people donate their money, others their time and their poster-pasting or leaflet-dropping skills. They seek patronage – obtaining public service jobs in return for having helped elect the person who now has the power of appointment. This is why business men with money to spend 'gift' a million rupees or even Rs 3 million cheques to politicians. In the case of a few lucky ones these generous businessmen even pay the rent for their houses and penthouses.
The sad thing is that ordinary citizens like us are losing what trust we had in our political system. This kind of nepotism and cronyism interferes with the idea of fairness because it gives an unethical and undue advantage to folk who do not necessarily merit it.
Those who get their positions because of connections or "purchased friendships" not only render inferior service, they also feel that their connections place them above the law.
The recent revelations that people on both sides of the political divide like Dayasiri Jayasekera and Sujeewa Senasinghe received enormous sums of money from Arjun Aloysius is frightening. Even more disgusting are their responses. Dayasiri tried to justify the money he got from Aloysisus by saying that over a hundred others have also received such donations – while Senasinghe (who claims to be "a lawyer with a good understanding of criminal law") says that he will resign "if the president or the prime minister or a high ranking religious leader asks me to do so."
The president and the prime minister are each like a chatty-pot supported on three stones – like the typical rural 'lipa'. If any one of those stones that support the pot are taken away, the pot will fall -so they spend all their time trying to keep the unreliable stones that support them intact.
The sad thing is that the stones that keep these leaders so precariously supported comprise parliamentarians who are, as they say in Sinhalese, "Lajjath nae, bayath nae". Can such shameless fearless people ever bring about Yahapalanaya?