Thousands face more misery from deadly flooding and downpours
By Nadia Fazlulhaq
View(s):
Torrential rains exceeding 100 millimetres in most areas and heavy flooding are once again causing unnecessary deaths and destruction at the onset of the monsoons in May.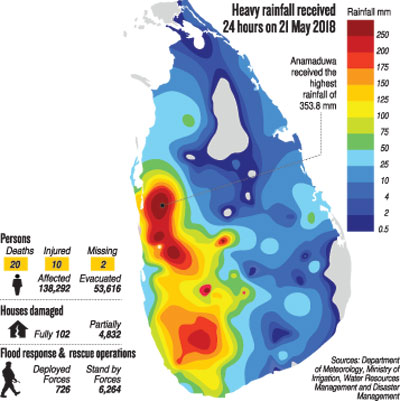 The overall danger is not over. The southwest monsoon has yet to set in proper. So far, 20 people are dead and another two persons missing. More than 153,000 people from 40,117 families are helpless. Dozens have lost their homes permanently. Now, thousands are facing the danger of diseases such as diarrhoea, rat fever, and the deadly dengue. Just last year, about 200 people died in South-West monsoon floods across the country.
Navy divers have been seen clearing blocked waterways with their bare hands, and ferrying the sick, injured and the helpless in dinghies. In some areas, people have joined in to repair breached flood barriers and clear drains.
In 20 out of 25 districts, roads have turned into rivers, mountain sides have collapsed, bridges damaged, roofs of schools collapsed, and homes destroyed by cracks and flooding.
Thousands in Colombo, Gampaha, Kalutara, Galle, Matara, Hambantota, Badulla, Ratnapura, Kegalle, Kandy, Matale, Nuwara Eliya, Puttalam, Kurunegala, Moneragala, Mullaitivu, Jaffna, Vavuniya, and Polonnaruwa districts have been hit by floods and landslides.
About 55,000 people from 14,437 families have been evacuated to 265 centres, Disaster Management Centre's Deputy Director (early warning) Pradeep Kodippilli said.But thousands more are likely to suffer in the months ahead.
Officials say that 105 homes are completely damaged and 4,832 houses partially damaged.
Deaths were reported from all over the country. Three have died in Kegalle and Gampaha while two each have died in Puttalam, Kurunegala, Ratnapura, Polonnaruwa and Kalutara. Galle, Moneragala, Gampaha, Colombo and Nuwara Eliya districts have reported one death each. Many have drowned, while others have been buried in landslides. Two persons are still missing from Puttalam and Ratnapura.
A nine-year-old girl was washed away by a strong muddy stream of water in Ragala, Nuwara Eliya while on her way home after school. In Biyagama, navy divers are searching for a person who is missing after going for a dip in a brook. In Alawwa, in the Kurunegala district, an earth mound collapsed on top of a house killing a 40 year old man who had been asleep.
Heavily populated Colombo, Gampaha, Kalutara districts were hit by last week's floods as well. Bunds have collapsed, retaining walls have failed, and river banks have eroded.
Seethawaka, Homagama, Hanwella, Kotte, Kolonnawa, Kaduwela are some divisions in the Colombo district that have flooded.
The damaged Biyagama-Kaduwela main bridge has been reopened after a temporary steel structure was erected.
The two-year long drought in Puttalam ended with heavy rains. Anamaduwa received a high rainfall of 353. 8mm and about 15,000 people are displaced in this district and temporarily settled in 81 shelters.
Puttalam has been among the worst affected and all 20 floodgates of the Thabbowa reservoir were opened Saturday causing flooding in the village of Thambapanni. In Gamuruwa, Madampe in the Puttalam district, a policeman is reported missing after being washed away during an attempt to rescue a mother and two children trapped in the floods. Forecasters predict winds upto 80 kilometres an hour on the coastline from Mannar to Pottuvil.
Reservoirs are swollen and all major rivers are overflowing while Attanagalu Oya is continuing to rise.
Rains let up on Wednesday, but intensified in the early hours of Friday and continued yesterday (26) drenching the western slopes of the hill country and other areas.
Lakshapana, Castlereigh, Norton and Canyon in Nuwara Eliya district, and Kotmale in Kandy are being soaked.
"This is a pre-monsoon condition. Rains will continue in many parts of the island for next few days until the southwest monsoon sets in. Once it is established by the end of this month, the southwest monsoon will bring heavy rains to south westerly parts of the country and the central hills," said S. Premalal, the director general of Meteorology Department.
Heavy rainfall is expected in Sabaragamuwa, Western, Central and North-Western provinces and in Galle, Matara, Jaffna and Mannar districts in the coming days accompanied by strong gusts as well as lightning and thunder.
The Disaster Management Centre with recommendations from the National Building Research Organisation has permanently evacuated families from 57 houses. They include 29 from Kalutara district, 16 from Ratnapura, five from Nuwara Eliya and Kegalle. Families of 138 houses have been temporarily evacuated.
The Panwila-Bambaraella road is off limits due to a rock-fall in Kandy district. The Colombo-Hatton main road from Watawala, Diyagala to Ginigathhena was temporarily closed following Friday morning's heavy showers. Motorists have been advised by Ginigathhena police to take alternate routes due to landslides risks.
Senior geologist of the NBRO, Dr Gamini Jayatissa said the red alert (evacuation alert) has been issued to a number of divisional secretaries in Ratnapura, Galle, Kegalle, Nuwara Eliya and Kalutara districts. He said the people have been advised to move away immediately from the areas where they noticed signs of landslides, such as cracks on the ground, leaning trees, electrical posts, fences and telephone posts, cracks in the floors and walls of buildings and sudden appearance of springs and muddy water.
Those who have been evacuated due to landslide threats are requested not to return to their houses.
About 1,000 navy and army personnel have been deployed for rescue and relief missions in flood hit areas. Meanwhile, the army has 5,388 personnel on standby, the navy 606 and air force 270.
"Forty nine teams comprising experienced officers and sailors along with the same number of dinghies have been deployed," the navy said.
The navy's Rapid Response Rescue and Relief Unit (4RU) is using dinghies to move displaced people and rescue those in distress.
The Sri Lanka Airforce said aircraft and rescue teams are ready for deployment in rescue and relief operations, while providing aerial photos to assist in rescue missions. Army soldiers have been also deployed in flood and landslide affected areas.
The Public Health Inspectors Union advised people to avoid drawing water from wells in flooded areas.
"Water-borne diseases like diarrhoea, typhoid and dysentery, viral flu and skin infections are common after floods. Later, there will be mosquito-borne diseases such as dengue and leptospirosis (rat fever)," a spokesman of the union said.
He said people whose homes have been flooded should disinfect them before returning. Waste should be properly disposed in camps for the displaced. If wells are contaminated, the assistance of the area Public Health Inspector can be sought to chlorinate them.
The Education Ministry has instructed schools to store text books, files and administration documents, computers, musical instruments, and sports goods in an upper floor, or a safe place.
Principals have been told to inspect school premises for cracks in slopes and possible dangers from falling trees.
The Irrigation Department said floods were triggered by rising water levels in the Kelani, Kalu, Gin, and Nilwala rivers and Attanagalu Oya.
The Law and Order Minister Ranjith Madduma Bandara said police have been instructed to ensure the protection of personal property of the displaced.
"Disaster Management Minister Duminda Dissanayake has instructed all the district secretaries, divisional secretaries and grama sevakas to look into relief services and to discourage any political propaganda in distributing relief items and to ensure that only deserving persons receive such goods,'' said senior assistant secretary to the Disaster Management Ministry, Chandana Ranaweera Arachchi.
The government has allocated Rs 35.66 million for immediate relief services with the bulk of the funds allocated to Kalutara, Colombo, Ratnapura and Kegalle districts.