Cards for Mother's Day
By Manoshi de Silva
View(s):
As Senaya's school van passed the Elder's Home by the side of the road, she looked out in interest. There were few elderly ladies in the huge garden. Some were sitting on the benches reading and some were walking about. One lady stood near the short fence and stared at the road. Senaya waved at her like she did every morning and the lady's face lit up. She waved back at Senaya with a big smile.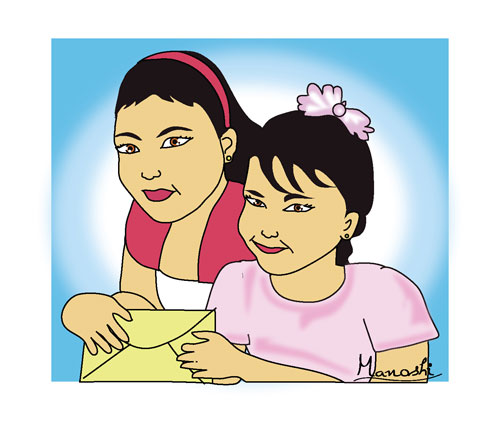 "Why do those grannies stay there?" Senaya asked her big sister Reshma.
"Is it a boarding place?"
"It's something like that," replied Reshma, "some of them don't have families and some of their families are out of the country or not able to take care of them. So they stay there and call it their home!"
Senaya looked out of the school van window every morning as they passed the Elder's Home. The elderly lady was there every morning to wave at her. "I wish I could talk to her," thought Senaya, "she looks very kind and friendly."
"I wonder if she feels lonely," Senaya said to Reshma, "I know she has friends there, but I wonder if she misses her family…"
"I hope they go to visit her often," said Reshma, "that way she wouldn't miss them too much!"
"I know that lady," said their friend Nadeeka, who was seated next to Senaya in the van. "She was one of our neighbours. Her family migrated to Australia. Since she couldn't go with them, she now stays there!"
"Oh," said Senaya, "she must be missing them a lot!"
"I guess so," replied Nadeeka, "but since there are a few others there, she wouldn't feel too lonely!"
"I hope they call her and write to her often," said Reshma, "but still she must be missing them during her birthday
and other celebrations!"
"Don't worry she must be getting nice gifts from abroad," said Nadeeka.
"But still it can't be the same," said Senaya. She felt sad for the elderly ladies. "I wish I could talk to them and cheer them up," she thought.
Reshma called Senaya that afternoon when they came home. "Mother's Day is next Sunday! What shall we give Amma?" she asked Senaya.
"Let's make a card!" said Senaya and Reshma nodded. Reshma loved to draw. She could draw beautiful designs. "I can help to colour it," said Senaya, who was good at colouring.
"We need board, coloured paper and glitter!" said Reshma.
"Let's go to the bookshop and get what we need," suggested her little sister.
So Reshma and Senaya went to buy what they needed to make a Mother's Day card. "Amma will love it, once we make it!" said Senaya, "but I do feel sorry for the grannies at the Elder's Home. They won't be getting anything."
"You are right," said Reshma, "why won't we make cards for them as well?"
"That's a great idea," smiled Senaya, "and since you love to draw, you'd really enjoy drawing designs for a lot of cards and not just one!"
Reshma smiled. Her head was already full of ideas.
Reshma and Senaya bought enough of board, coloured paper and other essential things like glue and colour pens.
"I wonder how many grannies are there though?" said Reshma.
"Nadeeka said there are twenty grannies," replied Senaya.
So the two girls cut the board into twenty cards and started drawing designs on them.
When the cards were done, they all looked very beautiful. They wrote a verse and signed the card they made for their mother.
"But what about the other cards?" asked Senaya, "what shall we write in them?"
"Let's write a wish for happiness and good health and sign our two names," said Reshma and Senaya agreed.
So on Mother's Day, Reshma and Senaya gave their mother the card they made for her, with a cake they bought with their pocket money. Their mother was very happy. After that they told her about the twenty other cards they had made. This made their mother even happier because of the thoughtfulness of the two girls. So she promised to go with them to the Elder's Home in the evening.
That evening Reshma and Senaya along with their mother, went to the Elder's Home with the cards they had made and a bouquet of flowers from their garden. The girls' mother took a cake, some short-eats and tea in two big flasks. She spoke to the Matron of the home and got permission to go in. The two girls gave each granny a card and a flower, along with a hug and a kiss and wished them a 'Happy Mother's Day!'
The elderly lady who waved to Senaya every morning recognized her at once and said that she was very happy to meet the little girl. Then they cut the cake and enjoyed tea with the grannies. They were all very happy about the cards and admired the beautiful drawings. Reshma and Senaya too felt very happy for making Mother's Day special for their own mother and also for making it special for a few other mothers as well.