Economy at the crossroads as politics dictate priorities
View(s):

The economic imperatives for stability and growth are well known and well recognised among those in charge of the economy and some in the political leadership. Even so, pursuing them are difficult for the government that requires regaining its lost popularity. Furthermore the lack of any consensus on economic policies makes it difficult to pursue needed economic policies.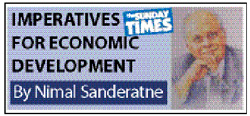 Consequently, politics will surely dominate decision making in the remaining one and a half years of this government's tenure with Provincial Government polls this year and general elections next year. Even at the best of times political expediency has driven the country's decision making to the detriment of long term economic growth and development. This is the worst of times to take unpopular decisions that are needed to ensure economic stability and growth.
Consequence
Consequently, economic policies that are vital for long run economic development would be difficult to pursue owing to their unpopularity in the run up to the next election. Fiscal slippage through larger public expenditure is inevitable. Economic reforms that are unpopular and ideologically anathema to a large proportion of parliamentarians would have to be shelved. The undermining of macroeconomic fundamentals would be to the detriment of the economy.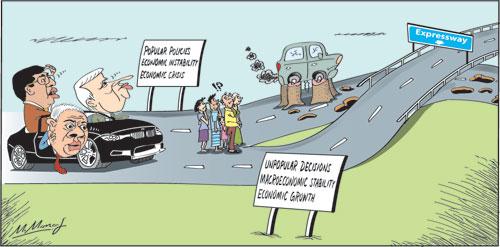 Unpopular decisions
In a parliamentary democracy a government must take unpopular decisions in its first year so that they produce benefits by the end of its term to make it popular and be re-elected. This strategy was however not available to the UNP-SLFP coalition as the Presidential Poll on January 8th was followed by the general elections in a few months. It was imperative for the two main parties to consolidate the victory at the general elections a few months later. This was the root cause for the large populist spending in the mini Budget of 2015 that increased the fiscal deficit to 7.2 per cent of GDP.
Fiscal consolidation
There was an improvement in fiscal management in 2016 in response to the balance of payments crisis. The fiscal deficit was brought down to 5.6 percent of GDP in 2016 and is likely to be less than 5 percent in 2017. The main reasons for this improvement is the more contained public expenditure and a significant increase in revenue collection.
Reversal in 2018?
The current political pressures are likely to undermine the trend towards fiscal consolidation and destabilise the economy. There is every prospect that revenue would increase this year too, but increased expenditures and inability to implement reforms that would reduce public expenditure are likely to erode fiscal consolidation. For instance, increasing international oil prices would increase electricity costs that will not be passed on to consumers.
The economically rational policy was to introduce an automatic pricing formula whereby increasing costs of electricity are passed on to consumers. Conversely, when international oil prices fall, consumers will get the benefit of lower electricity tariffs. This would keep in check import expenditure on oil.
It is very unlikely that this policy that is part of the agreement with the IMF would be implemented, as this is not the time to increase prices and be unpopular. However, without the proposed use of a pricing formula, the IMF will show its disapproval by delaying the payment of its instalments under the Extended Fund Facility (EFF), which will be in effect until 2019.The loan amount is small, but without an IMF programme there would be two dangers: the cost of borrowing will go up and FDI will be discouraged.
Employment
Already there are moves to increase state employment. Unemployed graduates would be employed soon and those with advanced level or lesser qualifications are also likely to be employed by the government or state enterprises that have over employment and have a bloated labour force.
These are uneconomic decisions, not only because they increase government expenditure, but also are unproductive. It is a paradoxical situation, as at present there is a labour shortage in agriculture and some industries. Giving jobs to those who have remained unemployed because their skills are not sought after would only exacerbate the problem.
Policy disagreement
The lack of unity and cohesion in the government makes economic policy decision making and implementation more difficult. It is difficult for this government to take economically rational decisions for the mid and long term economic development of the country. Yet, without bold correct economic decisions to stabilise the macroeconomic fundamentals, there is no future for the country. Consensus on crucial economic decisions is vital.
Macroeconomic fundamentals
Recognising this dilemma, Dr. Harsha de Silva, Deputy Minister of Policy Planning and Economic Development, assured us that the government would not undermine the macroeconomic fundamentals. He said that if they were to do so he did not know what would happen. Dr. de Silva was speaking as an economist rather than a politician.
He together with Minister Eran Wickramaratne, Finance Minister Mangala Samaraweera and Prime Minister Ranil Wickremesinghe are fully aware of this, but how many others in the government are likely to understand this fundamental economic necessity? How many are likely to be interested in the medium term, when retaining power at the next elections is their prime concern.
Impossible task
Dr. Harsha de Silva has an impossible task of convincing his colleagues and the President that macroeconomic fundamentals must not be weakened. Despite his concern and commitment, specific policies that erode fiscal discipline will be adopted and government expenditure would rise. Needed reforms that would lighten the country's fiscal burden, such as reform of state enterprises, will not be undertaken.
Art of the possible
Politics is the art of the possible. Given this dilemma the government has to adopt a least damaging policy thrust to enhance its popularity, while ensuring macroeconomic stability? In which ways is it possible to ensure reasonable macroeconomic stability till 2020?
Given the difficulties in containing the expenditure side, it is vital that tax reforms are implemented to enhance revenue. One of the principles of the new taxation system was that there would be no exemptions. This principle must be adhered to strictly. Pressures to relax taxes in particular cases must not be allowed. Such exemptions would not only reduce tax revenue, but increase aggregate demand and increase imports. Already reduction of import duties and tax exemptions on car imports has increased the value of imports that we can ill afford.
Balance of payments
Achieving a balance of payments surplus this year is vital to reduce the burden of foreign debt repayment in 2019. As export prospects appear favourable in 2018, it is important that increased imports do not wipe out the gains to result in a high trade deficit, as was the case last year.
Bottom line
The government must ensure that economic policies do not undermine the stability of the economy. It is the responsibility of ministers in charge of the economy to stand firm in ensuring that macroeconomic fundamentals are not undermined.
The economy is at the cross roads, which way will we turn?