For the first time, Buddhist prelate in state delegation
View(s):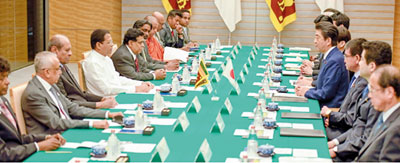 Sri Lanka's foreign policy initiatives have gone one notch higher with the inclusion of a member of the Buddhist clergy in a delegation for top level talks between President Maithripala Sirisena and Japanese Prime Minister Shinzo Abe.
This is the first time in seven decades that a cleric has been included in an official delegation by a head of state or head of government, said a Foreign Ministry official who did not wish to be named. He is Ven. Ulapane Sumangala Thera.
Ven. Sumangala Thera does not hold any official Government position but is an activist against corruption and drug abuse. He is the chief incumbent of the Dharmayathana Temple in Narahenpita. He also serves in the 30 member council of Buddhist intellectual leaders named by President Sirisena.
---
Lankan fans become Indian fans
Last Sunday's Nidahas Trophy final which pushed cricket fans to the edge of their seats witnessed an unusual twist. Most Sri Lankan fans supported India against Bangladesh.
The electrifying final match saw Sri Lankan fans cheering endlessly for success of the Indian team. They were wearing Indian jerseys and waving Indian flags. Whether it was the boorish conduct of the Bangladesh players when they beat Sri Lanka two days before, or if it was a new Indo-Lanka bhai-bhai relationship brewing is hard to tell.
As a token of appreciation, the Indian team did a "Thank You Lap" in the stadium carrying the Sri Lankan flag. Indeed, it was touching to see Lankan cricket fans behave in that way when considering the decades long social, economic and political concerns the Sri Lankans feel about their regional Big Brother.
Indian High Commissioner Taranjit Singh Sandhu, an old Sri Lanka hand, was quick to share the "amazing show of Sri Lankan support and solidarity with the Indian team" where Lankan supporters walked around the stadium with Indian flags after the match concluded.
---
Pakistan PM offers his plane to President
The Pakistani Government offered to place its Prime Minister's special aircraft at President Maithripala Sirisena's disposal to fly from Colombo to Islamabad.
The offer, however, was politely turned down.
President Sirisena, now on a state visit to Pakistan, is due to return to Colombo later today.
---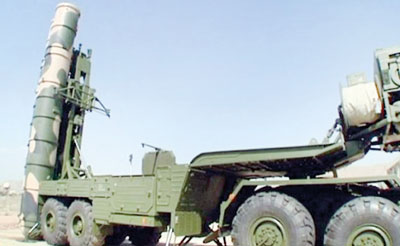 SLAF may get  surface-to-air missiles from Russia
The Defence Ministry is now negotiating with Russia to procure a Radar Controlled Missile System for the Sri Lanka Air Force (SLAF).
Among those under consideration are S 300 and Buk 27 missiles. Both these surface-to-air missiles are capable of engaging aircraft and UAVs (umanned aerial vehicles) in addition to providing some cruise and ballistic missile defence capability.
---
Toilet cleaning fluid as kos preservative
Bizarre but true. Adulteration of food items has reached new levels, posing hazardous threats to consumers.
One chance discovery was made by doctors at the Ratnapura Hospital when a man with burn wounds on his hands turned up. He was questioned but refused to answer.
Doctors threatened that they would report him to the Hospital post. He confessed. He was a vendor who sold pieces of Jak or kos for curry. When he found he had large stocks, he had preserved them using a toilet cleaning fluid. The next morning, he would wash the pieces and sell them claiming they were from a fresh fruit.
Doctors dressed his wound and gave him medication. When that was over, they handed the man to the hospital post.
In another instance, at the Dehiwala Junction, a family that purchased fish (young paraw) and cooked it one afternoon found to their dismay that the smell was foul and acidic. It did not take much for a person to realise that formaldehyde solution, used to preserve dead bodies, had been used to preserve the fish.
---
Fonseka in firing mood over portfolio
A planned news conference last Wednesday by Regional Development Minister Sarath Fonseka was called off at the eleventh hour.
The reason – senior members of the United National Party (UNP), particularly close associates of Prime Minister Ranil Wickremesinghe, had made an appeal to him not to go ahead with the event. They said it would only embarrass the Premier.
The appeal came after news reached them that Field Marshal Fonseka, who was denied the portfolio of Law and Order, had planned to hit out at the top political leadership. This was after a meeting he had with President Maithripala Sirisena.
The news conference has now been fixed for April 2.
---
Increased allowances for military personnel
Armed forces personnel are in for good news.
They will receive increased allowances during overseas training stints.
The move came after State Defence Minister Ruwan Wijewardena took up the matter with Finance Minister Mangala Samaraweera.
Accordingly, the Finance Ministry has agreed to restore the allowances paid for armed forces personnel undertaking overseas training to the same level that existed before 2015.
In view of the circular, incidental allowance and the combined allowance which had been reduced will now be increased.
---
US State Dept. blocks Namal's US visit
The State Department in Washington DC, acting on the advice of the United States Department of Homeland Security, refused permission for opposition parliamentarian Namal Rajapaksa to board a Houston-bound flight from Moscow.
Mr. Rajapaksa was in Moscow together with parliamentary colleague Pavithra Wanniarachchi as observers of Russia's presidential election last Sunday. It was won, as expected, by Vladimir Putin.
According to official sources in Colombo, Namal Rajapaksa had obtained a visa to the United States prior to his departure to Moscow from the US Embassy in Colombo. He was due in Houston to attend a family funeral.