Speaking the endearing language of flowers
By Shakya Wickramanayake
View(s):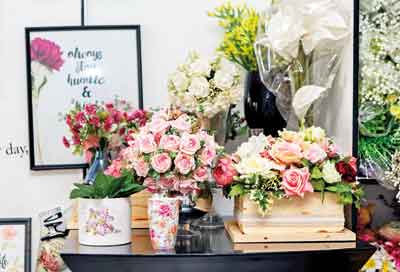 Throughout history and across civilizations flowers have always had a symbolic meaning, usually that of love and lovers. So much so that one cannot think of Valentine's Day without red roses and flowers in general.
Amanjanee Nilaweera is the enthusiastic owner of Urban Stems in Ratmalana and she shared her thoughts on the significance of flowers during this season of love.
Red roses are the most popular among lovers as they are said to be Goddess Venus's favourite flower according to Greek mythology. "A red rose is symbolic of love, and the most direct way of saying 'I love you'," she says. However, there are plenty of other flowers to show affection and love, adds Amanjanee – any red flower can be used to symbolise love.
White flowers, especially roses signify purity and romance, and lavender roses are said to be symbolic of love at first sight. Arrangements in pink and lavender convey appreciation; Orange symbolises passion, enthusiasm and excitement and yellow is symbolic of friendship. But if you are in what some dub the 'friendzone' and wish to say you want to be more than just friends, Amanjanee suggests a bouquet of yellow flowers with one single red rose. And if you ever wondered why most weddings have a mix of red and white roses, the answer is that the combination is symbolic of unity.
When it comes to floral arrangements factors like age and gender do play a large part. The older generation, she's noticed, typically prefer larger and more colourful arrangements, whereas her younger clients prefer a smaller bouquet with a more minimalistic colour palette. Ultimately individual styles and taste differ.
To ensure the flowers you give and receive last just a little bit longer, she recommends choosing flowers that do well in our climate, such as chrysanthemums instead of flowers that require constant hydration, such as hydrangeas. Cut the ends of the stems and change the water daily. Ideally stems should be cut diagonally, and for more hydrophilic flowers an 'X' cut is required. Keep the arrangement away from direct sunlight, and avoid keeping it directly under the air conditioning or a fan.
A self-proclaimed flower junkie, Amanjanee worked in the IT field as a Japanese translator  for 1o years until the project she was working on was suddenly cancelled. "I had two options then, to either find another job or start my own business," she says matter of factly.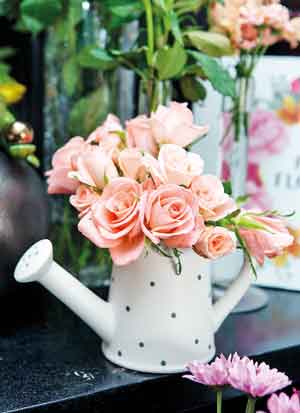 Her close associates knowing full well her love for flowers, encouraged her to work with flowers. "I loved flowers, but I didn't even know their names," she laughs. So she volunteered as a florist at a shop she had previously visited only as a customer and after working there for a month, felt confident enough to start up on her own.
It's a move that seems to have paid off, as Urban Stems, that opened up just last February, has had an encouraging response. Part of the reason is Amanjanee's minimalistic and modern approach to floral arrangements and decor. Her simple yet elegant designs are a refreshing respite from the ostentatious decor seen at weddings. They catch your eye without burdening it.
This penchant for minimalism is attributed to her days as a student in Japan where she learnt the ancient art of Ikebana, the Japanese style of flower arrangements that focuses on minimalism and nature. "I used to do Ikebana with all the old ladies, while everyone else used to go back home for holidays," she recalls with amusement, reflecting that perhaps it was grooming her for this point in her life.
Amanjanee laments that people embrace everything that's foreign, while overlooking beautiful native and homegrown flowers of Sri Lanka of which we have such a wide variety such as Alstroemeria, Lady Lace and Lotus that could be incorporated instead. "It's the responsibility of a florist to advise clients on what options they have," she notes. Personally she feels lucky to have adventurous clients who've allowed her to experiment, and not just stick to what's traditional.
This Valentine's Day Urban Stems will be offering a range of uniquely packaged flower arrangements. Contact them on 0777370010, or @urbanstemslk on Instagram and Facebook. They're located at No. 216C, Galle Road, Ratmalana.