Sitting in office
View(s):

My dear Maithri,
I thought I should write to you to congratulate you because you are completing three years in the highest office in Paradise tomorrow. I suppose celebrations are in order but I know you are worried about what the next two years will bring, given recent developments in the Green and Blue camps.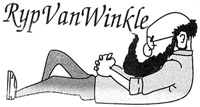 I will be honest with you, Maithri, when you won that election three years ago, no one really expected you to win. Mahinda maama was firmly in charge and he called the election two years early because he clearly thought that he would win. No one – perhaps except a handful of people- gave you a chance.
You surprised us then and you continue to surprise us even now, Maithri. As I am sure you must be aware, there were high expectations when you came into office. We hoped for a clean and efficient government and thought that you will punish wrongdoers, no matter who they are.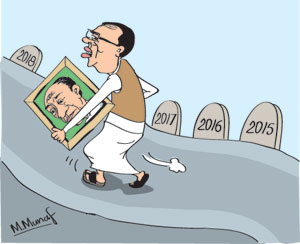 I think I will be lying if I say that we are satisfied with what has happened since then. We do understand that you are doing a difficult job, balancing the Blues and the Greens who have been fighting for the last seventy years, but there have been times when we were quite disappointed.
At the last general election the Blues came second best and you chose some of those who had been voted out by the people and put them back in Parliament through the National List. Some of them had corruption charges against them. That was the first hint you would waive the rules to rule the waves.
Then, even after three years, no has been punished for all those corrupt deals that you and the Greens claimed were done during your predecessor's time, except for sending Lalith to prison for distributing sil redi. If there was so much corruption at that time, Maithri, why isn't any politician behind bars?
We have heard several excuses about the police dragging their feet, the proper processes being slow and information being 'leaked' so that the offenders can get away. The public are not interested in excuses, Maithri, they elected you to do a job and after three years, that job is not even half done.
Don't get me wrong. We do appreciate what you did with the Central Bank bond issue. If not for you, we would have had to believe what three lawyers appointed by the Green Man told us and you-know-who would still be Finance Minister while his pals were siphoning off billions from the economy.
Of course there is the little issue of how convenient this is for you right now. They say that your Blues are lagging behind the 'pohottuwa' chaps and might end up in third place at local polls next month. So, it doesn't hurt to bash the Greens a bit by unleashing the report right now. Smart work, Maithri.
You told us only last week that those responsible will be dealt with properly and quickly and hope you have the courage to carry that out, regardless of the consequences. However, there is also the question as to why you are not appointing commissions to probe the misdeeds of your predecessors.
What was even more shocking was when we heard that you were negotiating with Mahinda maama's camp to get together to make the Blues one big happy family again. Have you forgotten, Maithri, that you yourself said that if you lost the election, those chaps would have sent you six feet under?
You did something impossible once by defeating Mahinda maama. But don't you think it would be even more impossible to inquire into the alleged misdeeds during his time, if you invite him back to your camp? Then, doesn't one of the main promises of your election campaign amount to nothing?
What most people find frustrating about all this, Maithri, is that your priority seems to be leading the Blue party instead of leading the country. Because of this, you seem to be even attacking the Greens when you wouldn't be where you are today, if not for the Greens voting for you at the last election.
Many wished you well three years ago. All of them don't have the same sentiments now. Some are saying that Mahinda maama, with all his flaws, would have been better. I disagree but you must ask yourselves why they say that. Otherwise, the next two years will be a lot harder than the first three!
Yours truly,
Punchi Putha
PS: Do you recall the pledge you gave three years ago, promising you will never run for office again. Some ministers say you will be their candidate. Your silence on the issue is deafening. Has another of our Presidents been seduced by the power that JR's Constitution gives them? Tell us, Maithri, we want to know.