The Christmas List
By Manoshi de Silva
View(s):
Gihan was sitting quietly at the table doing something. His grandmother went near him and saw him writing something carefully. "What are you writing, Putha?" she asked sitting down next to him.
"I'm writing my Christmas list, Achchi," replied Gihan, showing her a long list written on a notebook page.
"Is it a Christmas list of things to do?" asked Gihan's grandmother.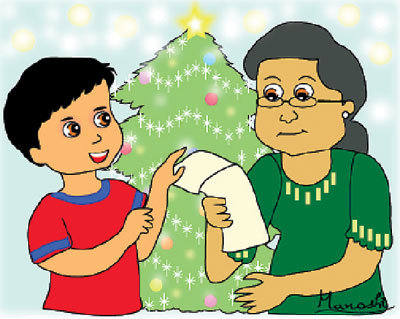 "Oh-no, this is a list of things I want for Christmas," said Gihan with a giggle. "See Achchi, this is the model of the phone I need and …"
"But isn't the phone you have a new one? It was given just last year," interrupted his grandmother.
"Yes, but it's not the latest model," shrugged Gihan.
Gihan then read out the rest of the list. It had phones, cameras and other expensive items. "This looks like a very expensive list!" remarked Gihan's grandmother. "But Achchi, it's for Christmas. I don't ask for a list of things every day," argued Gihan.
"When we were small," said his grandmother, "we used to ask for essential things. Like a pair of shoes or a new schoolbag."
"What?" gasped Gihan, "I don't even have to ask for those. I get them whenever I need them."
"Well, we as children were very happy with such gifts!" said his grandmother.
"Achchi, what did you give Thaththa for Christmas?" asked Gihan.
"We gave them little things they asked for," replied his grandmother.
"You mean like phones?" asked Gihan.
Gihan's grandmother laughed and replied, "there weren't mobile phones then. Even if there were, I wouldn't have given them those. Your Thaththa used to ask for books. We gave them storybooks and colouring books. That made them very happy!"
"I wouldn't have liked such gifts," said Gihan.
"That's because you never bother to read. You're always staring at your phone. You should be given toys so that you'd go outside and play. I still remember how much your father loved the cricket bat he got for Christmas when he was ten," sighed Gihan's grandmother.
"Putha," said Gihan's grandmother, "can you make a small sum. Find out the price of each item on your list and add it all together. Find the total amount!"
"If you want, I can find out the total amount roughly," said Gihan wondering why his grandmother wanted to know that.
"But Achchi, please don't tell Thaththa that it is a big amount and don't ask him not to buy these things," said Gihan sounding worried.
"I won't do that," promised his grandmother, "I asked for it for another reason." "Maybe she and Seeya want to buy me something from the list," thought Gihan happily.
Gihan sat down quietly and added up the cost after checking a few paper advertisements to find out the prices of some of the things he needed. It added up to quite a big amount. Gihan wondered if he should tell his grandmother the answer he got. He knew she'd be shocked to learn what a huge amount it was.
Gihan slowly went near his grandmother. "Achchi, it's a big amount," he said. But his grandmother didn't ask for the amount. Instead she said, "Putha, do you know the children's home near the junction?" "Yes," said Gihan remembering the orphanage he passed every morning on his way to school.
Looking out of the vehicle, he saw about twenty small children walking in a row to school with their matron, almost every morning. He noticed that some of them carried their books in their hands while some others wore slippers to school.
"Well to give them all new school supplies like books, pens and pencils, it wouldn't cost even half of one item on your list," said his grandmother and looked directly at him. "People seem to have forgotten what Christmas is all about. It's the celebration of the birth of Christ, the Lord who lovingly gave others. Christmas is a time for giving others. Not getting for yourself!" Gihan looked down. He already knew this, but never bothered to think so deeply about it.
Gihan went and sat near his list again. His excitement about the list had turned into guilt by now. He kept on remembering the little children's feet in slippers as they went to school and the look of innocence on their faces. Gihan sat there staring blankly at his list for awhile. Then he made some changes to his list and went looking for his grandmother.
Gihan's grandparents were sorting out some Christmas decorations from a box. "Achchi," said Gihan softly.
She lifted her head and smiled at him, "Yes, Putha?"
"I decided to change my Christmas list a little," said Gihan handing over a list to his grandmother. Gihan's grandmother looked at the list and looked puzzled.
"Twenty bags, water bottles…"
read Gihan's grandmother and looked at Gihan's grandfather.
"Are you going to open a shop?"
joked his grandfather.
"It's a list of gifts for the little ones at the orphanage," said Gihan's grandmother smiling at Gihan lovingly, "Putha you have accepted the true meaning of Christmas. This Christmas is going to be a special one that you will never forget."
Gihan went looking for his parents to show them the list. He felt happier than he had ever been before. And he felt very excited to go to the orphanage to give the little kid's their Christmas gifts. He knew these gifts would probably be the only ones those kids would receive for Christmas. He could imagine how happy it would make them. That very thought alone brought so much happiness to him, more than the Christmas gift list for himself.