Kasun, a gifted sportsman from the southern hamlet
View(s):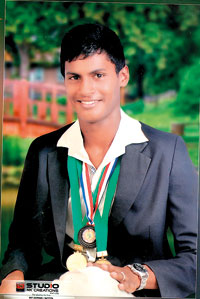 Kasun Wanugasekara, a talented athlete and a gifted student from the southern hamlet of Kataragama, made clear indications of a fruitful sporting career, when he bagged the Sportsman of the Year award at Lyceum International School, Wattala. This was Kasun's second successful claim of this title, as he claimed the Sportsman of the Year of Lyceum Wattala in 2016 at its annual Inter-House Sports Meet.
He repeated the similar feat after claiming the title at this year's Inter-House Sports Meet after claiming the wins of Long Jump, High Jump, Triple Jump and sprint events, 4x100m and 4x400m events in the senior category.
This achievement of Kasun came at Lyceum Wattala's annual Inter-House Sports Meet 2017 held at the Diyagama Sports Complex in Homagama last month. In addition to these back-to-back awards at his school's most important sporting event, Kasun has many accomplishments that he could be proud of. Prior to the sports meet, Kasun performed creditably at the Inter-International Schools Athletic Championship (ISAC) 2017.
At the ISAC 2017, Kasun represented Lyceum Wattala and competed against athletes of 23 other international schools and over 3000 athletes. Kasun claimed two gold medals and a silver medal in track and field events.
In addition he is a key member of the Lyceum Wattala First XI cricket team. Kasun is an important cog of the Lyceum Wattala cricket team as a top fast bowler of the side. His interest in sports does not stop there. Kasun is also the goalkeeper of the Lyceum Wattala football team.
By today Kasun has qualified to represent Sri Lanka thrice at international athletic meets. This is a priceless achievement for a youngster who attended Sellekatharagama Maha Vidyalaya for his primary studies. Kasun got the break he was longing for when Lyceum Wattala opened the doors on the talented athlete after his performance, which earned him a bronze medal at an international athletic event.
By today Kasun has come a long way and has in possession hundreds of medals and certificates he won at Inter-School, Inter-International School, Zonal, District, Youth and All-Island athletic competitions. Adding more value to his sports career, Kasun has undergone training as a cadet officer at the Sri Lanka Navy Camp in Trincomalee in 2013 and 2014. In addition he has attended Leadership Training Programmes conducted by the Red Cross Society and is also the Head Prefect of the Ananda Revata Buddhist Monastery in Kirivehera, Kataragama and has recognised with a merit certificate by the Buddhist Commissioner.
At present Kasun is fully focused on the ongoing Inter-School cricket tournament, where he is the opening fast bowler and an international athletic meet which takes place during this month. He hopes to make Sri Lanka proud by winning a medal or a few at this meet. Above all Kasun is eagerly looking forward to represent the country in athletics and cricket in time to come. For that Kasun has laid his total attention, which he terms as 'a dream come true' is attained.