End of a triennium: political mayhem
View(s):

The year will soon end and I realise that our country will soon have completed no less than three years – a whole triennium – of being ruled by this group of strange Yahapalaka bedfellows who clawed their way into power by selling us voters the pitch that we had to get rid of a corrupt Rajapaksa regime.
Sadly, those very people who got rid of Mahinda have been consistently proving to us that, just like in George Orwell's Animal Farm, they are no better than the people they replaced.

Mahinda Rajapaksa made no secret of the fact that he looked after his own people – his catchers, his pandan-kaarayas, his kith and his kin – when he was in office. He was a wolf – but a wolf in wolf's clothing.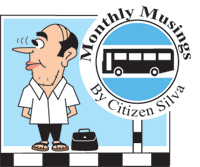 His successor Maithripala Sirisena however – a man whom our ludicrous sports minister Dayasiri Jayasekara (the singing son in law of famous dancer Dr. Pani Bharatha) used to call a spineless korawakka at the time Dayasiri was dancing to Mahinda's tune – has proved himself to be (as Winston Churchill once described Clement Atlee) nothing but a sheep in sheep's clothing. Under Sirisena's watch, he has allowed the wolves in his entourage to look after themselves and their catchers in precisely the same manner as his predecessor's chuck-golayas used to do – and to behave in the same arrogant manner that Dayasiri himself did last week.
I am now old and cynical and I have realised that in this country (and the situation is no different in many other countries), presidents and prime ministers choose their cabinet ministers not by selecting the best people for the job at hand, but by criteria adhered to purely for the benefit of the president or prime minister.
When he became president and had to select his deputy, Ranasinghe Premadasa had a choice of able men of the calibre of Gamini Dissanayake and Lalith Athulathmudali. He chose instead the harmless D.B. Wijetunga – presumably because he thought that Dearly Beloved Wije would be the person least likely to pose a threat to him. Sadly for the country, when President Premadasa was assassinated by the tigers, this former policeman and co-operative inspector D.B. Wijetunga was thrust into the role of president – a role that in his wildest dreams he would never have imagined would fall to him.
Appointing those whom the leader considers least likely to threaten him or her is one way of doing things. The other is to give high positions to those whom the leader wants to reward or whose loyalty he or she wants to buy off. This explains the appointing by leaders of highly unsuitable persons to positions requiring intelligence, capability, integrity and experience. How else can one explain the appointment of a graduate in clothing design to the office of finance minister – or the gifting of the sports ministry to a man whose sporting capabilities are limited to singing, dancing and performing his own version of lee-keli at May Day rallies?
In France, the current minister of Sports is Ms. Laura Flessel-Colovic – a lady who was France's flag-bearer at the 2012 Summer Olympics and has won no less than five Olympic medals, which is more medals than any other French female Olympian.
Even in India, a nation where democracy thrusts all sorts of jokers into political office, the current minister of sports is Colonel Rajyavardhan Singh Rathore – a retired army officer who was a silver medalist in shooting at the 2004 Athens Olympics. These ministers of sports are not just politicians – they deserve to be in charge of sports because they understand sports and have themselves competed at the highest level.
When I first heard of our singing and dancing sports minister hauling nine members of our national cricket team off the flight which they were taking to India on December 5th, I was appalled. A minister may have differences of opinion with his officials, he may want to discipline those of his staff who may not have acted in accordance with regulations – but to humiliate our national cricketers in front of the other passengers on that flight (just to show his staff who their boss is) was disgusting.
But what can you expect when you elevate into cabinet roles members of parliament who are unfit for such responsible office? In our country a politician's worth to his leader lies, not in his vision or his capacity to deliver results on behalf of the people, but whether he can project himself as someone who can deliver votes for the leader from his designated district or his particular ethnic or religious or caste group.
And as long as we have spineless leaders who are dependent on vote catchers of questionable loyalty, on pole-vaulters who have to be appeased lest they vault again to the opposition, we will have incompetent ministers who make mockeries of the offices to which they have been appointed.
A strong leader evokes loyalty from his ministers and his parliamentarians.
But what can you expect from a man who, in the very words of the sports minister who he appointed, is like a spineless korawakka?