Life-giving bank now a reality
Sri Lanka's first-ever Human Heart Valve and Tissue Bank opened its doors recently. Kumudini Hettiarachchi reports
View(s):
Cream walls 'flowing' down to blue floors 'seamlessly' as any horizontal ridges will harbour infection and a sterile room more sterile than an operating theatre (OT), but equivalent to those in drug manufacturing facilities.It is a walk through Sri Lanka's newly-opened first-ever Human Heart Valve and Tissue Bank at the Lady Ridgeway Hospital (LRH) for Children for MediScene on Monday morning.
The door into the Human Heart Valve and Tissue Bank just past the large plaque announcing it on the first floor of the Paediatric Cardiology Building may be innocuous but what is within is unique.
As one enters through the door is a 'least sterile' room, with a 4ºC freezer and in the corner a cryo-storage container with liquid nitrogen which would be used when tissue has to be transported to other hospitals, explains Consultant Paediatric Cardiologist Dr. Duminda Samarasinghe.
The tissue brought in after harvesting from a donor would be placed on the Static Transfer Box with double locks, from the side of the 'least' sterile room and passed into the 'highly' sterile inner room with filtered air where the material will be dissected in a special Bio-safety Cabinet. In different rooms we see more equipment — a crossover bench to the final room where all footwear has to be changed, an incubator where harvested tissue will be treated with antibiotics, liquid nitrogen storage freezers, proper disposal of waste mechanisms and more.
The setting up of the state-of-the-art Heart Valve and Tissue Bank was made possible with 18 Rotary Districts across the world supporting the Rotary Foundation to raise US$ 400,000 (around Rs. 60 million), with the Rotary Club of Colombo Fort acting as facilitator. The 'doers' had been then Sri Lanka's District Governor Gowri Rajan and Rotary International partner G. Balasubrahmanyan of the Rotary Club of Madras Coromandel, India. Funds for the construction of the building amounting to Rs. 20m were from the Health Ministry.
Explaining the need for a Heart Valve and Tissue Bank, Dr. Samarasinghe says that when some babies are born, due to certain types of heart disease, their pulmonary valve and pulmonary artery have not formed properly. These are the children who need replacement of their pulmonary arteries and so far Sri Lanka has been using bovine (cattle) or porcine (swine) artificial vessels imported at high cost from the United States of America.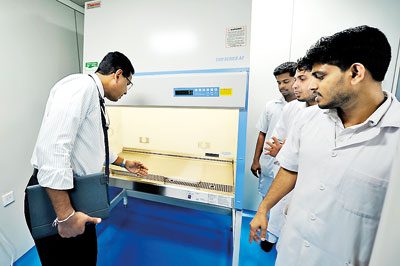 "There are some challenges in these heart surgeries when using these conduits prepared from the jugular veins of these animals, with a shortage of the two extremes — big and small vessels," explains Consultant Paediatric Cardiothoracic Surgeon Dr. Kanchana Singappuli, pointing out that vessels from human cadavers are longer lasting substitutes as against the others which are shorter lasting. These artificial vessels do not last as children have high calcium metabolic rates which, in turn, lead to calcium deposits forming (calcification) on these arteries, MediScene learns.
"Vessels taken from human cadavers also have the normal angles of the human body as an added benefit," says Dr. Samarasinghe, adding that unlike other organs which need to be harvested soon after death, these vessels can be harvested within 48 hours of death.Human heart valves and tissue are better options, he stresses, clarifying that the tissues from the bank would not be restricted to children. Even adults diagnosed with congenital heart disease would benefit.
This Heart Valve and Tissue Bank, once fully functional, can also be expanded to store other tissue including skin which can be used for burn victims and also preserve ovarian and testicular tissue of those who have to undergo chemotherapy and radiation.The need for the Heart Valve and Tissue Bank came to the fore as cardiac services begun back in 1998 at the LRH with the appointment of the first Cardiologist, Dr. S. Narenthiran gradually expanded to cover cardiac surgery, anaesthesia and intensive care and cardiological interventions.
MediScene understands that full-scale therapeutic aspects became a reality in 2005 with the installation of the first Catheterization Laboratory. From 2005 to 2017, more than 11,000 catheter interventions have been performed which include device closures for holes in the heart such as atrial septal defects (ASDs) and patent ductus arteriosus (PDA), opening up of narrow valves, rare newborn procedures and many more.
He says that it was when the other services were in place that they realized that it would be good to have a ready and steady supply of material in the form of valves and vessels for heart operations. Giving a simple analogy, Dr. Samarasinghe explains that even though it may not be essential for a household to have a car, the addition of a vehicle would help it to run more smoothly and efficiently.
The LRH heart unit had two projects at hand – the cozy and comfortable building and located in it the Heart Valve and Tissue Bank. Both have become a reality. Donor Mohomadally Ibrahim Jafferjee had built the current heart unit at a cost of Rs. 50m and the government had equipped it at a cost of Rs. 47m.
This was while the Heart Valve and Tissue Bank came into being with support from Rotary Foundation.
Of course, with the heart doctors not having a clue on how to get about setting up the Heart Valve and Tissue Bank, they had explored what to do and whom to contact. Everything fell into place when contact was made with the Clinical Lead of the Oxford Cell and Tissue Biobank, United Kingdom, Jill Davies; followed by garnering the expertise of Pramod Rajan of India who had built many sterile rooms for pharmaceutical companies and Analytical Instruments coming on board to supply the required equipment.