A.M.A. Azeez and his vision for national unity
View(s):

"The Reminiscences of A.M.A. Azeez: 1911 – 1973" by Marina Ismail must find an invaluable place in the library of every scholar, intellectual and educationist. This unfolds a sequence of events that will help to initiate a process of national integration with all the religions and races bound together by invincible bonds of enduring peace, harmony, unity and tranquility.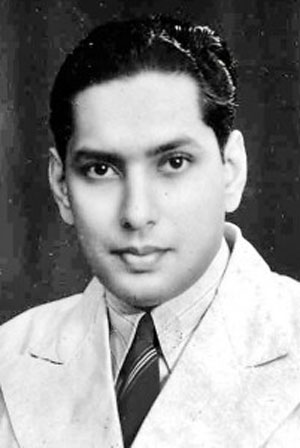 The amazing feature about this work is its elegant and eye-catching cover, which is unusual and exquisitely designed and the colour aesthetically appealing for this enriches its value – as one gazes on it the colour keeps blending from dark to light thus giving a kaleidoscopic effect.
This article is an evaluation, assessment and appreciation of A.M.A. Azeez who was a multi-faceted and multi-splendoured personality which enriched not only the activities of the Muslims but also of the entire country in general. He made a vital, lasting and enduring contribution to the unity, peace and harmony in our country.
Sri Lanka is at present passing through a critical, decisive and a momentous period in its history. Religious bigotry, racial hatred and extremism in all its varied forms and manifestations are emerging. It is therefore vital, urgent and imperative that at this particular juncture, the life teachings and message of A.M.A. Azeez can be of considerable value and assistance.
I intend furnishing relevant extracts from his life which spans a period of more than a quarter century. In 1951 A.M.A. Azeez as a distinguished Old Boy, was invited to open, The Jaffna Hindu College – Diamond Jubilee Carnival. He said, "I represent a different Institution (Zahira), a different community and different culture and yet I am an Old Boy much benefited by this institution. May I venture to say that this betokens the harmony that exists in our land among the various communities, in strange contrast to our neighbouring countries."
The Harvest Festival was held from March 27 to April 2, 1943. D.S. Senanayake said, he felt that if they could appoint a Muslim from the Civil Service, the people would do their best. When Azeez came to the Eastern Province, he was able to enlist the cooperation of both the Tamils and the Muslims as requested by D.S. Senanayake who hoped that this cooperation would continue. In the same vein Arunachalam Mahadeva said that he was glad to note the complete harmony between the Tamils and the Muslims. He hoped that these friendly meetings between the two communities would continue.
In 1980 in recognition of his services, especially to the Muslim Community, Azeez was honoured posthumously by the University of Jaffna, Sri Lanka, at its first convocation. He was conferred The Degree of Letters (Honoris Causa). The citation was by Professor W.L. Jeyasingham, Head of the Department of Geography, University of Jaffna. He concludes, "He was an extremely cultivated man who left a deep impression on the intellectual history of Sri Lanka. His close familial and cultural links with Jaffna naturally makes him specially endearing to the University of Jaffna.
In 1986 Azeez was recognised as a National Hero and a stamp was issued in his honour. In 2005 his portrait was unveiled at Ghaffoor Hall, Zahira College, Colombo. He was featured in 'The Hundred Great Muslim Leaders of the Twentieth Century,' a publication of The Institute of Objective Studies, New Delhi, India. Azeez was the only Sri Lankan Muslim to be recognised as such. Dr. Ananda Guruge, in an article – Senator A.M.A. Azeez: An icon of his age – states, "While shining as a bright star in the galaxy of hundred Muslim Leaders of the Twentieth Century, his contribution to national development, reminds us that his legacy in Sri Lanka extends beyond linguistic, religious and communal boundaries."
Azeez believed that communal harmony was needed for the betterment and prosperity of Sri Lanka. He believed that, "One must follow one's religion and customs strictly and at the same time understand and appreciate the religions and customs of others". In his Address of Thanks to the Throne – speech he states, "As a matter of fact there's only one nation at present and it is my prayer and hope that there shall be only one nation, although Sri Lanka may be a multi-lingual and multi-religious nation."
Sir Lalita Rajapaksa referred to his maiden speech, in the Senate in February 1953. "The speech was not only elegant but also full of fresh ideas. One knows that the Hon. Muslim Senator was, until recent times, a brilliant star in our administrative firmament and that he answered the call of his community and country. He made a bold sacrifice which very few people had made before, to espouse the cause of education and culture. His maiden speech was not only couched in beautiful language but was also replete in a foretaste of what is to come. I feel sure that the Hon. House is the richer by his presence."
In the 25th Commonwealth Speech (1998), Prof. K. Sivatamby pays a glowing tribute to Azeez, "In spite of the lapse of a quarter century A.M.A. Azeez lives on, his memory untainted with an increasing realisation of his historical role – what he had done for Zahira College, Colombo for Muslim education in general, for the role he played in the public life of its time and above all, for the intellectual enrichment of this country through his writings in both English and Tamil."
Some believe that Azeez's greatest contribution to Muslim education was the upliftment of Zahira. Many of the changes he introduced at Zahira were adopted by other schools. The founding of Zahira and its progress indicate, "how a community, educationally backward, found its feet and the place in the educational structure of Sri Lanka while keeping religious traditions intact."
Susil Siriwardena in a 2009 commemoration Speech states, "If Jayah' laid the foundation of the school, Azeez consolidated it manifold. He transformed and upgraded the kind of product that came out of it. They were potential professionals who enriched by extra curricular activities and sports, invariably, after university joined the professions. Thus he linked the school to the main stream of the national working environment. This is how the Azeez era – came to be known as 'The Golden Era of Zahira'