Runaway illegal constructions' sheer enormity defies demolition
By Sandun Jayawardana
Demolishing even one risks damaging other buildings, including lawful ones, where there is a high density of buildings
View(s):
Authorities tasked with demolishing thousands of illegal buildings in an around Colombo, are crippled by legal shortcomings, practicalities and the sheer size of the problem.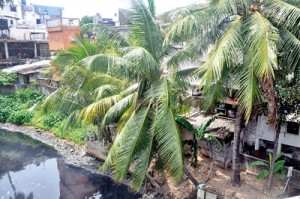 The city's main canal system is over 44 km long, while the minor network is 52 km. Within just 11.5 km of the major network, the Sri Lanka Land Reclamation and Development Corporation (SLLRDC) has identified 460 unauthorised buildings, while there are 376 illegal structures along a mere 4.56 km of the minor system, along with 9 more found during a survey of the Beira Lake.
The enumeration of these constructions is ongoing. An earlier survey had found around 6,000 illegal structures in and around Colombo, Megapolis Minister Patali Champika Ranawaka told the Sunday Times. Around 250 of which were on canal banks, were pulled down.
But authorities are struggling to tackle buildings on canal banks in areas such as Wellawatte, where around 400 have already been identified. "According to our Engineers, owing to the high density of buildings in a given area, tearing down even one risks damaging multiple other buildings, including lawful constructions," said Minister Ranawaka.
"A committee has now been set up to draw a legal framework for a one-time fine on owners of those illegal constructions that cannot be safely taken down. It is currently categorizing the types of constructions and the fines to be imposed on them," he said.
After the city was damaged by floods last year, fresh efforts were launched to identify and remove these buildings. These gained impetus after a partly-constructed unauthorised building in Wellawatte collapsed in May, killing three.
The Megapolis Ministry, Urban Development Authority (UDA), SLLRDC, Colombo Municipal Council (CMC), local government bodies and armed forces are among those working to identify illegal buildings.
The SLLRDC is responsible for maintaining the major and minor canals in and around Colombo. An Extraordinary Gazette in July 2010, designated the reservations on either side of canal banks. This was the first time all main canals, sub-canals and feeder canals were specifically defined, along with their designated length of reservation.
In major open canals with surface length of more than 9 metres, therefore, an area of 6.5 metres or 20 feet from either bank is the reservation. In smaller open canals of less than 9 metres in length, reservation areas range from 1 metre to 4.5 metres. The construction of "any or temporary or/and other sort of building or structures" within designation reservations is prohibited.
"The gazette was issued at a time when there was an acute problem regarding illegal constructions along canal banks," SLLRDC officials said. The results of an ongoing survey proves just how daunting the challenge is. The SLLRDC has already found 845 unauthorized structures within just 15.6 km of a 96-km network of major and minor canals, and part of the Beira Lake.
The priority areas were Kolonnawa and parts of Colombo North such as Mattakkuliya and Dematagoda, said SLLRDC Deputy General Manager (Drainage & Reclamation), S.P. Muthumala. "There are severe encroachments here on canal reservations," he said.
In Wellawatte, it was found that many of the buildings were constructed before the 2010 gazette defining the reservation areas. The one that collapsed, however, was put up after the gazette came into effect. The SLLRDC even sent letters to the owner, warning him to cease construction.
"In Kolonnawa, "ad hoc development" not only resulted in large-scale intrusions into canal reservations but has significantly raised the risk of flooding, as already demonstrated. The area is prone to flooding, as it is below the Kelani River waterline. Many residents compounded the situation by completely blocking canals and water retention areas vital to preventing floods," Mr Muthumala said.
But the agency could not walk in and pull things down. "We didn't tear down a single house, as we could not put people out on the streets," Mr Muthumala explained. Hence, officials focused on removing some identified obstructions including parapet walls and slabs that blocked water from flowing freely down the canals. The process is continuing.
Authorities have so far ripped out structures on canal reservations, including a chicken farm, a mill and even a large fish pond with over 100 fish. For now, this was being done only with the permission of the owners. Details of those who were against intervention, were forwarded to the Legal Dept.
There was a culture among some local authorities to permit constructions in their areas, without first consulting the SLLRDC, to see whether these might cause drainage issues. Owners of land close to canal banks, cannot build temporary or permanent structures. But many erect buildings outside the reservation and gradually extend these. "This is where close supervision by the local authority is essential to ensure such practices are stopped," Mr Muthumala said.
It was often the "wealthy and powerful" that encroached on reservations. "In most cases, the poor do it because they do not have a choice or, are ignorant," one SLLRDC field officer engaged in removing illegal constructions said. "The wealthy do it just because they can."
"The SLLRDC Act must be amended to plug legal loopholes and make it easier for officials to take legal action against offenders," another said. The task has been initiated but will take time.
The authorities did not always proceed cautiously over illegal constructions. Under the previous administration, there were times when they were swept aside overnight. This is not the policy of the incumbent Govt.
"We will act strictly within the law," an official said, requesting anonymity. "It must be said that we face much resistance when we go to remove illegal structures. People openly confront us and we have to bring in police and sometimes, even ask the military for assistance."
Where the SLLRDC Act could not be used to take legal action, there were other laws, such as the UDA Act, that came into play. This too, takes time. "We need a Legal framework allowing us to take action against such structures quickly," a senior UDA official said.
"The issue of unauthorised structures is complicated," the UDA said. In some cases (such as the Wellawatte collapse), owners had added extensions to existing buildings without approval. Others put up extra floors in violation of regulations and without notifying authorities. There are times where apartment buildings are sold to third parties without obtaining the Certificate of Conformity required, prior to the building being occupied. At other times, constructions approved for a specific purpose were used for something else.
"We now send letters to owners whenever we identify suspected illegal constructions, giving them 14 days to provide us with documents to prove they have permission," one official said. "If they fail or, if we aren't satisfied with what they give us, we forward these to the Legal division for action."
The official said the problem was so serious it needed a dedicated team to ensure close coordination between various agencies to track down and take action against illegal constructions.