The queen of fruits that melts in the mouth
By Dr. Nirmala M. Pieris
View(s):
Mangosteens are in season! You see them heaped high in make-shift stalls in various places in the country. Who wouldn't be tempted to try this tropical fruit with the deep purple outer shell and heavenly white inside? Mangosteen, Garcinia mangostana, in the family Guttiferae (Clusiaceae) often called the 'queen of fruits' takes centrestage of fruit activity in Kalutara during this season and also grows in areas such as Kandy, Kegalle, Matale, Gampaha and Galle. The handsome trees can reach to over 9 metres in height and yield over 1000 fruits per season – usually from May until about September.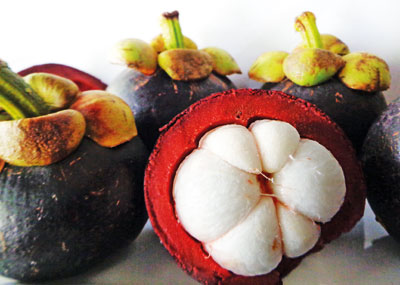 The fruits are generally round, the size of a small orange and flattened on the ends. They have a velvety stalk and a thick smooth, waxy purple outer shell. To open the fruit, press firmly on the outside shell and twist until it breaks apart, or use a sharp knife and cut round the midway of the fruit and take off the cap. Be very careful as the juice from the rind, can stain your clothes. The edible pearly, luscious flesh inside that can be removed with a fork, comprises an average of five to six snow white segments which can be seedless or contain one or two flat seeds. The fruit that melts in the mouth and is so hard to resist when ripe is slightly tangy with hints of peach and strawberry and a precise balance of acid and sugar.
Fresh mangosteens have healthy-looking green caps and a glossy shine on their outer skins. When you have the option to pick the fruits, opt for those that are deeply coloured with shells that yield to slight pressure and the stem and sepals are attached. This means they are ripe.  Avoid mangosteens that have cracks with juices oozing out or hardened beads of yellow resin. When you open a mangosteen if it has a yellow section, it will taste very bitter. You ideally want aril sections inside that are opaque white and firm, not yellowish or translucent.If the outer shell is hard it means they are spoilt. Keep ripe fruits in a cool well-ventilated place where they keep well for up to about a week.
Mangosteens are so delicious the best way to eat them is straight off the fruit. They can also be juiced or added to a smoothie. Try a mangosteen and cucumber smoothie that provides a cooling sensation and is perfect for a post work out drink. The flesh can also be frozen or canned but these methods have a tendency to compromise the flavour and favourable texture of the fruit. Mangosteen is also used in baked goods, jams, yoghurt, custards, ice creams, cocktails and beverages. You can also try using fresh mangosteen in savoury dishes to add a sweet note. Mangosteen fruit segments go well with other fresh fruits like papaya, watermelon, pineapple and grapes. A fruit salad combining all or some of these fruits makes a very tasty and healthy dessert. A mangosteen and pineapple sauce is heavenly served over ice cream, cheesecake or your favorite dessert.
Nutritional benefits
Mangosteen is a good source of vitamin C and a moderate source of B-complex vitamins such as thiamin, niacin and folates. Further, it also contains moderate amounts of minerals such as iron, copper, manganese and magnesium. It is rich in dietary fibre, moderately low in calories and contains no saturated fats or cholesterol. Mangosteens also contain a group of phytochemicals called xanthones that offer beneficial antioxidant properties.
Averts anaemia
Mangosteen aids in promoting red blood cells and prevents anaemia. It also improves the blood flow by causing dilation of blood vessels which helps to protect against certain diseases like atherosclerosis, high cholesterol, heart congestion and severe chest pains.
Bolsters immunity
Mangosteen has natural antibacterial, antiviral, and antifungal properties that can help your immune system fight off colds and flus as well as other infections. It is also packed with xanthones, which support many vital functions of the body, including immune health. The fruit is a good source of vitamin C that helps scavenge harmful, pro-inflammatory free radicals. By increasing the amount of blood flow to the eye, the vitamin C in mangosteen is effective in curbing cataracts and improving vision.
A natural anti-inflammatory
The anti-inflammatory benefits of mangosteen can reduce swelling in joints and muscles and relieve pain. This action can also act on blood vessels which allows for better nutrient and oxygen delivery to muscles and organs.
Aids digestion
Consuming fresh mangosteen which is high in fibre helps ward off constipation and aids digestion. The fibre in the fruit also promotes the growth of beneficial microorganisms in the intestines.
Lowers blood sugar
Mangosteen can be a helpful way to prevent and keep diabetes under control as it has been shown to act as an alpha-amylase inhibitor, which means that it inhibits enzymes that cause starches to break down into glucose.
Could prevent cancer
Mangosteens are packed with xanthones, which are very powerful antioxidants. These intercept damage-causing free radicals in the body and safely escort them out. Several studies have shown that xanthones can reduce risk of certain types of cancers that include colon and liver cancer.
Deters excess body weight
The fruit is very low in calories and contains no saturated fats or cholesterol but is rich in dietary fibre. This is very important for those concerned about putting on excess body weight.
Good for skin
The antibacterial and antimicrobial properties of mangosteen are very effective in treating many common skin problems such as acne, skin blemishes, oily skin and dry skin. So there you are, eat mangosteens for a beautiful skin.
Mangosteen is safe for most of people, however as a precaution and to avoid any potential side effects, infants, pregnant and breast feeding women, those producing too many red blood cells and persons on cancer chemotherapy drugs, should use the fruit with caution.