Appreciations
View(s):

Suhasini Nadesan

She left a mark on our lives and a place in our hearts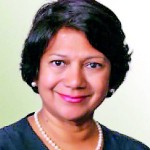 Although Suha spent most of her time in the US, the grief that engulfed her extended family living in India and Sri Lanka at the news of her passing, was palpable.
Of course those of us near to the family knew she was battling these last few months, a dreadful disease that she herself in her capacity as a highly competent Oncologist had overcome for many others.
Alas! Nobody could do it for her and when the news of her departure came there was not a dry eye amongst us and the wound in us runs deep.
Someone said, 'Äú'ÄėTime heals all wounds.'Äô I do not agree. The wounds remain. In time, the mind, protecting its sanity, covers them with scar tissue and the pain lessens. But it is never gone'ÄĚ, especially with Suha.
She was a veritable legend in her lifetime — a pride to our family. She packed a whole lot of things into her life.
She was an inspiration to many, admired by all of us for her sheer versatility, her knowledge, and her ability to move with the highest and the lowest.
Her vast store of information on anything worth talking about was profound; her memory power bordered on the unbelievable. There was rarely a subject she could not address and what she did not know she was eager to assimilate.
She was a medical doctor with six board certifications 'Äď in Pathology, Geriatrics, Internal Medicine, Hospice & Palliative Care, Hematology, and Medical Oncology.
Indeed she provided long distance medical counselling on the phone to many of us and her word was more trusted than the doctor who attended on us here! She had the rare ability to win trust and confidence and show enormous compassion and dedication to her patients.
And yet she had time to admire the beauty of nature, and the intricacies of culture, travel widely with (her husband) Kumar mama and sometimes the children. She would happily wake up at 4 a.m. to greet the rising sun in the far-east or stay up past midnight in freezing cold to witness the northern lights in Alaska. She was a disciplinarian of the highest order at one end of the spectrum and demonstrated endless love at the other end. Ask her family!
When God made Suha, as the proverbial saying goes, he threw away the mould.
I speak for the whole family when I say she has left a mark on our lives and a place in our hearts that will only grow stronger with time.
We are comforted by Rabindranath Tagore'Äôs words that 'ÄúDeath is not extinguishing the light; it is only putting out the lamp because the dawn has come'ÄĚ.
K. R. Ravindran
______________________________________________________________________________________
Leslie Dharmaratne
He made us planters stand up and be counted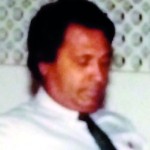 It is nearly three months since Leslie Dharmaratne passed away on   March 3. You realize just how much you miss someone only when they are gone.
I first met him in 1980, when we were planting in the Hatton region. He was superintendent on Drayton  Estate and I was the assistant superintendent on Strathdon Group. Our friendship developed whenever we met at his good friend's and my former Director, Percy Ballalle's place.
He was a handsome, high-spirited, pleasant and humble person.Mr Dharmaratne married Dhakshini and they lived an exemplary happy wedded life together. She was a loving wife who was behind him in everything he did and looked after him well to the last.
As a devoted husband and father, he was very close to his two sons Shanker and Dulan and gave them the correct education and exposure, laying the foundation for their success. He enjoyed an excellent relationship with his two daughters-in-law and three lovely grand children.
As a planter, he worked both in the public and the private sector. When he attended the Ceylon Planters Society 53rd¬† Annual General Meeting, as chairman pro- tem, he made a rallying call saying he was confident that 'Äú all of you who have chosen planting as a profession will accept that, this is the time for all in our profession to stand up and be¬† counted,¬† to set about a rehabilitation of the industry and its restoration to its past glory.'ÄĚ
What he said nearly 27 years ago still stands. Associated with the industry for 28 years, he left planting and joined Upali Group, as the Chief Executive Officer. He was also President of the Ex-Planters Association.
He gave generously to places of religious worship. Throughout his life, he epitomised kindness, love and compassion for the poor and marginalized.
He was a wonderful friend. I thank God for his life. Let us all offer a silent tribute and prayer for him.
May his soul rest in peace.
Lalin  I.  De  Silva
 _______________________________________________________________________________________
 INDRANEE HERAT GUNARATNE (NEE SAMARASINGHE)
She always encouraged, inspired and motivated others
Amma passed away in June last year and many memories of her achievements and challenges faced during her professional career of 45 years comes to my mind.
Amma was born in Borella in 1931 and her father Pandit Veda Mudaliyar Samarasinghe, a famous Ayurvedic physician pioneered the establishment of the Borella Ayurvedic College.  After her education at CMS Ladies College, she was among the first batch of undergraduates to enter Peradeniya and passed out with a BA (Hons) in History and English in 1954.   After a brief teaching stint at Musaeus College, she joined the Education Service of Radio Ceylon in 1955.  As time progressed she became the Head of the Education Service and after it was upgraded on par with other language services she was promoted the first Director of the Education Service SLBC in 1978.
She was an active member of the National TV planning committee appointed by the Government in 1979 to introduce TV to Sri Lanka.  She pioneered the establishment of Educational TV and was appointed as the first lady Deputy Director General of the newly formed Rupavahini Corporation in 1982 which post she held until her retirement in late 1989.
During her career in Radio / TV she got the opportunity to travel overseas regularly to receive professional training at BBC London, NHK Japan, AIBD Malaysia, ABU Singapore, Radio Thailand and All India Radio in addition to the numerous conferences and seminars attended in many other countries.  She was also lucky to work closely under the direct guidance of civil servants of the calibre of Neville Jayaweera (now living in London), M.D.D. Peiris, late M. J. Perera and veteran broadcasters late Thevis Guruge and Livy Wijemanne when they served as Chairmen of SLBC and Rupavahini.  She always encouraged, inspired and motivated her subordinates to develop themselves and climb the ladder and most of them are top Teledrama Directors and Radio personalities both here and overseas.  She also served on the Governing Council of the Open University and was a member of the Panel of Judges for the Presidential Film awards of the Film Corporation from 1982 to 1989.
After retirement she could relax at home only for a few days since she was invited by her alma mater Ladies College to be the Deputy Director of their Department of Vocational Studies in which capacity she functioned for nearly ten years until she finally called it a day in 1999.
Amma, a quiet unassuming person by nature led a very private life after father's demise in 2001.  Her only occasional visits outside home were to see her two sisters and brother who lived in the vicinity and for regular checkups to her Cardiologist. She was extremely fond of her granddaughters Thilini and Vajini and we were fortunate to admit both girls to Ladies College without any problem due to her close involvement with the school.
The last few months of Amma's life were difficult and trying since she had difficulty in walking and was virtually bed ridden, although her mind remained razor sharp.  She was constantly and lovingly cared for by my wife Kumudika until she passed away peacefully in her afternoon sleep at the age of 85.
May she attain Nirvana!
Mangala Herat Gunaratne
________________________________________________________________________________________
Arumugam Ratnavadivel Surendran P.C.
A consummate lawyer who left an indelible imprint at Hulftsdorp
The demise of Arumugam Ratnavadivel Surendran P.C reminds us of the axiomatic and painful truism that there is a vanishing of the old guard of genteel members of the legal fraternity and his passing away albeit untimely brings back to my mind those halcyon days of the 70s when I first had the pleasant encounter with him as a fellow law student at Sri Lanka Law College.
In that bygone era full of indelible memories one encountered a cherubic and amiable persona in Surendran, an old boy of Jaffna Central College who looked as fresh as a daisy and commanded behind him a well rounded education both scholastic and extra-curricular that was to stand him in good stead in later years. With his disarming smile and genial deportment he made friends quite easily and coalesced so well into the multi-ethnic and multi-cultural ambience of Sri Lanka Law College where he forged everlasting friendships and it was on  the anvil of such harmony and unity that  my friendship with Mr.Surendran P.C. blossomed and it is no exaggeration that he remained cherubic and evergreen as ever as years rolled by.
He was the quintessential lawyer whose gentility towards his fellow members of the Bar and courtesy towards the Bench characterised his professional life to the end. The elements in him were so gentle that no one could ever be even remotely critical of him.
There was no area of the law that his practice did not traverse. Whether it be Commercial law, Banking law, Administrative law or Property law, a number of judicial precedents bear testimony to the range and breadth of his practice and his sedulous application to the brief at hand won him the confidence of senior legal luminaries such as S.Nadesan Q.C, H.W.Jayawardena, Q.C. C. Renganathan, Q.C. and A.C. Guneratne, Q.C. who readily took him on as a junior in their celebrated cases.  He was fortunate in that he also read in the chambers of his late uncle A. Mahendraraja, President's Counsel.
He did not confine himself exclusively to the practice of law. His interest transcended beyond forensic forays in that his academic pursuits are amply borne out by the award of a Masters Degree in 1988 from the University of Brussels in International and Comparative Law. His academic proclivity is manifested in a number of papers that he later presented at conferences and symposia and one such paper 'Äď 'ÄúThe application of International Law Rules by national Courts 'Äď some recent trends'ÄĚ which was such an excellent disquisition was carried in the Bar Association Law Journal. So it could be said of him that he was such a consummate lawyer who left an indelible imprint on the legal landscape of this country. Hulftsdorp will never see the likes of such a genteel gentleman for whom the cause of his client was the uppermost goal to fight for and accomplish.
Whilst personally sharing the anguish of his passing away with his immediate family, loved ones and juniors, I record with a pang of sorrow that the memory of the gentle giant Surendran P.C will reverberate in us for a long time to come.
May he attain Moksha!
Justice Anil Gooneratne