Tourist earnings significant to balance of payments: Concerns and challenges in tourist development
View(s):

Earnings from tourism have become very significant to the balance of payments. Last year, tourist earnings of US$3.7 billion offset 41 percent of the trade deficit of US$9.1 billion. They were one third the value of total merchandise export earnings and exceeded export earnings from total agricultural exports and all industrial export items except garments.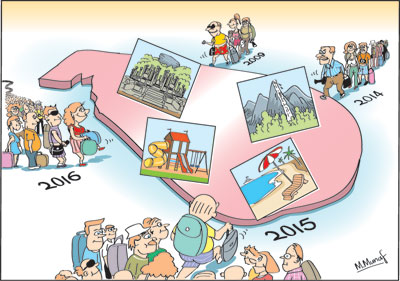 While earnings from tourism could become an even more significant support to the balance of payments, the industry could face serious challenges that could setback the expansion of tourism. These concerns need to be addressed to ensure that the goose that lays the golden eggs is not killed.
Growth in tourism
Tourist arrivals have been increasing since the end of the war in 2009. Less than half a million tourists visited the country in 2009. It increased threefold to 1.5 million by 2014.This increasing trend accelerated after the new regime took over in January 2015. In 2015, 1.8 million tourists brought in US$2.9 billion and in 2016 over 2 million tourists visited the country and earnings from tourism increased to a record 3.7 billion.
Challenges
In spite of these favourable developments, there are possible setbacks to the industry that must be heeded. It is the end of the war in 2009 and subsequent peaceful conditions that was a turning point in tourism. The improvement in law and order since 2015 was significant in boosting tourism further.
Many favourite tourist destinations have suffered almost irreversible setbacks owing to insecure conditions. Indonesia, Thailand and Egypt are illustrative of setbacks owing to security concerns. In the aftermath of the July 1983 ethnic violence, terrorism and the civil war caused what a pioneer hotelier Herbert Cooray has described as the 'Äúdarkest years for tourism'ÄĚ.
It is important to ensure there are no outbursts of ethnic violence. Any causes of violence should be eliminated. Law and order and vigilance that ensures the security of tourists is essential
Concerns
There are several serious concerns that must be addressed to retain the country's attractiveness as a tourist destination. Foremost among these are environmental concerns, health hazards, pollution and lesser attractiveness of game parks and scenic locations. These could deter tourists from coming to Sri Lanka.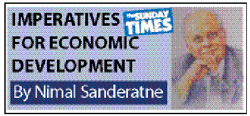 Pollution
Atmospheric pollution in some key tourist destinations could be a severe threat. One of the country's prime destinations, Kandy is a highly polluted city, in fact the most polluted city in Sri Lanka. If this is known to tourists they may not only avoid Kandy, but not visit the country as well.
Noise pollution in quiet beautiful scenic locations has made these unattractive. If word spreads about the widespread noise pollution in the country by blaring loud speakers day and night, it could reduce the attractiveness of some of the most scenic locations in the country.
The atrocious story of the Meetotamulla garbage dump collapse could create a wrong image of the country's cleanliness, when in fact most of the country is clean. The worldwide publicity to this calamity could prejudice intended tourists. Similarly the rubbish strewn on beaches destroys the beauty of these lovely locations.
Traffic and hazardous conditions
The haphazard and dangerous driving in the country is a nightmare to most tourists who are accustomed to more orderly movement of traffic. An improvement in road conditions would boost tourism.
Health hazards
News of dengue being widespread is yet another disincentive for tourists. Travel advisories indicating such hazards could dissuade potential visitors to the country, especially those travellers accompanied by children.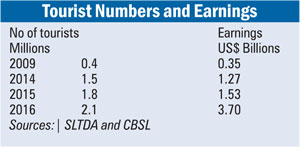 Wild life
One of the country's attractions is the wild life parks in the country. They are fast losing their appeal as uncontrolled numbers visiting them in fleets of vehicles are transforming them into unattractive locations. Unfortunately efforts to mange tourist traffic have failed owing to powerful vested interests. If this trend continues then wild life will cease to be one of the country's tourist attractions.
Intra industry concerns
There are several concerns in the hospitality trade itself. Shortages of trained staff is reducing the quality of service. Hospitality being an internationally competitive service, the maintenance of quality is vital. This issue needs to be addressed by both hoteliers and the government to ensure that a quality tourist service is provided. At present migrant skilled staff are enriching service quality. This includes mainly foreign chefs, but there are restaurant owners, cooks and waiters too.
Informal accommodation
Sections of the hospitality trade have expressed concern about the growing expansion of what is termed 'Äėinformal accommodation'Äô. The letting of rooms in homes and bed and breakfast facilities have expanded exponentially in the last year.¬† Such facilities may erode bookings in more expensive large hotels to some extent.
Yet such accommodation is an essential part of the hospitality trade. Far from reducing tourist earnings, the availability of such economically attractive accommodation is a reason for increased tourists.
The demand of tourists is a wide spectrum of customers from high spending high class tourists to economy travellers. The future of the country's tourism lies in the availability of a wide range of accommodation. On the other hand, the building of high class expensive hotel chains such as the Shangri-La will bring in high class tourists. These are for most part two segments of demand.
Summing up
Tourism has gained momentum after the end of the civil war. The improvement in the law and order situation after the present regime took over in 2015 has accelerated this trend. It is a key contributor to foreign exchange earnings with as much as US$3.7 billion in 2016, US$2.9 billion in 2015 and US$2.4 billion in 2014.
There is every prospect of tourism expanding and contributing to the growth in services in GDP and continuing to make a significant and crucial contribution to the foreign exchange earnings and the balance of payments. Nonetheless, there are serious concerns that could limit its growth.
First and foremost we must ensure social harmony and avoid excessive disruption of activity by protests and road blocks. There is an urgent need to arrest growing pollution and have proper methods of garbage disposal. The beaches must be kept clean, noise pollution reduced and entry into wild park sanctuaries controlled to manageable levels.
The industry itself must enhance its service quality in a context of shortages of labour and skilled staff.