Package of Joint Ventures with India in MoU signed in Delhi
View(s):
Special emphasis on Trinco tank farms: Upper tanks to be developed by joint venture, lower ones to be given to India on 50-year lease
New Delhi insists new deal has big advantages for Sri Lanka, 2003 agreement gave entire tank farm to Indian Oil on lease
Poaching issue persists, Modi Govt. says steps being taken to divert Tamil Nadu fishermen to Arabian Sea and Bay of Bengal
By our Diplomatic Editor
Some say India'Äôs Prime Minister Narendra Modi neatly cajoled his Sri Lankan counterpart Ranil Wickremesinghe into swinging by New Delhi, making what was to be a private visit to attend a wedding into a one-day 'Äėworking visit'Äô– and then got him entrapped to sign a Memorandum of Understanding (MoU).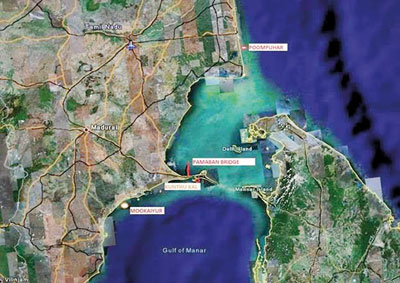 Others rubbish such a theory, but it seems that someone tipped off Ceylon Petroleum Corporation trade unions and wound them up to threaten a strike if the Sri Lankan Premier signed an MOU in New Delhi. The MOU, inter-alia, would hand over some of the oil tanks in Trincomalee to the Indian Oil Company.
It was a known fact that Petroleum Minister Chandima Weerakkody was against the move. He said so publicly and wanted an appointment with President Maithripala Sirisena to lodge a protest together with the trade unions. But the story goes that the President had not granted him an appointment on the basis that the Prime Minister was adamant in going ahead with the project and that it was in the premier's hands. What followed was trade union action that caused havoc in and around petrol sheds in the country and traffic snarls from last Sunday night.
Wickremesinghe assured the trade unions thereafter that he would not sign any agreement with India in New Delhi without consulting the petroleum workers. But he had Strategic Development and International Trade Minister Malik Samarawickrama do so in New Delhi. The MoU was not made public either. The Sunday Times obtained a copy (Please see inset for full text). They were both in the Hindi and English languages, with the English version to be considered in case of any interpretation issues.
The crux of the MoU is to give access to India in a whole range of economic activity in and around the Eastern Province with special emphasis on the World War II British built oil tanks. The 99 tanks are situated in two areas near the Trincomalee harbour. One is called the Lower Tank Farm, situated closer to the sea; the other is the Upper Tank Farm, which is on somewhat elevated ground. According to this week's MoU, the Upper Tank Farm will be developed by a Joint Venture (JV) between Indian Oil and the Ceylon Petroleum Corporation. The Lower Tank Farm, consisting of 15 tanks originally and now made into 16, will be leased exclusively to Indian Oil for 50 years, extendable to a maximum of 99.
The Indian side argue that this is, in fact, an advantage to Sri Lanka because the 2003 Agreement signed by the then Prime Minister Ranil Wickremesinghe-President Chandrika Kumaratunga Government gave the entire Tank Farm, Upper and Lower, to Indian Oil on lease. The Sri Lankan side pointed out that the 2003 Agreement was necessitated, partly, due to the raging separatist insurgency at the time and the fear of the LTTE destroying the oil tanks. Inducting India was meant to ward off such an LTTE threat.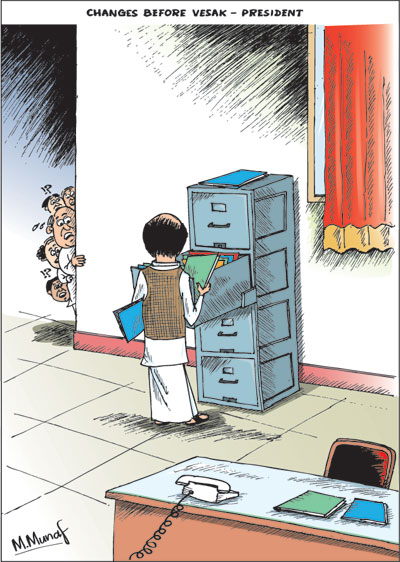 During the conflict years, Sri Lanka'Äôs war insurance premium had skyrocketed and Indian Oil cushioned the impact on oil prices in Sri Lanka. This week, Cabinet Spokesman Rajitha Senaratne showing some photographs asked if these tanks surrounded by jungle 'Äúlike the Sinharaja forest'ÄĚ were meant to be worshipped like the Thuparaamaya temple (at Anuradhapura) or meant to earn some revenue.
The Indian negotiators were quick to point out a series of benefits Sri Lanka received by their entering the market, not least that there was never a fuel shortage in Sri Lanka, the numbers employed and improvement in the quality and appearance of fuel sheds around the country. They were earlier 'Äúfuel dumps'ÄĚ, one of them said, punning on the word dumps. That they had coughed up nearly Rs 7bn so far since entering the Sri Lankan market and 25 percent of the company has Sri Lankan shareholders was also stressed and that, looking to the future, these storage facilities could even see pipelines being built to service the oil needs of southern India.
The MoU also includes a port, petroleum refinery and other industries in Trincomalee for which both, India and Sri Lanka will set up a Joint Working Group. Premier Wickremesinghe has already announced that Japan will be part of this programme. Times have changed and the world moves on, said a Western diplomat pointing out that during World War II, the Japanese war planes bombarded the Trincomalee area.
In India, Foreign Ministry Spokesman Gopal Baglay was asked at a news conference about the possibility of a tripartite development pact between Japan, India and Sri Lanka. He replied that the Indian Government was focusing on development connectivity and neighbourhoods. 'ÄúWherever there is a possibility of cooperation with like-minded countries, with countries that are acceptable to both the parties, I think we are open to considering those possibilities,'ÄĚ he said.
Sri Lanka'Äôs Finance Minister Ravi Karunanayake, meanwhile, gave a comment to the 'ÄúHindu'ÄĚ newspaper about his vision of the India-Sri Lanka partnership. While the two countries are yet to finalise the locations of the proposed investment zones, the idea is to make Sri Lanka a favourable financial hub for Indian investors, he said. 'ÄúWe want to be to India what Hong Kong is to China,'ÄĚ he added, blissfully unaware that Hong Kong is now a Special Administrative Region of the People'Äôs Republic of China–something Sri Lanka clearly doesn'Äôt envision for itself vis a vis India.
Premier Wickremesinghe'Äôs one-day 'Äúworking visit'ÄĚ was packed with appointments. He met Premier Modi for more than half-an-hour on a one-to-one basis (the discussion as scheduled for just five minutes of courtesies before official talks began) and a working lunch of basmati rice and Indian curries. He then met former Prime Minister Manmohan Singh, Congress Party leader Sonia Gandhi, Transport, Home Affairs and External Affairs Ministers and the National Security Adviser. India'Äôs External Affairs Minister Sushma Swaraj seemed interested in the whereabouts of her counterpart.¬† 'ÄúWhere is Mangala'ÄĚ, she asked, only to be told, 'ÄúHe is travelling all the time'ÄĚ.
In what seemed an otherwise bhai-bhai friendship between the two countries, the sour point was the nagging, continuing issue of poaching in Sri Lankan waters by southern Indian fishermen. The crisis is causing an estimated Rs. Five billion loss annually to Sri Lanka. Premier Modi said on March 13, 2015, addressing Sri Lanka'Äôs Parliament: 'ÄúThe world sees India as the new frontier of economic opportunity. But, our neighbours should have the first claim on India. And I again repeat, the first claim on India is of our neighbours'Äďof Sri Lanka'ÄĚ. And again, 'ÄúSri Lanka'Äôs success is of great significance to India'ÄĚ. His 'ÄúNeighbourhood First Policy'Äô is based on 'ÄúSabka Saath; Sabka Vikas'ÄĚ (Together we progress).
The Sri Lankan Fisheries Ministry, to its credit has kept pressing the poaching issue. Not only are the northern Sri Lankan Tamils being deprived of their livelihood, but the entire maritime resources of the Palk Bay/Gulf of Mannar area is being raped. Mindful of this, the Modi Government seems to move the Tamil Nadu state Government to take action together with the Central Government.
The Indians pointed out that new fishing harbours are being built in Mookaiyur and Poompuhar at a cost of US$ 40 million to divert the Indian fishermen away from the Palk Bay into the Arabian Sea or Bay of Bengal (see map) and orders given on March 3, 2017 for a ban on registration of new trawlers in all the districts around the Palk Bay. A deep sea fishing assistance scheme and a subsidy for purchasing new tuna long liners are also proposed to replace the notorious bottom trawlers that sweep the ocean floor. The plan encourages deep sea fishing.
The Indian side says the number of Indian fishing vessels crossing the IMBL (International Maritime Boundary Line) between India and Sri Lanka has reduced and the Sri Lankan side acknowledged it at the last Joint Working Group Meeting on April 7, but the Sri Lankan Fisheries Ministry said that was because it was the 'Äúbreeding season'ÄĚ when Indian fishermen voluntarily keep away. Nevertheless, there seems to be action being taken from India on this vexed issue that is a fish-bone of contention between the two countries.
In a fortnight's time, Premier Modi will visit Colombo and Kandy on what has been described in diplomatic circles as a strictly religious visit to participate in the international Vesak celebrations in Sri Lanka and pay homage to the Buddha. There will be no political activity, nor signing of any bi-lateral agreements, insist Indian Government officials.
Our Political Editor is on leave this week
GSP Plus: Anti-Lanka resolution defeated, but hurdles still ahead
If Sri Lankans are wondering how many times Sri Lanka has won approval for a renewed duty concession to the markets of the European Union (EU) under the Generalised Scheme of Preferences (GSP) Plus, they may be excused.
This week, there was another huge hurrah for having defeated the EU parliamentary vote on a resolution sponsored by a section of MEPs (Members of the European Parliament) to prevent Sri Lanka obtaining GSP+ concessions. GSP Plus was revoked in 2011 during the Mahinda Rajapaksa Administration, ostensibly on negative human rights factors but, what many would concede, were on more political or diplomatic grounds.
A few months ago, both President Maithripala Sirisena and Prime Minister Ranil Wickremesinghe announced publicly that the EU had restored GSP+ to Sri Lanka and hailed it as a major victory for the new National Unity Government's foreign policy. It was a premature announcement, as is this week's defeat of a parliamentary putsch by a group of MEPs (heavily lobbied by the anti-Lankan Diaspora).

The outcome of the vote — there was a substantial margin of 436 votes against the resolution, 119 for and 22 abstentions — is not to be downplayed. It shows a major shift in approach to Sri Lanka by the EU Parliament, and that is clearly a change in attitude towards the nearly-new Government in Colombo. But there are still more steps along the way before Sri Lanka officially gets GSP+.
In an email shot off to the Sri Lankan mission in Brussels, moments prior to the vote on the resolution, the EU clearly sets out that the period of objections to Sri Lanka receiving GSP+ will expire only on May 11.¬† So, the resolution that was voted down was only one of such instance.¬† Also, Sri Lanka'Äôs application is yet to be considered by the EU Council, representing the Member States' Governments. In this council, member nations'Äô ministers meet to adopt laws and coordinate policies.

The Council meetings' agenda items are formulated by a senior preparatory body, i.e. COREPER (consisting of Ambassadors of the 28 EU Member States in Brussels).  The letter states, inter-alia; that they are to take up Sri Lanka issue on May 3.
"I would like to confirm to you in writing that the INTA Committee (The European Union's International Trade Committee) has decided to hold an additional exchange of views at its next INTA meeting on 3-4 May.
'ÄúOn behalf of the Chairman of the INTA Committee, I would like to kindly invite your Ambassador to inform the INTA Committee on the latest state-of-play regarding progress in the human rights situation in Sri Lanka and implementation of GSP+ relevant conventions ahead of a potential entry into force of GSP+ status for Sri Lanka. We will also invite the European Commission and the EEAS (as usual practice) to attend the public debate in INTA. As you know, the deadline for objection by the European Parliament or by the Council to the delegated act of Commission expires on 11 May'ÄĚ.

Sri Lanka's GSP+ Application is, therefore, expected to be considered at the 11th May meeting of the Council of the EU at ministerial level. So, all of Sri Lanka will have to wait a few more days to see if the EU will eventually vote in favour of Sri Lanka.

Even though Sri Lanka does not expect objections at the above meetings, it is premature and inappropriate to claim any victory as the 28 sovereign EU member states are yet to finalise their decision on Sri Lanka.  Also, the European Parliament still has time to look at Sri Lanka, as can be seen from the email from the International Trade Committee of the European Parliament.  The hearing next Wednesday (May 3) is critical as only thereafter will an official communication be sent to the European Commission on the way forward.

Deputy Foreign Minister Harsha de Silva was quick to go before the media. From Brussels–where he was with nine other MPs, viz., Sunil Handunnetti, Nalinda Jayatissa, Nihal Galappaththi, Vasudeva Nanayakkara, Harshana Rajakaruna, Kavinga Jayawardena, Hector Appuhamy, Ali Moulana and Sivagnanam Sritharan on a three-day study tour for parliamentary oversight committees, COPE and PAC members–de Silva tweeted how he argued and lobbied MEPs.¬† He deserves a huge bouquet if it was his 24 hours of advocacy that won the day for Sri Lanka in the European Parliament vote.

On his return to Colombo, his ministry hurriedly called a news conference, where he was careful not to claim credit for the defeat of the anti-Sri Lanka resolution, but pointed out how he argued strenuously on Sri Lanka's behalf. He said that Sri Lanka lost Euro 150million a year due to the absence of GSP+, a matter critics argue is a pittance in the grander scheme of things and considering the obligations Sri Lanka has undertaken to do on the EU's diktats. He did concede the fact that GSP+ will only be decided in the middle of May, when another news conference will surely be held if Sri Lanka obtains the duty concessions.

Most of the behind-the-scenes work towards regaining GSP+ was handled by Prime Minister Ranil Wickremesinghe, Foreign Minister Mangala Samaraweera, the Secretaries at the Prime Minister's Office and the Foreign Ministry with legal impetus from Yasantha Kodagoda from the Attorney General's Department.

No doubt there is a quid-pro-quo for GSP+. Stringent monitoring mechanism will be in place to see that the 'Äúconditions'ÄĚ– officially called 'Äúareas of interest'ÄĚ– imposed by the EU are not mere strings attached to the granting of GSP+, but issues that will kick in if and when, but immediately after GSP+ is granted.

These 'Äúareas of interest'ÄĚ include reducing the number of derogations to the International Covenant on Civil and Political Rights (ICCPR); repealing those sections of the Prevention of Terrorism Act which are incompatible with the ICCPR or amending it so as to make it clearly compatible with the ICCPR; repealing the ouster and immunity clauses in the Public Security Ordinance or amending it to clearly make it compatible with ICCPR; adopting planned amendments to the Code of Criminal Procedure providing for the right of a suspect to see a lawyer immediately following arrest; publishing or making available to family members of a list of former LTTE combatants currently held in detention as well as all other persons detained under Emergency Regulations; and granting of access to all places of detention for monitoring purposes to an independent humanitarian organisation, such as the International Committee of the Red Cross.

Attendance at the European Parliament in Brussels is usually lower during a shorter plenary session (called a mini plenary, which happens every few months), as opposed to the regular plenary sessions in Strasbourg lasting four full days each month.¬† Also, the level of interest was relatively low given that there was routine business on the agenda.¬† At the peak of the voting session (i.e., at the very beginning), there were 666 MEPs (out of the total of 751) in attendance.¬† However, as the resolution on Sri Lanka was the last item on the agenda for the day, only 577 were present.¬† Furthermore, the resolution on Sri Lanka was presented only at the very last minute–literally the last minute, just seconds prior to the official Monday April 24, 1 pm deadline.

Canvassing of the751 MEPs of the largest elected assembly was a long drawn out process, given Sri Lanka's track record with the EU in recent times. The PMO (Prime Minister's Office) in Colombo received a message from Sri Lanka's EU ambassador Rodney Perera, that according to his calculations, only between 100 and 125 are expected to vote against Sri Lanka and that the anti-Lanka resolution will fall well short of the 376 needed to block GSP+ to Sri Lanka.  Kyrgyzstan, the last country to get GSP+ (in 2016), had a similar motion supported by 125 MEPs.  That was with no Kyrgyz Diaspora or even NGOs lobbying against that country. In most circles, MEPs wanted to help that country out due to its issues with Russia.

For those interested in how the lobbying went on in Brussels, the ruling United National Party (UNP) being a member of the International Democratic Union (IDU), a right-wing Conservative grouping like the Republicans in the United States, helped. The European People'Äôs Party (EPP), the largest group with 216 MEPs, is also a member of the IDU, and was expected to back the Sri Lankan Government. The Socialist Group is the second largest with 189 MEPs and usually votes independently. They were lobbied with MEPs from Eastern Europe as they tended to be more favourably disposed towards countries like Sri Lanka. The Conservatives (ECR with 73 MEPs) were solidly behind Sri Lanka–again, given Prime Minister Wickremesinghe'Äôs contacts with another IDU member, the British Conservative Party.¬† The centre-right Liberals (ALDE-68 MEPs) were not a major problem, but it was the Greens (51 MEPs) that were going to be a problem in view of their avowed adherence to civil liberties and environment issues around the world.

The GUE-NGL (52 MEPs) were, however, the most difficult as they are the radical left, fighting on all issues having a 100% track record of opposing any trade deal with the outside world.  This group mainly follows a strong trade union line and made critical comments on Sri Lanka after two of their members visited Sri Lanka. They want implementation of a commitment apparently made by Labour Minister John Seneviratne to pay 50% of GSP+ benefit to workers.  Deputy Minister Harsha de Silva said in Colombo on Thursday that he had argued against this saying it would mean legislating against the private sector. UK's Labour Party had conveyed that any objection to Sri Lanka receiving GSP+ facilities must be supported by their MEPs (in the S&D) after they tried to mount an objection on their own, which failed.

Buoyed by the defeat of the anti-Sri Lanka resolution in Brussels this week, Deputy Minister de Silva has already spoken of an FTA (Free Trade Agreement) with the EU. Some point out that it is putting the cart before the horse or, as it is said in a local idiom, wearing the loin cloth when the sea is a mile away.

First things first — and that is to clear the last, but not least, hurdle in winning the support of the EU National Ministers in a fortnight'Äôs time.
The key questions the EU has already started raising are these: Is Sri Lanka ready to make use the GSP+; how is it placed in respect of labour rights, for instance, higher minimum wage, women's working conditions, etc; and what is the state of play on PTA/CCP revisions?  The Committee meeting in Brussels on May 3rd is crucial and will be part of the extremely stringent monitoring mechanism as per EU regulations on GSP+ even after Sri Lanka get GSP+.

Memorandum of Understanding between the Government of the Republic of India and the Government of the Democratic Socialist Republic of Sri Lanka for Cooperation in Economic Projects
The Government of the Republic of India (hereinafter referred to as GOI) and the Government of the Democratic Socialist of Republic Sri Lanka (hereinafter referred to as GOSL), collectively referred to as 'Äėthe Parties'Äô;Reaffirming the traditionally close and friendly relations between the two countries and their continuing endeavours to enhance bilateral relations through increased economic, investment and development cooperation for the mutual benefit of their people:Have entered into the following understanding in accordance with their national laws:

ARTICLE I
OBJECTIVES
To achieve greater economic, investment and development cooperation in a progressive manner, through joint ventures and other cooperative activities that will ensure the well being of the people of the two countries on the basis of equality and mutual benefit.

ARTICLE II
AREAS AND SCOPE OF COOPERATION
Both the Governments have agreed to complete the following joint projects in Sri Lanka and have agreed to work out the modalities between them at the earliest:   A regasified Liquefied Natural Gas (LNG) fired 500 megawatt capacity LNG Power Plant, for which GOSL will issue a Letter of Intent to GOI or to a GOI representative by end May 2017.   An LNG Terminal / Floating Storage Regasification Unit (FSRU) in Kerawalapitiya/Colombo; a piped gas distribution system; retail outlets for supply of Compressed Natural Gas (CNG) to the transportation sector; and conversion of liquid fuel-based power plants to R-LNG fired power plants in Sri Lanka. GOSL will issue a Letter of Intent for the FSRU and the LNG package to GOI by mid May 2017. For the LNG Terminal / Floating Storage Regasification Unit (FSRU) in Kerawalapitiya/Colombo, a Joint Venture will be formed among entities of Sri Lanka, India and Japan, for which modalities will be worked out by end July 2017. A Joint Working Group (JWG) will be constituted and will meet in the first half of May 2017. GOI will submit a Detailed Project Report (DPR) to GOSL by end August 2017 on the piped gas distribution system and retail outlets for supply of Compressed Natural Gas (CNG) to the transportation sector.     A 50 MW (extendable to 100 MW) Solar Power Plant in Sasmpur, for which GOSL will issue a Letter of Intent to GOI or to a GOI representative by end May 2017.  Upper Tank Farm in Trincomalee will be jointly developed by India (Lanka IOC PLC or LIOC) and Sri Lanka (Ceylon Petroleum corporation or CPC). The Joint Venture (JV) between LIOC and CPC will be set up by end July 2017 and Business Development proposals will be prepared by the JV by September 2017. As part of the Business Development Plans, the JV will prioritize development of 10 tanks in Upper Tank Farm for exclusive use of the Government of Sri Lanka. The land of the Upper Tank Farm, which is currently in possession of Lanka IOC PLC, pursuant to the 2003 Agreement, will be leased to the JV through Lanka IOC PLC. The land of the Lower Tank Farm, which is also in possession of Lanka IOC PLC, pursuant to the 2003 Agreement, will be leased to Lanka IOC directly. The period of all the leases will be 50 years, extendable up to a maximum of 99 years by mutual consent.  A Port, Petroleum Refinery and other industries in Trincomalee, for which GOSL and GOI will set up a JWG by end June 2017.Industrial Zones/Special Economic Zones in identified locations in Sri Lanka, details of which will be submitted by GOSL to GOI starting May 2017.Roads in Sri Lanka including Mannar-Jaffna and Mannar-Trincomalee Highways and Dambulla-Trincomalee Expressway under Indian investments, to facilitate which GOSL will submit to GOI by end June 2017 a list of road projects to be considered for joint development. The railway sector development in Sri Lanka including new projects of track upgradation and purchase of rolling stock, for which GOSL will submit to GOI a list of railway projects to be considered by end June 2017. A Container Terminal in Colombo Port as a Joint Venture, which includes Indian investments considering that majority of transshipment in Colombo Port is related to India. GOSL will announce the award of the contract in this regard by end May 2017.Agricultural sector and livestock development in Sri Lanka including through techno-economic cooperation, water management and promotion of agro-based industries, to facilitate which the Ministry of Agriculture and Farmers' Welfare of India and the Ministry of Agriculture & Ministry of Rural Economic Affairs of Sri Lanka will hold discussions and bring out a Concept Paper by end June 2017.Any other areas mutually agreed between the Parties.

ARTICLE III
FOCAL POINTS
The Ministry of Development Strategies and International Trade of the Democratic Socialist Republic of Sri Lanka and the Ministry of External Affairs of the Republic of India shall act as the focal points for effective implementation of the MoU.

ARTICLE IV
AMENDMENTS
This MoU may be amended, or supplemented in writing by mutual agreement of the Parties. In witness, whereof, the following representatives duly authorized by their respective Governments, have signed this MoU.Done at New Delhi, on this 26th day of April 2017, in two originals in the English and Hindi languages, both texts been equally authentic. In case of divergence in interpretation, the English text shall prevail.