CAB, the journey begins
By Purnima Pilapitiya
View(s):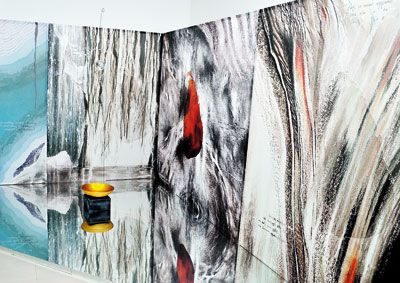 The Colombo Art Biennale (CAB) 2016 had its grand opening with a VIP Private View on the evening of December 1 as participating artists and local art lovers gathered at the Prana Lounge and then shifted to the JDA Perera Gallery and Flamingo House for performances and dinner. The much anticipated event will continue till December 20 at various locations in Colombo.
Earlier on Tuesday, lead curator Alnoor Mitta told the press how he sees CAB as more than a canvas for the participating artists. "It's an experimental platform," he said, adding that he is hoping that artists will not only use it to express themselves but also to take risks.  Mitta is the founding artistic director of Shisha (the international agency for contemporary South Asian arts and visual crafts).
This year's edition of CAB hopes to reach out to over 73 artists from 21 countries with a diverse line-up of events and programmes.  With the theme "Conceiving space", it will unfold across ten venues in Colombo with programmes from visual arts to architecture and education where both local and international students will collaborate with artists and architects in a nine-day series of creative workshops and productions.
Including an element of visual performing arts is director of the Theertha Perfomance Platform (TPP) Dr. Godwin Constantine.  Upon CAB Founder Anoushka Hempel's request for performance artists, CAB will also feature performance art in Slave Island along with performers from Sri Lanka, India and Serbia. "We want to take it straight to the public," explains Dr. Godwin, who feels the open surroundings will invite a spontaneous response from the audience.
For Ruwanthie de Chickera, CAB is a platform that addresses the problems in the cultural and educational systems.  "We are building a subconscious space" the head of research and policy writing, Arts and Culture Council, Sri Lanka says of the numerous billboards and half constructed buildings in and around the city. Stressing on the need to "invest in our citizens in the right way", she feels that CAB is steering in the right direction. "Unless you involve artists in these areas you are creating insular, uninteresting young people," she says frankly, stressing on the need to give people a creative ownership and heritage of the places they inhabit.
Colombo Art Biennale will continue on its journey till December 11. As the programmes may change please follow them on Facebook at @ColomboArtBiennale, Twitter @CAB_lk ,tel-Â  0777907728 or log on to www.colomboartbiennale.com to keep up to date.