Home » Funday Times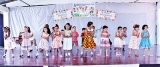 The OKI Pre-School and Young Minds, Wattala celebrated Children's Day and Grandparents' Day on October 4, 2016 at the Junior School main hall. This programme was sponsored by the NDB Bank, Wattala branch.
Horton Plains Horton Plains is located in the Central Province of Sri Lanka. This region was designated a National Park in 1988. Three major Sri Lankan rivers start from the Horton Plains. They are the Mahaweli, Kelani and Walawe. The original name of the Horton Plains was Maha Eliya Thenna (Great Open Plain). But in [...]

The YMBA Montessori, in Wadduwa held their annual Handicraft Exhibition on November 3, 2016. Recycled materials were used for the handicrafts done by the children.