Exposing students across the country to the exciting world of reading
View(s):

The British Council in collaboration with HSBC has embarked on the second year of a project to foster reading in children, by engaging them and their respective teachers and families in a series of activities, community events and competitions based on reading.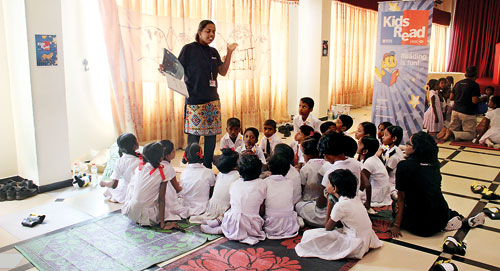 HSBC Kids Read is an award-winning scheme developed to equip children with the skills and interest to pursue reading beyond the classroom. The programme, now in its fifth year, started in West Asia and North Africa in partnership between the British Council and HSBC, and has reached approximately 50,000 students and 1,000 teachers directly. It aims to engage the community, teachers, primary students and HSBC colleagues through providing schools with access to exciting and colourful fiction books from the UK to help start or build upon a school library with training in best practice for story-telling and using them.
The first 'Kids Read Community Event' of 2016 was held on October 22 at the Green Grass Hotel in Jaffna town. Following the success of four community events in 2015 reaching nearly 500 children, the event in Jaffna was attended by 125 children from rural areas outside of the city, 12 storytellers and organisers and five HSBC volunteers.
Last year in Sri Lanka, HSBC Kids Read reached 2,000 children in seven schools and through four community events, 13 teachers were directly trained and the children were exposed to 220 new books.
This year, HSBC and British Council hope to reach more than 50 teachers, and expose 4,500 children to exciting storytelling techniques and 300 colourful and exciting storybooks from the UK. The project is working with 25 schools across five clusters in the following five regions: Gampaha, Hatton, Jaffna, Matara and Trincomalee. The Regional English Support Centres (RESC's) in each of these clusters is the focal point for the schools, and two RESC trainers from each cluster will assist the British Council with the coordination and day-to-day running of the project.
The second event of the year will be held in Hatton on November 19, at the Krishana Bhavan Cultural Hall from 9 a.m. to 12 noon. The event is open to the public and admission is free.
For more information, please visit: www.britishcouncil.lk