Poaching: Lanka rejects request for grace period
View(s):

Sri Lanka has rejected an Indian proposal for a three-year period to phase out illegal fishing practices (bottom trawling) in the Palk Strait and the Gulf of Mannar by Tamil Nadu fishermen, a request to release the confiscated boats and to grant 80 days of fishing in Sri Lankan waters, Fisheries Minister Mahinda Amaraweera said by telephone from New Delhi.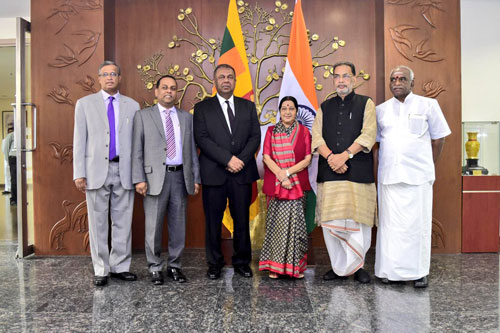 The rejection came during high-level talks in the Indian capital. The Sri Lankan delegation led by Foreign Minister Mangala Samaraweera and Mr. Amaraweera was unable to break the deadlock in the continuing mass scale poaching in Sri Lankan waters by Indian fishermen. The Indian delegation comprised External Affairs Minister Sushma Swaraj, Agriculture Minister Radha Mohan and State Minister of Shipping P. Radhakrishnan. TNA MP M. Sumanthiran was also in the Sri Lankan delegation as the Indian poaching affects mostly northern Sri Lankan Tamil fishermen.
The two sides agreed to set up a Joint Working Group (JWG) to continue negotiations on the issue of illegal fishing practices. The Indian side had asked for time to divert Indian fishermen to deep sea fishing, but the Sri Lankan side said three years were too long a period for this.
(Visit a joint media statement issued after yesterday's talks)