Ranil chocolate impresses Belgium master
View(s):

It was amid some political tension that Prime Minister Ranil Wickremesinghe left Sri Lanka for Belgium.
His last meeting with President Maithripala Sirisena was on October 13 at the President's Paget Road residence in Colombo. That was to clarify statements Mr. Sirisena made at a function at the Sri Lanka Foundation Institute (SLFI) where documents for lands and houses were handed over to war heroes.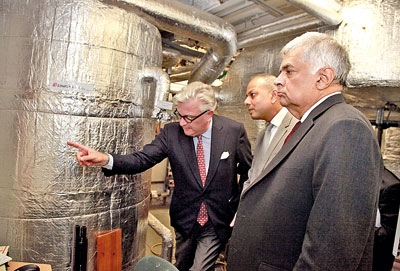 The highlight of his visit to Belgium was to seek the restoration of the GSP Plus tariff preferences to Sri Lanka. Rodney Perera, Sri Lanka's Ambassador in Brussels, was thoughtful enough to schedule a visit to a chocolatier among the many official engagements Premier Wickremesinghe had. It was the renowned Laurent Gerbaud Chocolatier.
Mr. Wickremesinghe was accompanied by his wife Maithri and Public Safety and Southern Development Minister Sagala Ratnayake. Mr Wickremesinghe was given the opportunity to make his own choice of chocolates.
The chocolate master made available about 15 ingredients to choose from in a mix and match way of making chocolates. Among the ingredients were a fusion of Sri Lankan tea and cinnamon. While the Premier was in deep contemplation picking from the 15 ingredients, the chocolatier encouraged him to make his selections before the batter got harder. Like in politics, timing is of the essence.
One member of the entourage remarked to the Belgian hosts; "this looks much easier as he [the PM] knows how to work with dozens of groups and parties in his country in forging coalitions and getting things done."
Eventually, Mr. Wickremesinghe came up with some tasty mixes, to which even the chocolate master Laurent Gerbaud was quick to give his stamp of approval. As one onlooker remarked; 'he looks like a boy in a candy shop' as the PM was so enthusiastic in putting the finishing touches and then later on sharing his creations with his small entourage while keeping some packed away for the two Maithris back home – his wife, Professor Maithree Wickremesinghe and President Maithripala Sirisena.
When the job was done, an ecstatic Mr. Wickremesinghe remarked; "Phew! That was harder than balancing issues back in Colombo these days".
---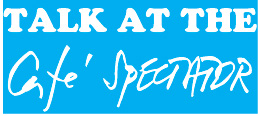 President cracks whip on Cabinet
President Maithripala Sirisena was angry that some ministers were routinely skipping the weekly ministerial meetings on Tuesday. Given the numbers in the cabinet, many feel their absence will not be noticed.
At last week's meeting, he turned to the Cabinet Secretary Sumith Abeysinghe and dictated a directive. He said that all ministers should be present at the weekly ministerial meetings. They should keep their time between 9 a.m. and 12 noon on Tuesdays free for this purpose.
---
Inquiry after inquiry, bond issue drags on
The 'Joint Opposition' will call for a Special Presidential Commission of Inquiry to probe bond issues by the Central Bank, its leader Dinesh Gunawardena said yesterday.
"We will ask President Maithripala Sirisena to appoint independent persons of high integrity to this commission," he said yesterday.
"Among the matters we are appealing to be probed is the role of the former Central Bank Governor Arjuna Mahendran and Perpetual Treasuries Limited where his son in law Arjun Aloysius was associated and their involvement in the bond scam of last year," he added.
Others were, however, sceptical. They felt that a Special Presidential Commission of Inquiry would only mean another long investigation process, and like many previous reports of similar commissions, the report may gather dust somewhere with the recommendations not implemented.
The investigations into this purported scam have already dragged on for more than a year by being referred first to a party inquiry and now a parliamentary inquiry, they say.
---
Contradictory statements over the deaths of two Jaffna University students
The deaths of two Jaffna University Arts Faculty students are setting a serious poser to the Government.
The incident was first brought to the notice of President Maithripala Sirisena when he was in Trincomalee on Friday. That was when Opposition Leader Rajavarothayam Sampanthan met him to brief him on the incident. Mr Sampanthan is also the leader of the Tamil National Alliance (TNA).
President Sirisena ordered the Police to take immediate action. The Government Information Department issued a media release on Friday. It said:
"The Criminal Investigation Department (CID) has commenced an investigation into the deaths of two Jaffna University students, who were travelling on a motorcycle in Kankesanthurai yesterday midnight (20).
"The Post Mortems into these deaths are now being held, and five Police officers suspected for the case have been arrested and immediately interdicted. All necessary steps have been taken to ensure that the law is properly implemented in this regard."
However, a statement issued by the Police on October 20 had an entirely different story. It said that around 23.55 hours, a motorcyclist and the pillion rider had crashed into a wall. This has occurred in the Jaffna Police area. The rider and another on the pillion were admitted to the Jaffna Hospital where they had died, the Police statement claimed.
However, other sources said yesterday that the autopsy had revealed that one of the victims had a bullet wound. It is alleged that the Police at a checkpoint opened fire when the motorcyclist reportedly did not stop.
---
VVIP rebuffs businessman who tries to court him
Last Thursday evening, a VVIP received a visitor, a businessman who dabbles in politics.
The visit came as state prosecutors have filed action against him and others for allegedly defrauding Government funds running into millions of rupees.
The man had a request to make – to ensure that he does not face the ignominy of being remanded on account of the charges he was facing. Not for him the raised fists with the mangles as politicians are fond of exhibiting nowadays.
The man was politely reminded by the VVIP that the charges were a matter before court and as a matter of principle he would not interfere with what was happening there – unlike in the past. The crestfallen businessman walked out of the VVIP's residence and was heard telling a buddy that he would not give up trying.
---
Crosstalk at Cabinet meeting
There were some lively debates at last Tuesday's ministerial meeting.
Megapolis and Western Development Minister Patali Champika Ranawaka was locked in a verbal duel with Finance Minister Ravi Karunanayake. It was over the Treasury refusing funds for the start-up of Pipidunu Polonnaruwa (Rising Polonnaruwa).
There was another between City Planning and Water Supply Minister Rauff Hakeem and Industry and Commerce Minister Rishad Bathiudeen over export of brass from Sri Lanka.
---
Pension for artistes
The Government wants to introduce a contributory pension scheme for artistes from this year.
Rs. 15 million is to be allocated from the budget proposals. A further Rs. 29 million has already been allocated in the budget estimates, a Government official said yesterday.