Capital Maharaja makes historic UN statement
View(s):

May 2016 (Istanbul)- The Capital Maharaja Organisation Ltd., one of Sri Lanka's largest privately held conglomerates, recently added another feather to its cap by becoming the first Sri Lankan company to be invited to present a statement at a major UN Summit.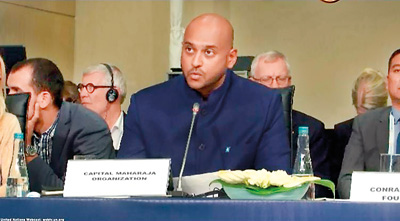 The inaugural World Humanitarian Summit that concluded recently in Istanbul, Turkey saw the company make its statement at a Special Session alongside several world leaders and Multinational companies.
The statement, made by Group Director Chevaan Daniel, began by paying respect to the memory of Sri Lankans killed in the recent floods & landslides, focused on the companies continuing commitment to humanitarianism, a corner-stone of its corporate philosophy.
Also speaking at the Special Session was former PM of New Zealand Helen Clark, The Prime Minister of Fiji, Deputy Prime Minister of Belgium and Ministers from the governments of Canada and Australia. UN Under-Secretary General Stephen O'Brien chaired the session.
The opening day at the summit, saw the Gammadda Final Report, compiled and collated by The University of Peradeniya in partnership with News 1st, being presented by Chevaan Daniel to Asst. General Secretary to the UN,Kyung-wha Kang.