Ethics issue looms as Sumathipala walks into ICC
By S.R. Pathiravithana
View(s):
With the Sumathipala-Dharmadasa coalition cricket administration seemingly in a huge quagmire, SLC President Thilanga Sumathipala has taken a unilateral decision to attend the next ICC General meeting in Dubai on Wednesday, though he faces the risk of being hauled before the ICC's Ethics committee.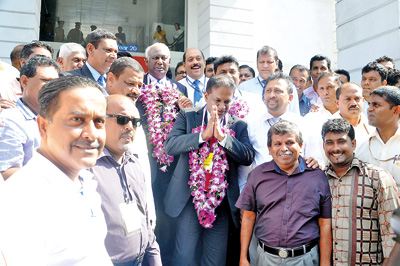 In 2005, the then ICC CEO, Malcolm Speed, requested Sumathipala to refrain from attending meetings until the various charges against him were concluded and the ICC Ethics Officer's report on Sumathipala dealt with the charges.
The ICC had earlier conducted an inquiry on Sumathipala pertaining to his business dealings and alleged connection to the gaming industry and the publication, Sporting Star. The inquiry was conducted by Ethics Officer Oliver Stocken, a director of the ICC audit committee, under Section 7.2 of the Code of Ethics which concerns the involvement of directors in betting, gaming or gambling. Since then, Sumathipala, the Deputy Speaker of Sri Lanka's Parliament, has been side tracking the issue.
SLC secretary Mohan de Silva told the Sunday Times "Yes, Thilanga will attend the ICC meeting scheduled for the 27th".
Earlier it was learned that prior to the last SLC Annual general Meeting, the ICC had made it clear that Sumathipala would be free to get elected and go about to his day-today activities pertaining to cricket, but, he would not be able sit the ICC table until he settles the outstanding issues with the cricket's governing body.
Duly at the AGM when the SLC management committee was named, vice president elect Jayantha Dharmadasa as alternate Director at the ICC while Sumathipala placed himself as president of the Asian Cricket Council.
However with the present developments it seems all that will be put on hold.
Meanwhile speculation was rife that there would be an interim committee in the offing. Along with the alleged committee, there were several well known names that were bartered, but, on inquiry they said they still only rumours.
SLC secretary de Silva told the Sunday Times "Even I heard about this Interim Committee that is in the offing, but, there is no basis to that speculation.