Giving ink to the dying wild
View(s):

Firi Rahman who has extended his passion for wildlife to create awareness of endangered species through his art that tell a story talks to Minushi Perera

Prediction Extinction' is the rather intriguing title of Firi Rahman's second solo exhibition which is now on at the Saskia Fernando Gallery, Horton Place till April 23. The 25-year-old emerging artist's aim is however clear: he is showcasing his love for animals and hoping that through his work he can draw attention to the continuing crisis so many endangered species face.

Firi had started his first drawing for the exhibition on New Year's Eve 2016, working on a sketch of a zebra. As he had only six pieces to put forward when he first thought of an exhibition, he was asked if he could draw three pieces in a week. Firi had taken the challenge and finished the pieces. All ten pieces that are being showcased are thus his work done within the first two and half months  of this year-10 different endangered animals.

From his childhood Firi has loved animals and watching TV channels like Discovery and National Geographic is something he enjoys. "I love wildlife," he says simply – adding that he is drawn by animals' skin texture and behaviour. He has two rescued parrots which he is looking after;  one was injured and he nursed it back to health. He hasn't caged them because he believes that animals should not be caged and they can fly away whenever they want.

Each of his paintings portrays a story, which, Firi hopes would create awareness of the threats animals face in the midst of humans.  He would like those who see his paintings to be inspired to research and know of the issues that animals are facing. 'This exhibition is especially about endangered species in every way. But people also don't realize that endangered species aren't the only animals that are dying," he says.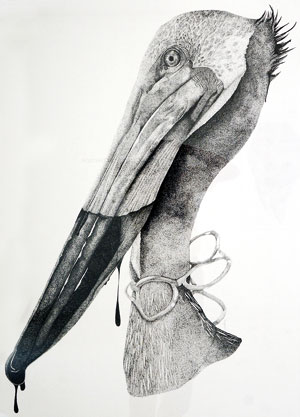 Firi, a past student of Zahira College, Colombo went to Manchester University UK after doing his Advanced Level examination to follow a business management course on his parents' advice. After realizing that the field of business did not interest him, he enrolled in a foundation course in art and design in the same university.
He was soon drawing on canvas and different materials although as a child he had been only been accustomed to paper and drawing on the ipad, in later years.
Returning to Sri Lanka in 2012, Firi taught himself various techniques and improved his skills by watching youtube videos and reading books. As he began drawing more, he created an Instagram account to share his work with others and was buoyed by the response he received from people all over the world. He received a few commissions and is now represented by the Saskia Fernando Gallery.
According to Firi, he has figured out his style of art that is a combination of hyperrealism and conceptual art, although he is quick to state that he is still in the process of learning. His preferred technique is pen and ink drawings, creating shades of black, grey and white.
Looking back on his first exhibition, which was on portraits to the ongoing exhibition, he feels a marked improvement in his art. No doubt this young artist's journey in the art world is just beginning.
Responding to the feedback from the exhibition viewers, Firi is hoping to add more pieces to the collection.
The exhibition is open daily from 10 a.m. to 6 p.m. to the public free of charge.