Plates of Sweetmeats
By Manoshi de Silva
View(s):
Sumudu went near their gate and saw her neighbours painting their house. "What's the occasion?" she asked the little girl who lived there.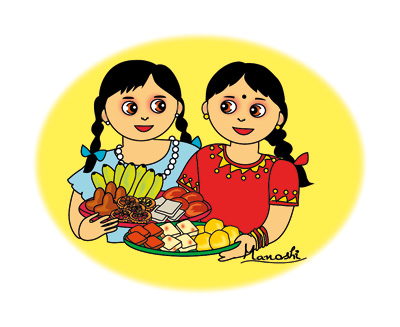 "We're getting ready for the New Year!" beamed Priya.
"Oh," said Sumudu in surprise, "I didn't know you celebrated the Sinhala New Year!"
"No, we are getting ready for the Tamil New Year!" replied Priya, "it's on the 14th of this month!"
Sumudu laughed, "You have got it wrong! It's the Sinhala New Year which is on the 14th of April."
"No, we celebrate the Tamil New Year on the 14th of April every year!" Priya said sounding a little annoyed.
"She's definitely mistaken!" thought Sumudu and said, "Then how come I haven't seen you celebrating it before?"
"Well, we only moved in two years before and both those years we went to Jaffna to celebrate it with my grandmother," Priya answered.
"You are wrong. It's the Sinhala New Year which is on that day!" Sumudu repeated and Priya answered saying, "You're the one who's mistaken! It's the Tamil New Year!"
Both girls frowned at each other and ran into their houses. Sumudu ran straight to her father. "Isn't the 14th of April the Sinhala New Year day? Priya thinks it's their New Year!" Sumudu said in a complaining voice. Her father smiled and replied, "It's a day to celebrate both Sinhala and Tamil New Year!"
"But that doesn't make sense!" replied Priya when she got the same answer as Sumudu did, from her mother. "How can one day be for two different celebrations?"
"It's not two celebrations Priya!" her mother answered, "It's just one celebration of the New Year!"
Both girls were not happy with the replies they got from their parents. So they decided to show their displeasure by not talking to each other. Priya saw a swing being tied to a mango branch at Sumudu's place. Although she was eager to join her friend, she didn't do so. Sumudu watched 'kolam' drawings being drawn near Priya's front-door. She wanted to go and help decorate it with pots of beautiful colours, but held herself back. Still annoyed with the fact of celebrating their New Year on the same day, both girls pretended not to know each other.
Then finally the day of the New Year dawned. The sound of crackers, new clothes, visits from family and relatives kept both girls busy. When it was time to exchange plates full of goodies, Sumudu's mother asked Sumudu to take a sweetmeat plate to Priya's house. Sumudu felt uneasy to go to Priya's place. So she gave an excuse that she had a headache and stayed back. Sumudu's mother took the plate over to Priya's.
Priya's mother later stacked goodies onto a plate and asked Priya to take it to Sumudu's place. Priya too felt uncomfortable to go to her friend's house since the two of them hadn't talked for a while. So she asked her mother to take the plate to Sumudu's place, giving her a false excuse.
Later Priya went to their kitchen and lifted the cover of the plate, which they received from Sumudu's house. It was full to the brim with Kevum, Kokis, Aluva and other things she loved to eat. She realized that Sumudu too would be equally happy with the plate of sweets which was sent over. That plate was filled with Laddus, payatham paniyaram , seeni ariyatharam and kesari.
Meanwhile Sumudu went to their kitchen and took a Laddu from the plate from Priya's house and tasted it. It was so yummy. Sumudu's grandmother was watching this. She had noticed how the two girls were avoiding each other and she had also overheard Sumudu's conversation with her father about the 14th of April.
She knew what was going on.
Sumudu's grandmother went near Sumudu, who was stuffing her face this time with a paniyaram. She asked Sumudu to follow her and went near the gate with a plate full of Avurudu sweetmeats. Priya was out in their garden. Sumudu's grandmother smiled and called Priya to come near. Then she opened the cover of the plate and showed it to both girls. "This is the plate of sweetmeats which is given to the neighbours. Now both of you tell me what you see…"
"I see kevum, kokis, athirasa, mung kevum and aluva," said Sumudu. "I also see the same!" said Priya. "Well, the plate from Priya's house was also filled with sweetmeats of different kinds," said grandmother looking at both the children. "What if this plate had only one kind of sweetmeat? Maybe only kokis?" she then asked the children. "Then there won't be any variety!" said Sumudu. "It wouldn't be very interesting!" said Priya. "It wouldn't look colourful either!" said Sumudu. "It would be boring!" said Priya.
"So you both see," said Sumudu's grandmother smiling, "the plate looks, tastes and smells wonderful because it's not just one kind, but a mixture of different sweets. And that's the same reason which makes our country so beautiful! People of different races living together, like this plate of sweetmeats!"
The girls understood at once, what Sumudu's grandmother was saying.
They looked at each other apologetically. "This day is a celebration of one event, the New Year by two different cultures. That makes this day very special, for we are one country after all!" continued Sumudu's grandmother. Sumudu held Priya's hand and both girls smiled at each other and ran towards the swing at Sumudu's house. Sumudu's grandmother smiled happily and nodded her head approvingly.