'After Enrique' – Managing event risks
View(s):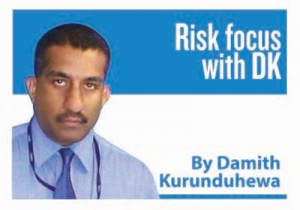 December 2015: In comes the amazing Enrique Iglesias and his rhythmic voice echoes across Colombo sky for a while on a night themed 'sex and love.'
"I wanna be contigo….
And live contigo…
And dance contigo….
Para have contigo…
Una noche loca….
Ay besar tu boca…."
Enrique sang and danced to a thrilled house and left the shores – not only gifting some rocking memories – but also meriting some serious thinking about managing event risks. The concert surely ended, but seemingly not the consequences – the latest being the event organisers reportedly getting noticed by courts in which some fans demanding Rs. 22 million for 'loss, damage and mental stress' caused during the concert.
'Memories are the key not to the past, but to the future' – goes an old adage. No matter how hard we try, the bygone cannot be restored. Therefore, without deviating our focus on the claims and counter claims about the event itself, let us make it a platform for us to contemplate what needs to be done in the future to manage our events right.
Event Blueprint
When we begin right – we usually tend to finish it right. Event blueprinting is something we all do – consciously or unconsciously – but what's often overlooked is to bring the risk element into the equation. When we look back at event mishaps and event tragedies in the past, they endorse that managing event risks needs to come onboard at the initial planning phase.
An event can be corporate, state, social, family, leisure, sports or transnational; all these endeavours do present many hidden risks in the thread. It is not that all those hidden risks will come to light every time, but infrequent hard-hits can surely take us all by absolute disbelief.
Thus, it is best that all responsible and concerned event planners and organisers objectively and professionally incorporate managing event risks at the architecting segment itself.
Strategic Risk Grasp
As we have seen in the past – the theme, the venue, delays and cancellations, regulatory compliance, pricing, conveyance, delegation transfers, insurance, brand safeguards, media discipline, seating contouring, local sensitivities and the likes can create risks to stakeholders on solitary, multiple or total basis, when managed improperly.
Even the Sri Lankan Independence Day – 2016 which is a well-seasoned annual national event, suddenly subjected to nationwide controversies that could have been avoided, had the proper risk exploration, mitigation and posturing contemplated in advance.
Such hard learned forensic lessons enlighten us that event risk planning at the strategic strata surely ease out the pre – during – post liabilities and annoyances.
Operational Risks
Managing event operational risks go way beyond deploying a contingent of Police and perhaps a private security squad. They certainly fortify the event protective domain, but not all operational risks of the spectacle.
For instance, human (and animal) life safety at events is of paramount importance, yet we time and again realise the cost of calamity only after we hit the reality and factuality aftermath. The toll of ignorance, indifference, negligence, incompetence and inadequacy has often been a colossal price to pay.
September 2015: Mecca stampede that killed more than 2200 people in Saudi Arabia suggests that even such disciplined events can turn things upside down, when operational risks are ignored or taken lightheartedly.
Further operational risks such as extreme noise, pollutions, weather and climatic contingencies, pyrotechnics, aerial maneuvering, minors in the crowd, stage collapses and mass communication crashes need to be planned pragmatically so that the plan works in real life AS PLANNED !
ER – Emergency Response
Those who witnessed the Bradford Soccer Stadium Fire in UK sometime back surely understand how lack of planned emergency response (ERP) could turn a minor incident to a catastrophe in less than 30 minutes.
Quoting this example, a senior administrator of Sri Lanka Cricket once said, "We understand the risk of putting about 40,000 reveling spectators into a crammed stadium. Superficially we look alright for an emergency, but how it works for us when it really matters – well that's only divine knowledge." Perhaps, he was right.
A premier corporate once ran a mega marketing initiation involving kids on the beach – and parents had to drop their kids at the venue and drive off. During the event, a mass volume of kids were in the custody of the event team. Upon querying what their response plan is if a Tsunami warning is received while the event is on – they had taken the possible emergency into blueprint planning – thus did not have to bluff the question.
Some events end up with food or beverage contamination that results in loads of sick participants – and often the calamity becomes a tragi-comedy to see how under-prepared (or rather unprepared) event managers running circles in shiver and panic with phones glued to their ears eternally – with wide open eyes gazing nowhere.
What next?
Be it the Enrique Show Hullaballoos – Independence Day Controversies – Mecca Stampede – Bradford Stadium Fire – or Hilton Hotel Stage Crash, they all intensely catapult our thinking to a higher plane of cognizance. Let it be a minor – moderate or a titanic event and let it be an hour – day or a series of days, we need to professionally and objectively manage event risks on a holistic dais – at least for non-negotiable risks.
Sometimes, (amazingly) its insignificant trivia un-captured at the planning that propels subsequent volcanic eruptions. As Five Star General Dwight David Eisenhower once said – 'Plans are nothing; Planning is everything.'
It's about time to come on road and get onboard!
(The writer is a foremost enterprise risk management specialist and a seasoned corporate risk trainer who serves as the CEO of Strategic Risk Solutions. He can be reached via email on  solutions@sltnet.lk)