Bringing Sri Lanka to the world
By Dhananjani Silva
View(s):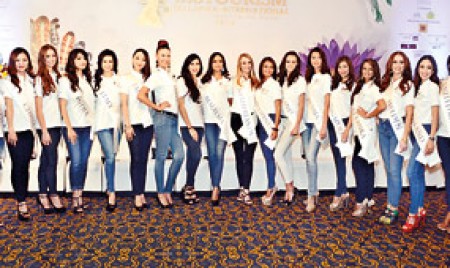 Nineteen-year-old Anna Westlin from Sweden is one of the 20 global beauties who is currently in Sri Lanka attending the first ever Ms. Tourism Sri Lanka International Pageant.
Since her arrival last Sunday Anna has shared pictures and posts about Sri Lanka on her social media pages –Instagram and Facebook, and the response was tremendous, she says adding that she will have more regular updating to do as she takes a tour around the country with her fellow contestants.
The pageant has representation from Australia, Belgium, China, Denmark, India, Italy, Japan, Lithuania, Luxembourg, Malaysia, Netherlands, Philippines, Poland, Russian Federation, Singapore, Sweden, Thailand, United Kingdom and USA and will showcase Sri Lanka's tremendous potential as a tourist destination.
Enrika Zilinskiene, 28, from Lithuania who is visiting Sri Lanka for the first time says getting to see the country is the most exciting thing about the pageant.
"I still haven't seen much but there is so much of greenery, the climate is great and people are very friendly," she says.
Addressing the press conference to announce the pageant, Hilton General Manger, Manesh Fernando said that with Sri Lanka being highlighted in publications like the New York Times and National Geographic as one of the best destinations in the world, an international event of this nature is the best way to take the message of tourism; message of peace; message of hope, to the world.
Similarly, Producer/Choreographer, Lou Ching Wong who gave a brief outline of the event line up said during their two weeks stay in Sri Lanka, the contestants will get a taste of the paradise, hospitality and everything that Sri Lanka can offer tourists.
Before the grand finale at the Hilton Colombo on February 21, the contestants will tour Nuwara Eliya, Kandy and Chilaw. A host of mini pageants Miss Talent, Best Catwalk Model, Best in Swimwear, Miss Congeniality, Miss Personality, Best National Costume, Best Evening Gown and Miss Photogenic will be worked off and they will get the chance to try their hand at tea plucking and cookery, whilst enjoying Ayurveda treatments and relaxing on the beach.
The winner of the Ms. Tourism Sri Lanka International 2016 will serve as a Tourism Ambassador for Sri Lanka for a period of one year, to promote the country as a tourist destination globally, according to Lou Ching Wong.
"It is going to be an experience for all of us. We are bringing the world to Sri Lanka and taking Sri Lanka to the world," he said adding that the organisers have ambitious plans to make next year's event bigger with more representation by other countries.
Essential Entertainment is the franchise organisation for Ms. Tourism Sri Lanka International 2016.
A limited number of tickets for the final pageant are available for sale at Hilton Colombo. More details can be obtained via 2544644 (ext 2033).