Kids world
View(s):

History of cinema

The first films were black and white. They were silent too.
You couldn't hear the actors' voices. You read the words on the screen.
As you were watching the film, musicians played music in the  cinema hall.

In the 1920's and 1930's, films were still in black and white but they had sound. At first some people didn't believe it. They said that the actors were behind the screen in the cinema! Films became more popular and film stars became the most famous people in the world.

By the 1950's most films were in colour but people had another kind of entertainment as well, television. Films needed to be exciting or people stayed at home. In the 1950's and 1960's there were a lot of science fiction and horror movies.
Today, films are still very popular will millions of people and film stars are still very famous. Some people go to the cinemas, but a lot of people stay at home and watch films on video or DVD.

Lithmini Weerakoon (12 years)
Sussex College, Nugegoda
---

Myself
My name is Methuli Kotudura. I am seven
years old. I live in Piliyandala.
I go to Samudradevi B. V.
I am in Grade 3D.
I like to eat pizza. I like
to drink milk packets.
My ambition is to be a teacher.
Methuli Kotudura (7 years)
Samudradevi B. V., Nugegoda
---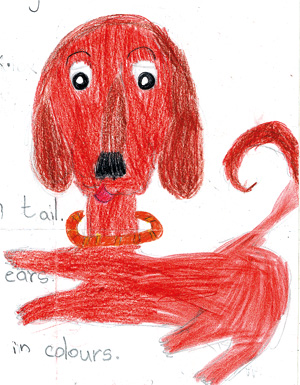 My pet
I have a pet dog. Its name is Max. It runs fast. It has a thin tail. It has long ears.
It is brown in colour. It likes to eat fish. It likes to play with me.
I love my pet dog.
Chenuli Jayasekara (Grade 3)
Musaeus College
---
My hobby
A hobby is a favourable activity that one pursues in one's spare time for pleasure and recreation. My interesting hobby is collecting stamps. I have more than 100 stamps in my stamp collecting book.
My hobby has helped me to take a great interest in History and Geography. This stamp collecting hobby refreshes my mind and gives me joy and happiness. This is how I spend my recreation and leisure.
Geerthana Jeyakumaran (Grade 6)
Hindu Ladies' College
---
Journey to the moon
On August 31, 2015 I went to the moon with my friends Dinuka and Anuja. We went in the Apollo 11 rocket. We took oxygen tanks and wore spacesuits.
When we landed on the moon we saw that the moon had a lot of craters. There were no plants on the moon. There was no water on the moon. When we jumped on the moon surface we went very high because there is less gravity on the moon than the earth.
The weather was very cool on the moon.
At last we came home. We were very excited about this journey to the moon.
Vethum Perera (Grade 5)
Lyceum Int. School, Nugegoda
---
Are we really different?
Yes, of course. We are different in many ways though sometimes we are alike as well. But as far as I know that rarely happens. It is obvious we are always different in some way or the other. It can be in looks or else it can be in behaviour.
There are many opposites when it comes to being different – pretty and ugly, happy and sad, kind and cruel, pleasant and unpleasant, good and bad, cheerful and gloomy, bright and dull, calm and troubled etc. Yet we all have one thing in common. We are all human beings!
Zahirah Anver (10 years)
Harcourts Int. School
---
The Solar System and the Earth
The Solar System is only one of countless millions of stars that make up a galaxy. A galaxy is a system composed of millions of stars, dust and smoke. The universe consists of billions of such galaxies. It is difficult to calculate the extent of the universe. The sky that we observe is the only part of the universe that we see.
Although all the stars we see in the sky are similar to the Sun, most of those stars are thousand times bigger than the Sun. The Sun appears as a large object due to its closeness to the Earth. The Earth was thought to be flat but now it has been well proved that the Earth is round.
The Solar System consists of eight planets round the Sun. They are Mercury, Venus, Earth, Mars, Jupiter, Saturn, Uranus and Neptune.
Imandi Omalya (12 years)
Yasodara Vidyalaya, Colombo
---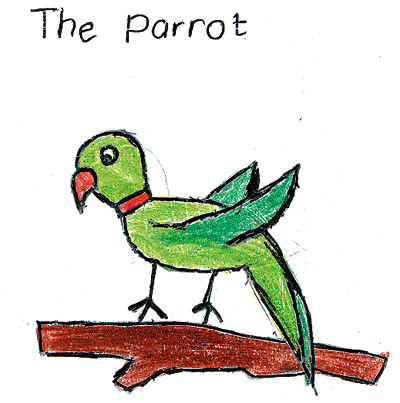 The parrot
The parrot is the only beautiful bird known for its talking power. Some kinds of parrots can talk better than others. The parrot is a green coloured bird with its beak curved. In some places, parrots are kept as pets. It is not a good thing to keep a parrot in a cage. We must not obstruct the animals or birds.
The parrots listen and learn the words.
It is far better to tame a parrot first, then only does he find it easy to pick the words. But wild parrots only murmur loudly. We must allow birds and animals to live free in their natural world.
Danuji Thennakoon (11 years)
Holy Cross College, Gampaha
---
My trip
I went to Guruge Park. I went with my father, mother, sister, grandfather and aunt. There are many things we saw and learned. There is a village in it. The people show how to make pots. There is a paddy field and a scarecrow standing in the middle. There is a small zoo, you can see animals. There is a Jurassic Park also.
They have many fun rides like train rides, boat rides, merry-go-round rides.
I enjoyed myself very much.
Rashida Risdy (7 years)
Bambridge Int., Aluthgama
---
Magic words
As a tiny spring – makes a giant river,
A tiny magic word – makes a strong relationship.
My dear friend – A very good night,
My dear friend – Magic words are a good sight.
Oh! An accident – I'm sorry,
Can I help you – Do not worry.
Please may I – Is a good word,
Do you know why?
It's a magic word.
Narmada Bharathi (9 years)
Sussex College, Kandy
---
A fish talks
I am a fish. I live in the sea.
My name is Meewatiya. I am silver coloured. My tail is red. My mouth is black and my eyes are pure white.
We live under the coral reefs.
I have lots of friends in the sea. We are playing during the day very happily. We are playing hide and seek. We like to eat seaweed. Mermaids are our friends. Sometimes fishermen try to catch us. But we can escape from the fishermen. I like to live in the sea forever.
Savithma Panchali (Grade 4)
Holy Family Primary B.S., Wennappuwa
---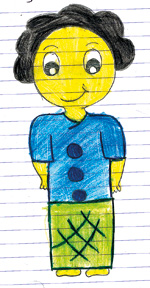 My father
My father's name is Ariyadasa Athugala. He is 52 years old.
His favourite colour is blue.
His favourite food is banana.
He is very good. He has short hair. My father can make yummy food. His favourite vegetable is carrot.
His favourite drink is Necto. In our leisure time my father and I play games. My father loves me very much. I also love my father a lot.
Nathasha Athugala (Grade 5)
Royal Int. School, Kegalle
---
My pet
My pet is a dog. Its name is Pancha. It is brown colour and has a beautiful tail. My pet is very playful. It likes to eat eggs. He loves us and we love him too.
Rajindri Baddewela (Grade 4)
Maliyadeva Girls' School, Kurunegala
---
Myself
My name is Kaveen Gunarathna. I am in Grade 6. I am eleven years old. My school is Rahula College Matara. I like ice-cream. My favourite sport is football. My favourite fruits are apples and oranges. My mother's name is Preenie. My father's name is Ranjith. My hobbies are reading books and playing cricket. I want to be a soldier.
Kaveen Gunarathna (10 years)
Rahula College, Matara
---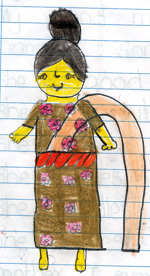 My grandmother
My grandmother's name is Somawathie. She is good. She is beautiful. She is kind. She makes me happy. She cuddles me. She is the best grandmother
I ever had.
My grandmother tickles me.
She feeds me. She plays with me.
She loves me and I love her.
Udara Weerasekara (Grade 2)
Vidyaloka Model School,
Hingurakgoda
---
My trip to Wasgamuwa
On December 5, my family went on a trip to Wasgamuwa and Dambana. We passed Bakamuna, Laggala, Pallegama and Mahiyangana on the way to Dambana.
We met many veddhas in Dambana. They had fresh honey, bows and arrows for sale. We saw a tamed deer in one of the huts.
After lunch we went to Riverstern in the Knuckles range. Riverstern at dusk was very beautiful. We spend a night at a hotel in Wasgamuwa.
Next morning we went on a safari to Wasgamuwa. There were elephants, spotted deer, crocodiles and jungle fowls in the Wasgamuwa forest. And there were many kinds of birds like
bul-buls and humming birds.
It is a trip that I will never forget.
Venuja Saram (Grade 5)
Maliyadeva Boys' College, Kurunegala