SL bank workers protest over plans to privatise state banks
View(s):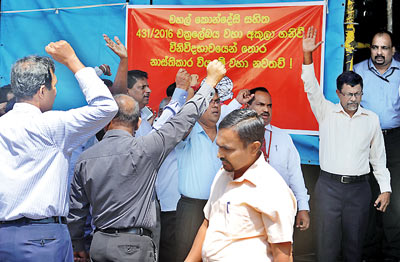 Sri Lanka's state owned bank employees have intensified their protest campaign against a government move toward privatisation of state banks by way of outsourcing its major divisions, suppress trade union members and clip its income generation avenues. The People's Bank branch of the Ceylon Bank Employees Union (CBEU) staged a protest demonstration at the Head Office in Colombo Fort this week against the actions taken by the management to cripple the bank with the aim of allowing it to fall into the hands of the private sector.
Secretary of the CBEU (Peoples Bank branch) Ranjan Senanayake told the Business Times the bank management has started harassing trade union members who participated in the recent strike against 2016 budget proposals detrimental to the progress of state banks.Some of their members have been transferred and promotions suspended while lowering the retirement age for bank employees to 55 years from 60 years, he disclosed.
Another aim of the protest demonstration was to oppose the moves of suppression introduced by the management to cripple their protest campaign against the 2016 budget proposals including ceasing of its leasing business from June 1, 2016, restricting the pawning business and bringing srate banks under a Government-owned holding company similar to Temasek Holdings of Singapore. Last year on December 15 the unions had protested against the management for transferring the Data System (DS) of the bank to Sri Lanka Telecom.
The Disaster Recovery (DR) department of the bank is planned to be sold to Dialog Axiata and the union will be protesting to stop these kinds of actions until a resolution is provided by the authorities. Mr. Senanayake revealed that 380 ATMs of the bank will be outsourced by the management soon.
(RM)