Kids Essays
View(s):

My hobby

A hobby is an activity that we do in our leisure time. We always should do useful hobbies. I have many hobbies. Reading books, collecting coins, collecting feathers are some of them. Out of them the hobby that I like the most is reading books.
Reading books is a useful leisure time activity. There are various kinds of books. They are novels, storybooks, translations etc. Out of them I like translations very much. The most beautiful translation I have read is 'Rathu Gawuma'. It has been translated by Chithra Amarasekara. There are many books written by her.
'Kandu Mudune Sonduru Niwasa', 'Aswanu Samaye Pura Handa', 'Makulu Dalen Paa Senehasa' are some of them. Not only translations, I like other books too. They are Famous Five, Secret Seven. Oliver Twist, Secret Garden etc.
Great books have been written by great writers. We can gain a wide knowledge by reading books. So, everyone should do useful hobbies in their leisure time. I like reading books very much!

Sanara Kothalawala (12 years)
Yasodara Vidyalaya, Colombo 8
---
My father
My father's name is
Sisira Jayasekara. He is
40 years old. He wears
trousers and shirts. He is very kind and very
handsome.
He likes to eat healthy food. He teaches me my school lessons. He teaches me good and bad. He will always try to make me happy by cooking tasty food or buying me things. I will always love my father.
Viruli Jayasekara (8 years)
Visakha Vidyalaya
---
The seaside
There are boats in the sea.
The birds are flying. The sun is shining. Children are playing on the beach.
There are waves in the sea. The boats are sailing on the sea.
I swim in the sea. I play with sand on the beach. I make sandcastles on the beach. People are throwing garbage into the sea.
The fishes are swimming in the sea.
Sunuj Wickramasinghe (7 years)
Royal Institute
---
My favourite sport
My favourite sport is swimming. I go to swimming classes at my school Zahira College on Saturday mornings. Our coach is Mr. Fawaz. I have learnt to swim freestyle, butterfly, backstroke and breaststroke. We wear fins on our legs when practicing to improve our speed. Swimming keeps is healthy and fit.
I love swimming very much and I hope to be a great swimmer one day.
Yahya Fouzzan (8 years)
Zahira College, Colombo 10
---
The happiest day in my life
The happiest day in my life is the day I received a bicycle from my grandparents. It was on my fifth birthday that I received this nice present. It was a Tomahawk bicycle with many gadgets. My grandfather taught me how to ride my new bike. I rode my new bicycle the whole day. It was a new experience for me. They said that I'm a very good rider.
I keep my bicycle in very good condition. It is one of my companions. I ride my bike whenever I have free time. I really love my bike very much.
Inuka Nonis (Grade 4)
St. Benedict's College, Colombo 13
---
My pet
My pet is a cat. My pet's name is Tommy. My pet is five years old. It is white in colour.
It catches mice. It likes to drink milk. It has four legs. It has a bushy tail. It licks my feet.
I love my pet very much.
Aamina Gaffoor (6 years)
Royal Institute Girls' School
---
Christmas
When Christmas is here
We welcome the New Year
We sing carols with glee
Under the Christmas tree
Santa and his reindeer
Are finally here
To give presents to
the children
Who have been good all year
When it is snowing
We make snowmen in the snow
And sometimes we wish that
Christmas won't go
Shania Samarasuriya
(9 years)
British School in
Colombo
---
Myself
My name is Fathima Zahirah Anver. I am 11 years old.
My birthday is on January 1.
I was born in the year 2005. I am an only child as I do not have any siblings. I attend Harcourts International School. I am in Grade Six.
I like eating fruits, especially juicy mangoes and oranges. I like homemade food. My favourite colours are white and pale blue.
I like reading, writing stories and essays. I love drawing colourful pictures though often everyone grumbles that my drawings are too bright.
My favourite subject is English Literature though I also like Sinhala, Science and History. My ambition is to be an eye specialist or an obstetrician.
Zahirah Anver (11 years)
Harcourts Int. School
---
My New Year Wishes
Everybody has new hopes in this year 2016. I too have a bundle of hopes. I want peace and prosperity to be spread all over the country. I thought of a new wish for the New Year 2016 and that is to decrease the rate of our helpless population. I also wished that the literacy rate of our country will exceed further more. I wish that the educational sector will develop so that it may help the children in my country to face a big competition in the national level or in the international arena. I also wish that my country will develop in economic, social, technological, communicational and  in all other fields rapidly.
I too have personal hopes for the year 2016. Firstly, I will be facing the G.C.E. O/L Examination in the next year and I hope to pass it with flying colours. Next I wish to achieve the best in sports. Next I hope I will be selected again as a prefect to serve my fellow students and my Alma Mater.
At last I must pay homage and gratitude for the year 2015. So I wish these wishes of mine will come true in life.
Wish you a Happy New Year 2016!
Savindu Herat (Grade 9)
Royal Int. School, Kurunegala
---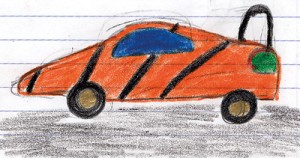 My toy car
My father gave me a toy car for my birthday. It's like a Lambogini car.
Its colour is orange with black stripes.
I protect it well. I love my car.
Sanuka Udukumbura (8 years)
Vidyartha College, Kandy
---
My friend
My friend's name is Senul. He is in
Grade Two. He likes me. He lives in Kiribathkumbura. He helps me. His pet is a dog. He is seven years old. He is very good in art. I love my friend.
Vethmal Aththalapitiya (Grade 2)
Dharmaraja College, Kandy
---
How is the rainbow formed?
During the rainy season you might have observed a bow shaped multi-coloured strip in the sky. This is called a rainbow. How is the rainbow formed? The sunlight which appears to be white is actually composed of seven colours. These colours are violet, indigo, blue, green, yellow, orange and red. The wave length-wise distribution of these colours is called a spectrum.
After the rains, the atmosphere is full of water drops. When the white light coming from the sun enters these drops, its seven colours are separated. These colours after being totally reflected from the back of the raindrops, when the rays of these colours reach the eyes they give us the appearance of the rainbow. The rainbow is circular because the sun is also circular.
Abisheka Satheesh (Grade 6)
Wattala
---
My school
My school is St. Thomas Catholic International College. It is the first Catholic International school in
Sri Lanka. It is situated in Seeduwa. It is a very beautiful school. It has a cricket pitch, ground, basketball court, swimming pool complex and a very beautiful chapel. The Rector of my school is Rev. Fr. Kennedy Perera.
I'm in Grade 4 and I play cricket and do swimming. My favourite subjects are Maths and Science.
My class teacher is Ms. Janaki.
I have lots of friends in my school. I love all the teachers as they are very kind and loving. I'm so blessed to have my school. I love my school very much.
Theekshana Stephan (9 years)
St. Thomas Catholic Int. College,
Seeduwa
---
An unforgettable trip
The trip we made to Kataragama during my school holidays was an unforgettable one. We left home early in the morning and reached Kataragama by evening. Everybody got out and began to unload the baggage. My father got on to the roof of the van and unloaded the pots and pans. We took our bags into the room to unpack our clothes. My mother and aunt went to the kitchen to prepare dinner. After a few minutes I heard them laughing loudly. They seemed to be enjoying the cooking. As we were sleepy and tired we had our dinner and went to bed early.
The following morning, we woke up early and had a bath in the beautiful Menik Ganga. Next, we went to Kiri Vehera and the Kataragama Kovil. We waited patiently in line at the kovil to offer a basket of fruits to the Kataragama Deity. We spent the rest of the day walking around the historic city of Kataragama.
I was very unhappy to see a lot of garbage left carelessly all around the city. I wish that people were more thoughtful of the environment and were more careful when they throw garbage. We all came back to the guest house later in the evening and packed our bags to go back home.
Piumi Sandalika (14 years)
Holy Angels College, Kuliyapitiya