Kids Essays
View(s):

Myself
My name is Naqeeb.
I am seven years old.
I live in Dehiwala. My mother's name is Nuzha. My father's name is Shamroz. I have one brother. My brother's name is Umar.
I am studying at Zahira College, Colombo 10. I am now in Grade Three.
My hobby is drawing art. I send most of my art to the Funday Times. My favourite colour is gold. My favourite fruit is apples. My favourite sport is swimming. I like to spend time with my brother and my family. My future ambition is to become a doctor.

Naqeeb Shamroz (7 years)
Zahira College, Colombo 10
---
A visit to the railway station
A railway station is an interesting place. It presents a scene of excitement and activity. Big railway stations are always full of life. Small ones come to life only when a train arrives there. The other day I visited the Colombo Fort railway station. I went to see my cousins. They were coming from Trincomalee. There were many cabs, cars, trishaws, motorbikes and buses waiting to pick up passengers.
People were waiting in long queues to buy tickets for their journey. Many people were waiting for the arrival of a train. Soon the express train from Galle arrived. And there was a great rush. People were going in and out of the train. Not long after, a slow train arrived from Trincomalee and my cousins got out of the train and I greeted them with a big welcome. And we talked to each other and went home.
Ryan Cooke (10 years)
Royal College
---
The Chinese New Year
Chinese people celebrate the New Year in January or February. They have a fantastic carnival. The big lion dances in the street.
The musicians play drums very loudly. People put presents for the lion outside their houses. This brings good luck.
Parents put money in red packets and give them to their children. Red is a lucky colour. The Chinese letters on the packets are lucky too.
Some things bring bad luck. People don't use scissors or knives on New Year's Day. People are kind and they speak nicely. Chinese people don't speak angrily to anyone on New Year's Day because it is very unlucky.
Lithmini Weerakoon (12 years)
Sussex College, Nugegoda
---
My school swimming gala
I am a student of Bishop's College. I am in Grade 4A. There is a swimming pool in my school. On September 30, 2015 we had a swimming gala in my school. The students from Grade 1 to 5 were dancing in the pool and swimming too. Parents and students had a good time watching the gala.
Sherandhi Fernando (9 years)
Bishop's College
---
My pet
My pet is a dog. It is named as Tommy.
My pet is very fluffy. Tommy is brown in colour. It is two years old. It likes to eat bones. It likes to play with balls. It is friendly with everyone. It sleeps next to me. I love my pet.
Yasas Ruwan (7 years)
Nalanda College
---
Environmental pollution
Environmental pollution is one of the biggest problems that the world faces today. There has been an increase in the number of deaths taking place due to environmental pollution. The common reasons for environmental pollution are cutting down of trees unnecessarily, dumping of garbage along waterways, releasing of waste materials to the environment from factories, releasing of gases from vehicles, leakages from taps and tanks.
Environmental pollution can be reduced by activities such as planting of trees, dumping of garbage in a proper manner, repairing of leaking taps etc. However, every individual and organization should come forward to stop environmental pollution for the sake of our survival.
Mohammed Jazree (12 years)
Royal Institute, Nugegoda
---
My dream
How hard it is to be alone
Where there is no one
And I cannot go under the sun
I have to be alone
I like to fly
When the sun shines
In the blue sky
And stay quiet when it rains
I like to fly with my friends
But I cannot
I love collecting food and
making nests
But I cannot
I often dream of happy days
When I had my best moments
But now I'm chained
With a horrible dream
I have forgotten how to laugh
I have forgotten how to fly
My voice is hoarse with a cough
And I've said to my friends "bye"
So this is my end
There's no meaning for life
I'm in a cell
And in hope of freedom
But I'm sure there's no way
They like me and say
That they'll never
Leave me in any way
Freshta Nasseri
(15 years)
Al-Asafeer Int. School,
Dehiwala
---
The sky
The sky is beautiful. There are stars in the sky. The sun is in the sky. The moon is in the sky. There are clouds in the sky. The sky is blue in colour. The sky is big. Even birds are flying in the sky.
I love my mum and dad like the sky.
I like to go to the sky.
Udara Weerasekara (Grade 2)
Vidyaloka Model School, Hingurakgoda
---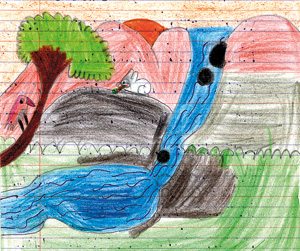 I love nature
Flowers, trees, rocks, waterfalls, rivers, sky, birds and animals are some of nature.
I love to see the beauty of nature. Everyone loves to go to see waterfalls in the hill country.
How lovely the flowers are. Animals and birds add colour to nature.
I love to be with nature.
Deethika Senawaththa (Grade 4)
Maliyadeva College, Kurunegala
---
The value of sports and games
A sport or a game is a physical activity we engage mostly during our leisure time. These sports are divided into two groups as indoor sports and outdoor sports. Sports like cricket, badminton, volleyball, tennis etc., belong to the outdoor games. Games like chess, table-tennis, carom etc., belong to the indoor sports.
Outdoor sports are very important for our physical well-being while indoor sports mostly help in the intellectual development.
When we engage in an outdoor sport like athletics, our body muscles burn extra fat using oxygen which helps us to keep trim and fit.
We can also avoid diseases such as heart attacks, diabetes, high blood pressure etc., by doing these types of sports.
Indoor sports mostly help us to improve our thinking ability and decision making skills. They are very important for young children as they develop memory skills.
Sports also teach us the values such as working towards a goal, working as a team, accepting winning and losing equally etc. They are important for developing a well balanced child by character formation at the early stages of their life.
Bhanuka Wadu Thantri (13 years)
OKI Int. School, Kiribathgoda
---
Grandpa
I have two grandfathers. One is my mother's father and the other is my father's father. I am going to write about my father's father who is my grandfather. From my small age I called my grandfather 'Appa'. My grandfather's full name is Mohamed Faizal Hashim. He is sixty eight years old. He lives in Kurunegala. He studied at St. Benedict's College, Colombo. After studying he started doing a job. He worked as a shipping manager,
He is fat and looks very nice with a beard.  His favourite food is chicken fried rice and he likes to drink water. He likes to read newspapers. He taught me good manners. When I was small he helped me in difficulties.
He has many grandchildren. He loves me a lot and I love him too. I pray to Almighty God to grant my 'Appa' a very long life.
Mina Al Fathima (Grade 3)
Lyceum Int. School, Panadura
---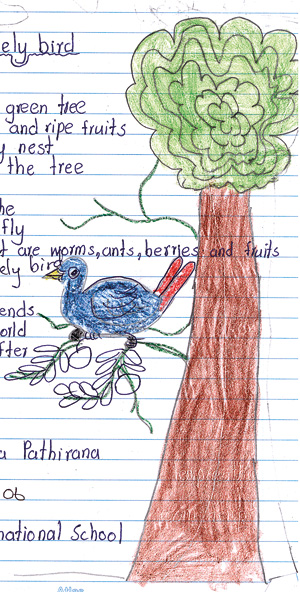 I'm a lonely bird
I live in a green, green tree,
Full of buds, flowers and ripe fruits,
I have made a cosy nest,
In a tall branch of the tree.
When it rains I bathe
When it is hot I fly
My food and dessert are worms, ants, berries and fruits,
I am a lonely bird, lonely bird.
And I must find friends,
To fly all over the world,
And live happily ever after,
With my friends.
Ravidu Pathirana (Grade 6)
Royal Int. School
---
The Year 2050
In the year 2050 there will be many facilities and Sri Lanka will be developed and there will be high technology. There is nothing to be sad because the robots will do all our things like ironing, watering the flowers etc…
There will be cars that have jet engines so it will be easy to travel from one place to another. The prices of food will go high so the beggars will have a big problem. There will be new haircuts so I will have a haircut. There will be new fashions. If I become a doctor there will be new equipment so I can do surgeries to the people without being tired.
There will be new sport activities in the world. The classrooms, buildings and houses will have AC. There will be cars to go to the moon. There will be scientists in the world and they will teach us new things.
Environment will be polluted due to releasing oil, poisonous gases and minerals like lead and mercury.
If we love nature, both flora and fauna will be saved. Then pandas, white tigers, golden eagles, rhinoceros will not be extinct like dinosaurs. Everywhere there will be cameras to catch thieves easily.
If technology is used wisely, the year 2050 will be a great year for people.
Ishith Fernando (Grade 4)
Jennings Int. College,
Nainamadama