UN declares Vesak as 'floating' holiday
View(s):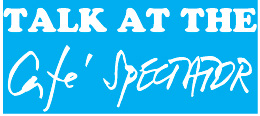 The 193-member UN General Assembly, which in 1999 declared an "International Day of Observance for Vesak" — on the initiative of the then Foreign Minister Lakshman Kadirgamar — has gone one better, this time declaring May 20 this year an unofficial UN holiday for Vesak.
Respecting the diverse religious affiliations of UN staffers, the General Assembly unanimously adopted a resolution last week recognising seven new UN "floating holidays", including Vesak, Orthodox Good Friday, Yom Kippur and Diwali.
According to the resolution, staff members should inform their supervisors in advance, as early in the year as possible, of the floating holiday they wish to observe.
Meanwhile, the UN will continue with its nine "official holidays" which include Christmas, Eid-ul-Fitr, Eid-ul-Adha, Memorial Day and Thanksgiving Day, the last two celebrated by the Americans. When Sri Lanka approached the UN, seeking a holiday for Vesak in the 1990s, it was rebuffed on the grounds that it will incur additional costs on the world body.
In 2014, when Israel raised the issue of a Yom Kippur holiday for Jews, the UN's Administrative and Budgetary Committee was quick to endorse the proposal — and saw no financial implications. "We saw the opportunity and went in with both guns blazing," a former Sri Lankan diplomat said last year.
"If 14 million Jews in the world could ask for a religious holiday at the UN on Yom Kippur, surely 530 million Buddhists could ask for Vesak," he said. India jumped in later seeking a holiday for Diwali or Deepavali.
The vigorous lobbying before the Committee this time round was done by Chamitri Rambukwella, then Vice chair of the Budget Committee and a former Second Secretary at the Sri Lanka Mission to the UN. The Committee finally endorsed the proposal and sent it to the General Assembly for ratification last week.
Sri Lanka's efforts were strongly backed by several countries, including Thailand, Vietnam, Mongolia, Malaysia and Singapore.
---
Bra throwing: What about underpants?
It was film director Chandran Ratnam's birthday on December 29.
He hosted a rousing party with a large number of friends and associates. The conversation soon turned to the Enrique concert at which a bra was thrown on the stage – an act which ruffled Presidential feathers.
Mr. Ratnam has a film coming out shortly called 'According to Mathews'. Amidst much merriment someone suggested to Mr. Ratnam that he gets a man to toss forth his underpants when lead actress Jacqueline Fernandez makes an appearance!
There must be gender equality, after all, said the man who had one too many.
---
Gammanpila wants to manufacture news
Udaya Gammanpila, one time Provincial Councillor and now an opposition Parliamentarian from the Colombo District, seems to have an answer to any issue.
He had turned up at the Dr. N.M. Perera Centre at Borella for an opposition news conference. Time was ticking away and none of his colleagues were turning up.
One irate media representative asked, "You want to change a Government. You cannot even get your own people together for this news conference."Mr. Gammanpila who was making desperate calls was to announce that his colleague Dullas Allahapperuma had been hospitalised.
Not to be out done, he declared, "We called this news conference because the media are short of news these days." Evidently the otherwise vociferous former JHU politician had run short of anything else to say.
---
Kiriella's bridge in troubled waters
A plan mooted by University Education and Highways Minister Lakshman Kiriella to build a bridge across the historic Kandy Lake is causing ripples among environmentalists in the hill capital.
They are planning to stage protests in Kandy in the coming week in a bid to prevent the construction of the bridge which they say will obscure the scenic view from of the Dalada Maligawa. Attorney Shantha Ratnayake, Chairman of the Lawyers Environmentalists Forum, said building such a bridge would destroy the centuries old charm of the city and that the Government should look for alternatives ways to ease traffic congestion in the area.
Minister Kiriella says a bridge across the Kandy Lake will ease traffic congestion in the city but going by the mood of the people in the ancient city, it is likely to be a bridge over troubled waters.
---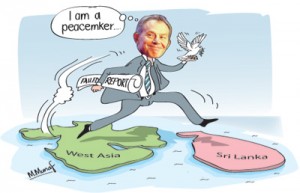 Blair wants to be peacemaker here
Will former British Prime Minister Tony Blair be the latest peace maker in Sri Lanka's reconciliation process?
The talk in the corridors of the Foreign Ministry in Colombo is that the prospects are high. They say the overtures to join in came from Blair, Britain's Labour Prime Minister from 1997 to 2007. His main occupation now is a consultancy business and engaging in charitable work. He was also a West Asia peace maker who made more than 150 visits to the region, alas, to no avail.
One FO source whispered that he is now in contact with Foreign Minister Mangala Samaraweera with regard to his possible new assignment. The Foreign Minister was in Britain on holiday recently. The FO source pointed out that it was during Blair's tenure that the Liberation Tigers of Tamil Eelam (LTTE) set up its so called headquarters in London despite an official ban on the terrorist organisation. Then, when even former President Chandrika Bandaranaike Kumaratunga, sought meetings with him through diplomatic channels during her frequent visits to Britain, she was understandably, rebuffed. The British Premier's office took up the position that the then Sri Lankan President was merely trying to make what was a private visit seem an official one back to her constituency at home.
Now, that peace has arrived in Sri Lanka, the man who allowed Tiger guerrillas to direct a war from Sri Lanka is hell bent on accelerating the reconciliation process which is largely under Kumaratunga.  Has he given up on West Asia and looking for a new assignment? Well, at least some of Blair's new friends in Sri Lanka believe so.
---
Lanka breeds Taiwanese Generals
The star-studded man was retired only because he was considered loyal to the controversial strongman of the day.
However, he realised that this loyalty paid off. The one-time boss helped him become the Sri Lankan envoy to a friendly country.
Eyebrows were raised when a request was made to those in the higher portals of power recently to promote him to a much higher and exalted rank. This was when he had been sent on retirement. Insiders say that has not materialised though the pressure continues. The previous Government's decision to promote some who held the rank of Brigadier at retirement to that of Major Generals spawned a new name – Taiwanese Generals.
The reference to Taiwan was to denote poor quality since products from that country were known in years gone by to be of a lesser standard than other foreign brands.
---
Former SC judge to probe elephantine issue
Rearing of tamed elephants illegally in various localities is an issue making news for several months now. While random raids to catch the culprits have taken place from time to time, the Government has now decided that it is time the matter was probed in a more comprehensive manner.
A one-man probe was launched this week to look into the issue that has grown to elephantine proportions.
The Ministry of Sustainable Development and Wildlife announced the appointment of retired Supreme Court Judge N.E. Dissanayake to "investigate the alleged malpractices related with keeping tamed elephants in violation of the provisions of the Fauna and Flora Ordinance and making forged documents to cover up the illegal activities."